Svitla Systems was a partner of social initiative of Maria and Timofey Yevgrashyny, which were organizers of IT People PechaKucha event. We suppose it's a great opportunity to know new ideas from the most active people from IT community, to establish good relationships with your colleagues.
This PechaKucha was special, it had topic – People in IT.
IT People started to gather much earlier then 7p.m.: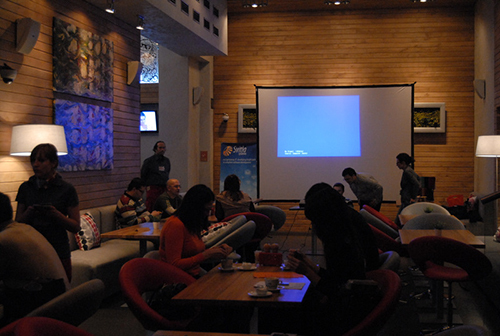 Some tips from speakers.
Dmitriy Mindra told that if you don't like to enter into your professional task, please don't even try, cause you'll make just another bad product, which are thousands on the market. All of us were made mistakes and we all have excuses. The man could only change himself, no one could help him with it. Be proud of what you are doing! Make your every day better!
Slava Pankratov has shared his thought how from developer could arise manager. In general it takes from 6 months to 2 years. Don't afraid to enlarge your contest, to think in bigger way. Manager doesn't ask, he gives.
Nadya Zemskova thinks that in modern pattern manager's role has changed and there is still need of such people in Agile methodologies.
Tim Yevgrashyn is strongly believed in sharing ideas with your colleagues when you've known new methodology and know how to use it. Anyway, there are skeptics and there are enthusiasts. When skeptics begun believe in your theory, they become your first advocacy.
Our HR girls Olya and Yulya were also at this event: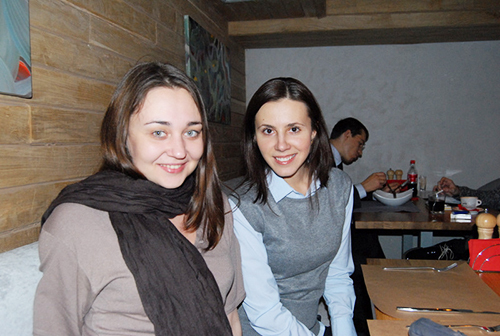 2 next presentations were not so clear for us so we switch to others.
Sergey Berezhnoy had a great speech about signals that team could make if the project is off schedule. There are a lot of ways to understand could we have problems with deadline or not, and one of possible ways to know it – to ask team members to answer this question anonymously.
One of the most funniest among others speeches was Vika Pridatko's speech about technical interview. She told that there were so many mistakes done by Project Managers. They think that showing of their professional knowledge, asking difficult technical questions makes them cooler in eyes of candidate. This makes candidate annoyed and frustrated. Instead you should ask what is important for him, ask open questions and listen very carefully.
The last speaker Alexander Orlov came from Sankt-Petersburg for 6 minutes 40 seconds presentation!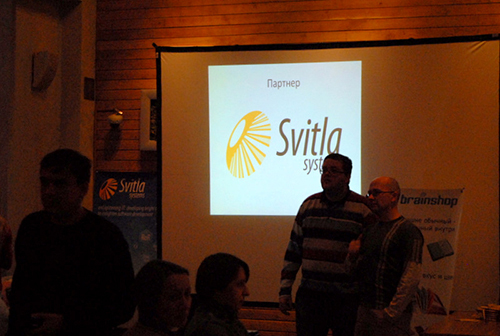 All guests were really enjoyed with interesting topics and speakers' presentation skills.
Thank you to organizers for choosing the right place and nice speakers.
We are waiting for February event.