Svitla Systems' SOC-2 certification-2021
Svitla Systems has yet again received the Service Organization Control (SOC) 2® certification, repeatedly proving the high quality of overall practices concerning general management and protecting clients' privacy.
SOC 2® certification has been created by the American Institute of CPAs (AICPA) in order to attest that participating vendors comply with five "trust service principles": security, availability, processing integrity, and confidentiality.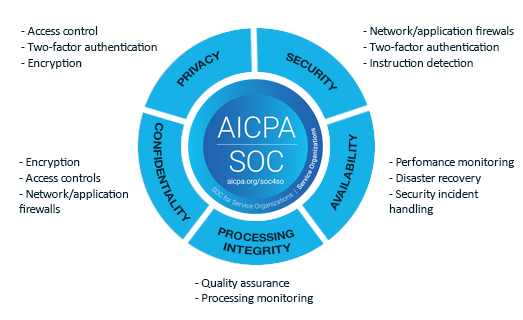 SOC 2 demands the highest level of clients' data security by:
Ensuring that the company establishes and follows strict data security policies and procedures in terms of their cloud-based data systems.
Providing valuations to ensure companies are employing their SOC 2 data security measures.
Constantly updating information submissions and security standards to follow the unique challenges presented by modern cloud data security threats.
By being certified as a SOC 2® compliant, Svitla Systems confirms its commitment to best software development practices, ensuring data and processes are protected, and confidential.
***
About AICPA and the SOC 2® certification
Since 1887, the American Institute of CPAs has a history of serving the public interest with over 431,000+ members across 137 countries and territories, representing many areas of practice, including business and industry, public practice, government, education, and consulting. The SOC 2® certification is an auditing practice and a set of standards designed to help measure how a service organization adheres to trust principles, as attested by independent certified public accountants who determine how a company safeguards data and processes through security policies and procedures that encompass security, availability, confidentiality, processing integrity, and privacy. https://www.aicpa.org
by Svitla Team
April 05, 2021
Related articles
news
news
Let's meet Svitla
We look forward to sharing our expertise, consulting you about your product idea, or helping you find the right solution for an existing project.
Thank you! We will contact very shortly.
Your message is received. Svitla's sales manager of your region will contact you to discuss how we could be helpful.