ANDROID APPlICATIONS ARCHITECT
November 27, 2018
1 position
ANDROID APPlICATIONS ARCHITECT
location
Any city, Ukraine
Svitla Systems Inc. is looking for Android Applications Architect for the full-time position (40 hours per week) in Ukraine. Our client is well-known company. Their Video Collaboration products help companies stay connected and can be found in the conference rooms of some of the biggest businesses in the world. We create amazing experiences in the conference room using creative design, surprising science, and innovation. We love what we do because we are passionate about connecting people and we use the products we create every day to stay connected to our team.
About Svitla:
Svitla Systems is a proven custom software development company and testing provider. We deliver unparalleled value to our clients, who rely on our expertise in managed team extension and build-to-order software applications.
Our main office is in the heart of Silicon Valley - with sales and development offices throughout the US, Mexico, and Europe (Ukraine, Montenegro, and Germany).
Our mission is to build a business that is not only profitable but also contributes to the well-being of our employees and their families, improves our communities, and makes a lasting difference in the world.
Who you are:
Have worked on multiple applications frameworks in the past and keep up to date on Android.
Product focused with strong CS fundamentals and know when to be practical vs. overly theoretical.
Enjoy working in a collaborative environment, mentoring, and have been a lead.
Willingness to work at the Android AOSP/Framework level.
Teamwork, great attitude, motivated, humble, and always learning.
Your contribution:
Lead best practices efforts for application development for Android and possibly other application frameworks such as React Native or iOS.
Work with the cloud team to create a device management solution, application versioning, application bundle management.
Lead by example and mentor more junior members of the team. Contribute to coding best practices.
Be creative and find ways to create the best experience on the Android Video Collaboration platform.
Create standard libraries and re-usable code to use on projects.
Expose custom Android SDK and APIs to 3rd parties.
Development a suite of applications and features critical to the success of the Android platform.
Create standards ​to code coverage, automated testing, unit testing, etc.
Key qualifications:
Experience in design patterns and functional programming models such as MVP, MVC, MVVM. Understand when to use RxJava.
Camera2 APIs, mediacodec, multi-screen, surface views, exo-player, video playback & live streaming.
UI development skills up to Android 9 (Pie), custom animations, fragments, notifications, multi-screen development, live data, lifecycle, room/sqlite, etc.
Understanding of networking APIs and libraries: http/https, ssl/tls, ca certificates, retrofit, okhttp, SIP, RTSP, webRTC, h.264. Should understand the OSI model.
Async tasks, threads, AIDL, binders, NDK/JNI, background services, job scheduler.
Languages: Java, Javascript, Kotlin, Python, HTML/CSS, C/C++.
Gradle, maven, repo, git/github.
Strong debugging and reverse engineering skills.
BS in computer science, computer engineering, electrical engineering, or related field.
What we love about Svitla Systems:
Flexible working day start & stop times.
English classes, professional and personal trainings, conferences and webinars.
Competitive compensation, including equity options with regular performance-based salary and career development reviews.
Medical Insurance (health, dental), employee assistance program.
Personal time off: paid vacation and holidays. Work hard, play hard, right?
We're very fast-paced, hard-working, and love to have fun! Our cool co-workers play soccer, poker, go skiing, biking, hiking, and so much more.
We have tasty birthday cakes, lunch bunch and subsidized drinks and snacks, funny celebrations, team outings and unforgettable corporate events.
We are always happy to meet the newbie colleagues and their new ideas.
If you are interested in our vacancy, please send your CV. We will be happy to see you in our friendly team :)
Why hesitate? Apply now
Thank you for applying for this job position
Your application is received. We will contact you shortly if your resume is a perfect fit for our company.
Or let's meet in person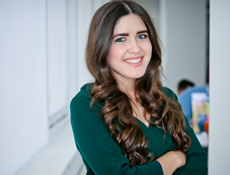 Nataliia Chadiuk
Senior Recruitment Consultant