SENIOR BACKEND ENGINEER
July 11, 2019
1 position
SENIOR BACKEND ENGINEER
location
Any city, Ukraine
Svitla Systems Inc. is looking for Senior Backend Engineer for a full-time position (40 per hours per week) in Ukraine. Our client creates competitive real-time team multiplayer games that can be played in four-minute sessions - coffeebreak eSports.
About Svitla:
Svitla Systems is a proven custom software development company and testing provider. We deliver unparalleled value to our clients, who rely on our expertise in managed team extension and build-to-order software applications.
Our main office is in the heart of Silicon Valley - with sales and development offices throughout the US, Mexico, and Europe (Ukraine, Montenegro, and Germany).
Our mission is to build a business that is not only profitable but also contributes to the well-being of our employees and their families, improves our communities, and makes a lasting difference in the world.
Responsibilities:
Respond to and investigate live server incidents;
Develop backend API to support game client using NodeJS, MongoDB and Redis;
Setup and maintain game servers on Linux;
Deploy to Kubernetes on Google Cloud Platform (Google Kubernetes Engine).
Requirements:
Required tools/tech experience - ideally multiple live service games supported:
NodeJS;
MongoDB;
Redis;
Kubernetes;
Google Cloud Platform;
Docker;
Linux;
Ansible.
This will be a plus:
Experience with PlayFab;
C#.
What we love about Svitla Systems:
Flexible working day start & stop times.
English classes, professional and personal trainings, conferences and webinars.
Competitive compensation, including equity options with regular performance-based salary and career development reviews.
Medical Insurance (health, dental), employee assistance program.
Personal time off: paid vacation and holidays. Work hard, play hard, right?
We're very fast-paced, hard-working, and love to have fun! Our cool co-workers play soccer, poker, go skiing, biking, hiking, and so much more.
We have tasty birthday cakes, lunch bunch and subsidized drinks and snacks, funny celebrations, team outings and unforgettable corporate events.
We are always happy to meet the newbie colleagues and their new ideas.
If you are interested in our vacancy, please send your CV. We will be happy to see you in our friendly team :)
Why hesitate? Apply now
Thank you for applying for this job position
Your application is received. We will contact you shortly if your resume is a perfect fit for our company.
Or let's meet in person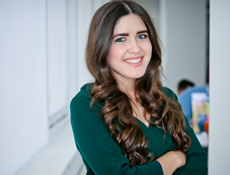 Nataliia Chadiuk
Senior Recruitment Consultant