SENIOR FRONT END DEVELOPER (VUEJS)
August 09, 2019
1 position
SENIOR FRONT END DEVELOPER (VUEJS)
location
Any city, Ukraine
Svitla Systems Inc. is looking for a Senior Front End Developer for a full-time position (40 per hours per week) in Ukraine. Our client is the only governance and cost management platform built for cloud-native infrastructure that introduces a powerful, lightweight solution for monitoring and managing costs and resources while running Kubernetes. With this platform, enterprise customers are able to regain control, transparency, and efficiency across cloud providers such as Amazon Web Services (AWS), Google Cloud Platform (GCP), and Microsoft Azure. It helps customers to rightsize cluster, pod, and container sizes for optimal utilization, and control costs based on real-time and historical utilization, forecast usage, identify trends, manage chargebacks, and plan capacity.
About Svitla:
Svitla Systems is a proven custom software development company and testing provider. We deliver unparalleled value to our clients, who rely on our expertise in managed team extension and build-to-order software applications.
Our main office is in the heart of Silicon Valley - with sales and development offices throughout the US, Mexico, and Europe (Ukraine, Montenegro, and Germany).
Our mission is to build a business that is not only profitable but also contributes to the well-being of our employees and their families, improves our communities, and makes a lasting difference in the world.
Responsibilities:
Realization of web applications for desktop and mobile devices in HTML5 / CSS3 according to current web standards;
Creating rich Internet applications using Javascript and frameworks such as VueJS;
Browser optimization of the code as well as the optimization of usability of already existing frontends;
Ensuring cross-browser compatibility and responsive design;
Evaluating and introducing modern front-end technologies;
Creating reusable code for future use;
Experience with visualization libraries like D3.js.
Requirements:
Front-end programming and technologies such as HTML5, CSS3, JavaScript , Typescript, Vue;
LESS, SASS, GRUNT and GULP;
Versioning tools such as Git, Gitlab;
Image authoring tools such as Photoshop for adjustments;
Cross-browser compatibility and responsive design.
This will be a plus:
Storybook, GrahpQL/Appollo.
Personal qualities:
You build a bridge between the UI/UX team and development team, creating the best possible experience for our users. We are looking for a simultaneously creative and analytical thinker who loves teamwork. You will love this job if you're:
Creative, you will be encouraged to not only adopt designs provided to you, but to actively bring in your own ideas in the designing process. You know how to combine aesthetics with usability.
Analytical thinking, you have an eye for details and the steps necessary to build a fully performing application. Even in complex applications you don't lose track of any aspect or function.
Communicative, you are a team worker and know how to collaborate with teams with different concerns. Mediating between designers and developers, as well as reporting to the project management should go without saying.
Empathic, you know of the problems the teams you are collaborating with have, but most importantly, you can put yourself in the position of a non-professional user. Every part of the application should work intuitively.
What we love about Svitla Systems:
Flexible working day start & stop times.
English classes, professional and personal trainings, conferences and webinars.
Competitive compensation, including equity options with regular performance-based salary and career development reviews.
Medical Insurance (health, dental), employee assistance program.
Personal time off: paid vacation and holidays. Work hard, play hard, right?
We're very fast-paced, hard-working, and love to have fun! Our cool co-workers play soccer, poker, go skiing, biking, hiking, and so much more.
We have tasty birthday cakes, lunch bunch and subsidized drinks and snacks, funny celebrations, team outings and unforgettable corporate events.
We are always happy to meet the newbie colleagues and their new ideas.
If you are interested in our vacancy, please send your CV. We will be happy to see you in our friendly team :)
Why hesitate? Apply now
Thank you for applying for this job position
Your application is received. We will contact you shortly if your resume is a perfect fit for our company.
Or let's meet in person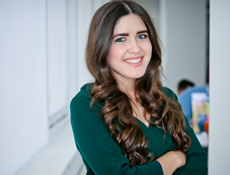 Nataliia Chadiuk
Senior Recruitment Consultant