SENIOR REACT ENGINEER
June 21, 2022
1 position
SENIOR REACT ENGINEER
location
Krakow/Remote, Poland
Svitla Systems Inc. is looking for a Senior React Engineer for a full-time position (40 hours per week) in Poland. Our client provides a software-as-a-service (SaaS) asset management platform for renewable energy providers. They connect customers with renewable energy providers in a way that benefits everyone while facilitating the transformation of their grid. Their job is to help everyone, from apartment dwellers to nationwide companies, make the sustainable choice in a way that makes sense for their budget, and they are there to support clean energy providers as they welcome a new way to see electricity. Through its software platform, the client connects residents, businesses, and other consumers with clean energy facilities that lower their electric costs without needing installation or upfront costs. The client connects people with solar farms – avoiding the need for expensive solar panels on their roofs. As a Front End Developer, you will be responsible for implementing visual elements that users see and interact with within a web application, making your role crucial for the success of our business.
Requirements:
5+ years of experience with dynamic web applications with front-end frameworks such as React, Vue.js, or Angular (React is strongly preferred).
Experience consuming application APIs (REST, GraphQL).
Expertise in embracing CICD and working to improve processes continuously.
Hands-on experience with work management systems. Experience in building Google Cloud, GitHub, and Jira is preferred.
Excellent communication and leadership skills.
Nice to have:
Knowledge of databases such as PostgreSQL, MySQL, and Oracle.
Experience with Next.js.
Responsibilities:
Design and build a beautiful, intuitive, fast, reliable React/Next.js - based application.
Collaborate with other engineers, designers, and product managers on user-oriented projects.
Monitor and improve front-end performance.
Document application changes and development updates.
Conduct unit tests and end-to-end test development.
We Offer:
US and EU projects based on advanced technologies.
Competitive compensation based on skills and experience.
Annual performance appraisals.
Flexibility in workspace, either remote or in our welcoming office.
Comprehensive medical insurance after one month.
MultiSport card with access to 2500 sports facilities all over Poland
Bonuses for recommendations of new employees.
Bonuses for article writing, public talks, other activities.
15 vacation days, 10 national holidays, sick leaves, family days off.
Educational activities reimbursement on the monthly basis.
Free webinars, meetups and conferences organized by Svitla.
Gifts for birthdays, New Year and other holidays.
Fun corporate celebrations and activities.
Awesome team, friendly and supportive community!
About Svitla:
Svitla Systems is a global trusted IT solutions company headquartered in California, with business and development offices throughout the US, Latin America, Europe, and Asia. Svitla is an outspoken advocate of workplace flexibility, best known for its well-established remote culture, individual approach to our teammate's professional and personal growth, and family-like environment.
Since 2003, Svitla has served a wide range of clients, from innovative start-ups in California to mega-large corporations such as Ingenico, Amplience, InvoiceASAP and Global Citizen. At Svitla, developers work with clients' teams directly, building lasting and successful partnerships, as a result of seamless integration with on-site processes.
Svitla Systems' global mission is to build a business that contributes to the well-being of our partners, personnel and their families, improves our communities, and makes a lasting difference in the world. Join us!
If you are interested in our vacancy, please send your CV. We will be happy to see you in our friendly team :)
Why hesitate? Apply now
Thank you for applying for this job position
Your application is received. We will contact you shortly if your resume is a perfect fit for our company.
Or let's meet in person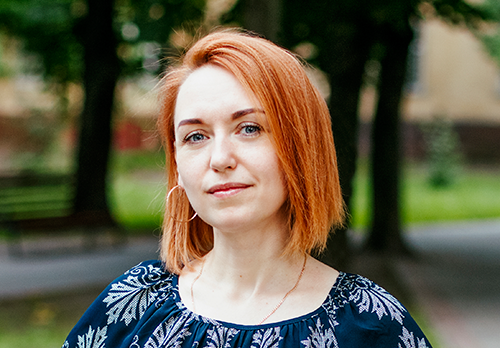 Tetiana Korchmenko
Recruiter