SENIOR RUBY ON RAILS ENGINEER
August 19, 2020
2 positions
SENIOR RUBY ON RAILS ENGINEER
location
Any city, Ukraine
Svitla Systems Inc. is looking for Senior Ruby on Rails Developer for a full-time position (40 hours per week) in Kyiv and Kharkiv. Our client is an online business insurance brokerage that specializes in one thing: protecting the businesses our customers are working hard to build. It is done by simplifying the insurance-buying process for all small businesses, blending together a combination of technology, data, and insurance knowledge.
Requirements:
5+ years of software engineering experience since graduating with a related degree (or equivalent working experience).
Strong programming skills in Ruby (4+ years).
Ruby on Rails, MongoDB, JavaScript, TDD.
An advocate of engineering best practices (particularly in regards to testing).
Experience of working closely with business teams when building products.
Experience of working with Agile methodologies.
Strong interpersonal skills to work well in our very open and friendly environment.
Pro-active in suggesting new tools, processes and technologies – anything which will help us continually improve!
Working in an office environment.
Responsibilities:
Develop customer focused products in a culture which champions Agile, cross functional teams and continuous collaboration.
Being hands-on with code in developing our products using best practices, appropriate tools and technologies.
Working with cross functional collaborative teams, helping to clarify requirements at the onset of projects and suggesting different and relevant technical approaches.
Championing Agile processes across the team.
Highlighting areas for continuous improvement and driving their prioritisation.
Being proactive in suggesting new tools, technologies and ways of working.
We Offer:
Competitive compensation plan that takes skills and experience into consideration.
Annual performance appraisals.
Possibility to choose your workspace either remote or combination of your home and one of our development offices.
Flexible working hours and adjustable work/life balance. Projects that use advanced, cutting-edge technologies.
Competitive bonuses for a personal recommendation of new employees.
Vacation time, sick-leaves, national holidays, family supplementary days off.
Comprehensive medical insurance including dental services, massages, and sports activities.
Support for a healthy lifestyle, compensation of running events.
Maternity leave policy.
A personal loan budget is available for long-term personnel.
Partial compensation of conferences, courses and English classes.
Free meetups, webinars, and conferences organized by Svitla.
Birthday presents for personnel and New Year gifts for children.
Fun summer and winter corporate parties and memorable anniversary presents.
About Svitla:
Svitla is a proven custom software development company and testing provider headquartered in California, with development offices throughout Mexico and Europe (Ukraine, Poland). For 17 years, we have served a wide number of customers ranging from big corporations to innovative young companies in Silicon Valley to large educational institutions. The list of our customers includes such well-known companies as BMC Software, Ancestry, Affymetrix, Ingenico, Logitech and Stanford University. Our mission is to build a company that contributes to the well-being of our clients, personnel and their families, improves our communities, and makes a lasting difference in the world. Join us!
If you are interested in our vacancy, please send your CV. We will be happy to see you in our friendly team :)
Why hesitate? Apply now
Thank you for applying for this job position
Your application is received. We will contact you shortly if your resume is a perfect fit for our company.
Or let's meet in person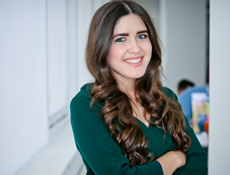 Nataliia Chadiuk
Senior Recruitment Consultant