We deliver unparalleled value to our customers, who rely on our expertise and many years of experience in Managed Team Extension and AgileSquads.
We Deliver the Best
Svitla Systems is a proven software development and testing provider.
We are always within reach.
Our team becomes an extension of your team.
You define your product concept. We deliver it.
Leadership
Svitla's Leadership, headed by Nataliya Anon, combines experience and strategy to deliver solid results and an excellent client experience.
Nataliya Anon
CEO and founder
Nataliya Anon - a Stanford Business School graduate with Ukrainian heritage, entrepreneur, leader, and strategic implementer - is the Founder and CEO of Svitla Systems.
Nataliya brings to Svitla extensive international business experience, keen cross-cultural knowledge and strong interpersonal skills. Her client-centric approach and relentless dedication to the highest standards have propelled Svitla's success in the last decade.
Prior to founding Svitla in 2003, Nataliya founded and served as CEO of Lohika Systems (acquired by Altran Solutions Corp. in 2016) Before that, she held management positions at Ernst & Young as well as received private equity and venture capital experience in the US and UK, where she made investments in various emerging technologies and manufacturing companies. Nataliya was a member of the Fourth Class of Growing Entrepreneurs Mentoring Program administered by the Committee of 200. Nataliya was also the co-founder of Ukrainian Students Association at Stanford. She holds a Masters Degree in IT and Accounting from the University of Kansas and an MBA from Stanford University.
Brian P Rogan
Chief Business Development Officer
Brian Rogan brings over 20 years of experience in the Information Technology business, managing large sales, solutions, partners and marketing teams, across the US as well as India, China, Europe, South America, and the Middle East.
He has vast experience in management consulting, application outsourcing for development, engineering, testing and sustainment, SaaS applications and emerging technologies such as AI, IoT, AR, RPA, NLP, and data analytics.
His previous experience includes C-level and Executive management roles at Cognizant (Chief Revenue Officer), Pomeroy (COO/SVP of Sales), Symbio (EVP Global Sales) and Ciklum (President of North America; VP of Sales).
Elmhurst College - Business Administration; Marketing and Kellogg Business Programs.
Andriy Okhrimets
VP of Delivery
Andriy Okhrimets has over 15 years of experience in software development industry, having worked with large companies such as Microsoft, Cisco, Pinnacle and Lucas Arts, with teams distributed across the globe. As VP of Delivery, he helps Svitla clients understand their software development needs and efficiently and timely deliver the right solutions.
Andriy oversees all delivery projects and is always ready to assist our clients.
As an old-school engineer, Andriy still enjoys working with embedded and imaging projects in a hands-on mode.
Steve Oates
Chief Information Security Officer
Steve Oates, our Chief Information Security Officer, has over 18 years of experience in the technology field as a solution-focused IS specialist, Info-Sec learner and adopter, and data security advocate. Steve is an expert in delivering advisory and direct technical services to Fortune 1000 clients in various stages of technology enterprise development. He specializes in review and research, investigation, implementation, resolution, and consultation of business technology and associated IS needs toward ISO/IEC 27001, COBIT, HIPAA, PCI-DSS, SOC, and NIST standards.

As information security-minded critical thinker and innovator, Steve leverages his technical expertise to advise Svitla with the ongoing improvement of both peripheral and internal IS practices.

Steve has a professional background in BIG 4, assisting businesses with ISO/IEC 27001 implementations, NGFW enterprise firewall configuration and monitoring, Info-Sec internal and external audits, IT reorganization and process re-engineering, cloud setup and planning, data center administration, IT governance alignment to business objectives, and federal, industry and international compliance reviews.

Steve has a master's degree in Information Sciences | Cybersecurity and Assurance from the College of Information Sciences and Technology at the Pennsylvania State University. Additionally, he upholds certifications related to Microsoft systems and network management, CISSP (Certified Information Systems Security Professional), CISM (Certified Information Security Manager), and CISA (Certified Information Systems Auditor). Steve is also a certified Lead Implementer for the ISO/IEC 27001 Information Security framework and Lead Risk Manager for ISO/IEC 27005.
Mike Sweetman
Solution Architect
Mike Sweetman has over 20 years of experience in software development and technology management, having worked with distributed development teams across the US as well as in UK, Brazil, Mexico, China, India, and Ukraine. Previously, Mike occupied senior technical positions in such large corporations as IBM and Fidelity Investments and managed the entire technology organization at CRMa.
An accomplished software engineer, Mike is an Agile/Scrum evangelist who enjoys the roles of servant leader and player coach for multi-track Agile software development projects. He has a profound knowledge of software architecture of large enterprises, information security/identity and access management, systems integration, Services Oriented Architecture, SaaS and cloud technologies.
His vast and impressive background includes an MBA from Duke University, as well as a masters degree in Nuclear Engineering from North Carolina State University and a bachelor of science degree from Rensselaer Polytechnic Institute.
Igor Khilko
Country Managing Director, Ukraine
Igor joined Svitla in February to supervise and coordinate the management processes in Ukraine. His extensive management and intercultural experience came from leading several business units at ABB, a Swiss-Swedish multinational corporation headquartered in Zurich.
With the rapid growth that Svitla is experiencing his solid team leadership and people management skills and motivation will be more than useful.

Jorge Valadez
Exec. VP Sales and Operations Mexico
Jorge Valadez brings over 12 years of experience in corporate sales, marketing and business administration. His Computer Science background, excellent management skills and native knowledge of Mexico IT market create a perfect ground for his leadership in Svitla Guadalajara division, keeping an eye on expanding local operations.
Prior to Svitla, Jorge held various key positions as Delivery Manager and Sales & Marketing Director, in both software development and testing companies, serving global clients from Mexico. He is also passionate about entrepreneurship, founding and effectively selling 2 companies.
Certified by UNIDO, he performed in 2010 as lead advisor to 5 different Export Consortiums, achieving exports to Central, South America and Asia. Jorge holds a bachelor degree in Computer Science from ITESO in Guadalajara, Mexico, and the University of Applied Sciences in Ulm, Germany. He studied Strategic Global Marketing and won a scholarship from Mexico´s Consulate at Silicon Valley to attend the International Summer Program for Entrepreneurs at Stanford University. Currently he is obtaining his MBA degree from Regis University in Denver, Colorado.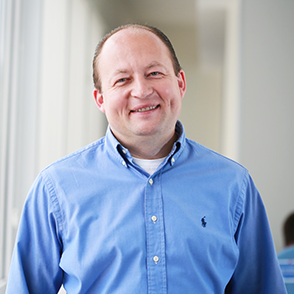 Sergiy Andriyenko
Head of Project Management Department
As the head of the Project Management Department, Sergiy Andriyenko possesses excellent project management and analytic skills and a strong technical background. With over a decade of international work experience in Canada and the United States, Sergiy is a valued member of Svitla Systems.
His previous experience includes 8 years in Process and Robotics Engineering at Magna Corporation; setting up automated sequences and running production lines in manufacturing facilities; developing applications and defining business requirements for the Manufacturing Execution System (MES) business application for Electronic industries. Sergiy holds an MBA in Management from Cleary University, Michigan.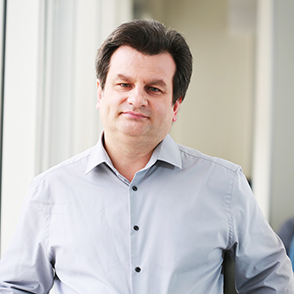 Kostyantyn Kharchenko
Ph.D., Chief Technical Architect
As the Chief Technical Architect, Kostyantyn Kharchenko leads the technical department as our IT guru and sets up the strategy and processes standards. Kostyantyn has over 20 years of experience in complex software systems development and design. His strong engineering background has contributed to Svitla's continued success.
Kostyantyn's previous work experience includes top technical positions in such prominent companies as Digital Equipment Corp., Compaq Corp, Intel and Panasonic. His deep understanding of the emerging industries and strong technical skills allow him to help Svitla's clients create technologies of the future.
Kostyantyn holds Masters and PhD degrees in Computer Science from the Kyiv Polytechnic Institute, one of the top academic institutions in Ukraine.
Mariia Petrovych
Head of HR, Europe
Mariia Petrovych is responsible for managing Svitla's HR team and running the full cycle of human resources and administrative activities. Prior to joining Svitla, Mariia worked in large multinational companies, such as ABB, Scania, and Siemens, in various administrative and business operational roles.
Mariia is focused on HR processes and nurturing Svitla's corporate culture. She is also responsible for overseeing employee compensation and benefits packages, as well training and career development in the company.
Mariia holds Master's Degree in Management of Foreign Economic Relations and Bachelor's Degree in Commercial Law from Kyiv National University of Trade and Economics.
Viktoria Bondarenko
Director of Recruitment, Europe
Viktoria supervises the general strategy and everyday work of Svitla's European Recruitment Department. Her over 14 years of experience in managing recruitment processes of such Information Technology leaders as Luxoft and Cogniance, help her in building a highly effective approach for Svitla.
Viktoria focuses on full-cycle recruiting performance, updating and designing new procedures, processes, and KPIs. She is also responsible for coaching the Recruitment team while driving them to further success.
Her talents and professional skills are undoubtedly key ingredients of the high-quality services level we provide to our clients, finding top candidates tailored to their requirements and projects. At the same time keeping top-standards of candidate relations, conducting essential care throughout the whole recruitment process.
Renata Matlega
Recruitment Branch Manager, Poland
Renata has joined our team to open a new Svitla development office in Krakow and to run our Polish recruitment department.
With over 5 years of experience within IT Recruitment in large international IT companies and a Master's Degree in International Economic Relations, Renata brings a lot of inter-cultural recruitment experience and further enriches Svitla's multicultural work environment.

Roxana Rodriguez
Director of Recruitment, Mexico
Roxana is an experienced Human Resources Manager with a demonstrated history of working in the information technology and services industry for over 10 years. She is skilled in strategic sourcing, labor relations, management, and interviewing. Roxana is a strong Human Resources professional with a Master's degree in Business Administration and Management from Universidad del Valle de México.
Before joining Svitla, Roxana gained vast experience in such leading professional services companies as Cognizant, Hewlett, and iTexico. She is proficient in driving the successful implementation and execution of talent acquisition strategies and the full life-cycle of recruitment processes and is contributing immensely to Svitla's proposals for new projects and new customers in Mexico.
Expertise
We deliver expertise for industries
Svitla is your conduit to the cutting-edge technological innovations within emerging industries, from Web and Mobile to Big Data to Internet of Things.
Our development process revolves entirely around your needs. If you want custom software products, systems, solutions, and services that improve the way you do business, stop searching. We approach every project – big or small – with the same level of care and professionalism. And we work alongside you every step of the way.
Web

HTML5

JS

JQuery

Angular JS

React

PHP

Python

Django

Ruby on Rails

ASP .NET

Magento

Front End

HTML5

CSS, SAAS

JS

JQuery

React

Angular JS

Back End

Ruby

Ruby on Rails

Python

Django

PHP

Laravel

Symphony

C#

ASP .NET

Mobile

Android

IOs

Java

C#

Swift

Cordova

Xamarin

Titanium

Quality Assurance

Hewlett Packard

Jira

Jmeter

QA

Selenium

Rspec

Silk Test

Internet of Things

Python

Linux

Embedded C

NFC

C++

Big Data

Python

Java

Hadoop

Kafka

Spark

Pig

R

Machine Learning

SciPy

Mongo DB

DevOps

Amazon AWS

Microsoft Azure

Chef

Puppet

Ansible

Linux

E-commerce

Magento

SAP

Shopify

OpenCart

Database

Mongo DB

MySQL

Oracle

Redis

SQLite

SQL server

Hadoop

Cloud Solutions
Our Team Around the Globe
Svitla is built on the belief that true innovations happen when the best minds come together, no matter their location. Our teams of dedicated, savvy technical experts and strategic thinkers allow us to form collaborative relationships with our clients.
We Always Look for New Talent
If you share Svitla's values and mission, we'd like to hear from you.