We deliver unparalleled value to our customers, who rely on our expertise and many years of experience in Managed Team Extension and AgileSquads.
We Deliver the Best
Svitla Systems is a proven software development and testing provider.
We are always within reach.
Our team becomes an extension of your team.
You define your product concept. We deliver it.
Leadership
Svitla's Leadership, headed by Nataliya Anon, combines experience and strategy to deliver solid results and an excellent client experience.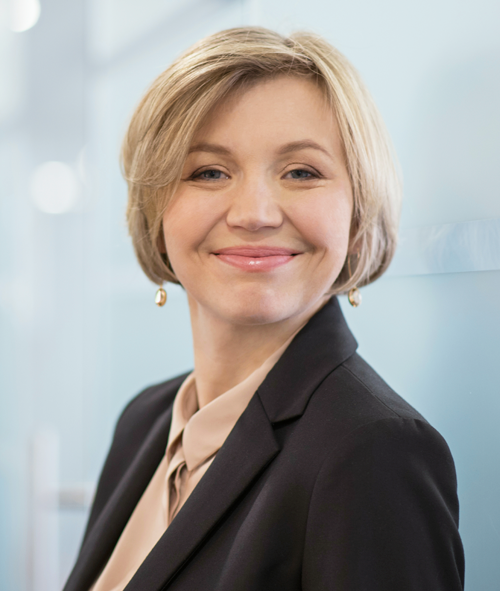 Nataliya Anon
CEO and founder
Nataliya Anon - a Stanford Business School graduate with Ukrainian heritage, entrepreneur, leader, and strategic implementer - is the Founder and CEO of Svitla Systems.
Nataliya brings to Svitla extensive international business experience, keen cross-cultural knowledge and strong interpersonal skills. Her client-centric approach and relentless dedication to the highest standards have propelled Svitla's success in the last decade.
Prior to founding Svitla in 2003, Nataliya founded and served as CEO of Lohika Systems (acquired by Altran Solutions Corp. in 2016) Before that, she held management positions at Ernst & Young as well as received private equity and venture capital experience in the US and UK, where she made investments in various emerging technologies and manufacturing companies. Nataliya was a member of the Fourth Class of Growing Entrepreneurs Mentoring Program administered by the Committee of 200. Nataliya was also the co-founder of Ukrainian Students Association at Stanford. She holds a Masters Degree in IT and Accounting from the University of Kansas and an MBA from Stanford University.
Mark DeMeo
Exec VP/Chief Revenue Officer
Mark has worked the last 20+ years managing large data transformation project for clients including AC Nielsen Advance Technology Group, GE Advance Technology, Department of Defense, St. Jude Children Hospital, WR Berkley Insurance, Ocwen Financial, CNA Insurance, Cameron Harris Group, AgData, Monsanto, American Movil, and other clients. He has worked in implementing technology and product solutions for many clients including application development, package integration, product integration, ERP system implementations, IT Operations, Data Warehousing and Distributed Information Management systems in high data volume businesses involving IBM, Oracle, Sybase, HP, and other technologies.
Mark's background includes working with SSADM, ELH, UMT, and other data management frameworks for understanding the life cycle of data from inception to archiving. At AC Nielsen, he worked as a lead data architect for the rewrite of the Nielsen Solution System into a distributed calculation and storage solution to achieve 100 Billion data points for Consumer Package Goods industry. At GE Aircraft Advance Technology, he led the Data Management team for the Performance and Cycle Engineering for managing aircraft engine and flight simulations for the design of next-generation aircraft engines. For other companies such as Nestle NA, CNA, and Northern Trust he led the data warehousing and reporting initiatives for building world-class analytics platforms for marketing, profit profile, customer service, and risk identification. At Tracfone Wireless a subsidiary of American Movil, he led the implementation and design of their next-generation application platform utilizing Distributed Cloud integration and SOA architecture.
Dean Lane
CISO/Exec VP, US Major Accounts
Dean Lane serves as Svitla's CISO and leverages his expertise from being a CIO for such companies as Allied-Signal, Plantronics, Morton-Thiokol, Masters Institute of Technology, Dean was also the senior director of IT at Symantec. He has tremendous hands-on experience with both small and large firms, gained while he headed up Gartner's Silicon Valley Security Consulting practice, was a Senior Manager with EY, was with AT&T Global Information Systems, and headed up his own firm, the Office of the CIO. In addition to serving as Svitla's CISO, Dean is also the Senior Vice President of Cyber Intelligence at the Institute of World Politics (IWP).
Dean is Certified as a Master Project Manager and in the Governance of Enterprise IT (CGEIT) by ISACA. Dean has prepared multiple companies against cyber-attacks. Most notably, he has consulted Israel's Prime Minister, Ehud Barach, on cybersecurity matters.
Dean has written three technology books. His first book, CIO Wisdom was a global bestseller for Prentice-Hall and was translated into multiple languages. Two more books, CIO Perspectives, and the CIO Body of Knowledge were equally successful.
Dean obtained his undergraduate degree from the University of California (UCLA) and his MBA from National University. He is also a highly decorated Naval Officer and served as the Seal Team Officer for the Commander in Chief, Pacific Fleet.
Keith Liggett
VP, US Delivery Management
Keith is a leader of creative yet pragmatic business transformations from vision through execution. As a consultant to large, medium, and small enterprises with 20+ years of experience, he performs cross-functional transformations and evolutionary programs (strategy to the roadmap, PMO optimization, project recovery).
Keith's key focus areas include stakeholder expectations, user and customer experience, governance, impacts to processes, systems, integrations, and data, and delivery quality leading to timely value realization. His systems thinking helps to reveal complexities and dependencies: business models, value propositions, context diagrams, data flows, entity relationships, function/process flows, and stakeholder analysis.
Moreover, Keith has vast experience in program and project management, full life cycle product implementations and custom builds with various models as per client alignment and organization.
Andriy Okhrimets
Chief Technical Officer
Andriy Okhrimets has over 15 years of experience in the software development industry, having worked with large companies such as Microsoft, Cisco, Pinnacle and Lucas Arts, with teams distributed across the globe. As Chief Technical Officer, he helps Svitla clients understand their software development needs and efficiently and timely deliver the right solutions.
Andriy oversees all delivery projects and is always ready to assist our clients.
As an old-school engineer, Andriy still enjoys working with embedded and imaging projects in a hands-on mode.
Igor Khilko
Country Managing Director, Ukraine
Igor joined Svitla in February to supervise and coordinate the management processes in Ukraine. His extensive management and intercultural experience came from leading several business units at ABB, a Swiss-Swedish multinational corporation headquartered in Zurich.
With the rapid growth that Svitla is experiencing his solid team leadership and people management skills and motivation will be more than useful.

Jorge Valadez
Exec. VP Sales and Operations Mexico
Jorge Valadez brings over 12 years of experience in corporate sales, marketing and business administration. His Computer Science background, excellent management skills and native knowledge of Mexico IT market create a perfect ground for his leadership in Svitla Guadalajara division, keeping an eye on expanding local operations.
Prior to Svitla, Jorge held various key positions as Delivery Manager and Sales & Marketing Director, in both software development and testing companies, serving global clients from Mexico. He is also passionate about entrepreneurship, founding and effectively selling 2 companies.
Certified by UNIDO, he performed in 2010 as lead advisor to 5 different Export Consortiums, achieving exports to Central, South America and Asia. Jorge holds a bachelor degree in Computer Science from ITESO in Guadalajara, Mexico, and the University of Applied Sciences in Ulm, Germany. He studied Strategic Global Marketing and won a scholarship from Mexico´s Consulate at Silicon Valley to attend the International Summer Program for Entrepreneurs at Stanford University. Currently he is obtaining his MBA degree from Regis University in Denver, Colorado.
Grzegorz Mozdzynski
Country Managing Director, Poland
Grzegorz Mozdzynski brings over 20 years of experience in Marketing and Sales management having worked with global corporations across the US, UK, Canada, and Europe. Grzegorz's strong knowledge of the IT industry grounds on partnerships with several technology consulting companies, where, as an Executive Director, he promoted advanced digital transformation projects, high-level semantic vector search, AI, and ML-based search models, eCommerce and retail search solutions. Furthermore, prior to Svitla Grzegorz worked as Marketing Director supervising marketing strategies, brand positioning, and communication development of such big brands as Nokia, Emporia, and F1 Racing in local and regional markets. Cooperation with these global brands also implied reaching extensive growth goals, leading sales teams, generating sales strategies, campaigns, and activities.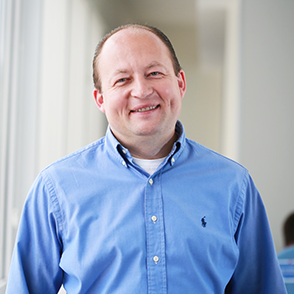 Sergiy Andriyenko
Head of Project Management Department
As the head of the Project Management Department, Sergiy Andriyenko possesses excellent project management and analytic skills and a strong technical background. With over a decade of international work experience in Canada and the United States, Sergiy is a valued member of Svitla Systems.
His previous experience includes 8 years in Process and Robotics Engineering at Magna Corporation; setting up automated sequences and running production lines in manufacturing facilities; developing applications and defining business requirements for the Manufacturing Execution System (MES) business application for Electronic industries. Sergiy holds an MBA in Management from Cleary University, Michigan.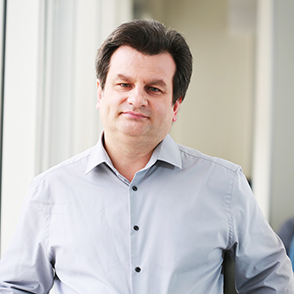 Kostyantyn Kharchenko
Ph.D., Chief Technical Architect
As the Chief Technical Architect, Kostyantyn Kharchenko leads the technical department as our IT guru and sets up the strategy and processes standards. Kostyantyn has over 20 years of experience in complex software systems development and design. His strong engineering background has contributed to Svitla's continued success.
Kostyantyn's previous work experience includes top technical positions in such prominent companies as Digital Equipment Corp., Compaq Corp, Intel and Panasonic. His deep understanding of the emerging industries and strong technical skills allow him to help Svitla's clients create technologies of the future.
Kostyantyn holds Masters and PhD degrees in Computer Science from the Kyiv Polytechnic Institute, one of the top academic institutions in Ukraine.
Viktoria Bondarenko
Head of Global Recruiting
Viktoria supervises the general strategy and everyday work of Svitla's European Recruitment Department. Her over 14 years of experience in managing recruitment processes of such Information Technology leaders as Luxoft and Cogniance, help her in building a highly effective approach for Svitla.
Viktoria focuses on full-cycle recruiting performance, updating and designing new procedures, processes, and KPIs. She is also responsible for coaching the Recruitment team while driving them to further success.
Her talents and professional skills are undoubtedly key ingredients of the high-quality services level we provide to our clients, finding top candidates tailored to their requirements and projects. At the same time keeping top-standards of candidate relations, conducting essential care throughout the whole recruitment process.
Alanis Fallas
Talent Acquisition and Community Manager, Costa Rica
Alanis Fallas supervises the everyday activities of our Costa Rica division and recruits qualified candidates for Svitla in Costa Rica. Prior to joining Svitla, Alanis has worked in tech companies from small startups and agencies to large transnational corporations. With many years of experience in charging recruitment, Alanis has developed an exceptional skill to identify and attract the best talent on the market based on the needs required by the client.
In Svitla, apart from creating and maintaining a candidate pipeline and HR recruitment process, Alanis steers the process of building a vibrant Svitla tech community in Costa Rica, managing a smart way to welcome amazing peers from Svitla glocal locations to enjoy the best perks, accommodation, and beauty Costa Rica can offer.
Expertise
We deliver expertise for industries
Svitla is your conduit to the cutting-edge technological innovations within emerging industries, from Web and Mobile to Big Data to Internet of Things.
Our development process revolves entirely around your needs. If you want custom software products, systems, solutions, and services that improve the way you do business, stop searching. We approach every project – big or small – with the same level of care and professionalism. And we work alongside you every step of the way.
Web

HTML5

JS

JQuery

Angular JS

React

PHP

Python

Django

Ruby on Rails

ASP .NET

Magento

Front End

HTML5

CSS, SAAS

JS

JQuery

React

Angular JS

Back End

Ruby

Ruby on Rails

Python

Django

PHP

Laravel

Symphony

C#

ASP .NET

Mobile

Android

IOs

Java

C#

Swift

Cordova

Xamarin

Titanium

Quality Assurance

Hewlett Packard

Jira

Jmeter

QA

Selenium

Rspec

Silk Test

Internet of Things

Python

Linux

Embedded C

NFC

C++

Big Data

Python

Java

Hadoop

Kafka

Spark

Pig

R

Machine Learning

SciPy

Mongo DB

DevOps

Amazon AWS

Microsoft Azure

Chef

Puppet

Ansible

Linux

E-commerce

Magento

SAP

Shopify

OpenCart

Database

Mongo DB

MySQL

Oracle

Redis

SQLite

SQL server

Hadoop

Cloud Solutions
Our Team Around the Globe
Svitla is built on the belief that true innovations happen when the best minds come together, no matter their location. Our teams of dedicated, savvy technical experts and strategic thinkers allow us to form collaborative relationships with our clients.
We Always Look for New Talent
If you share Svitla's values and mission, we'd like to hear from you.