10 Analytics For Business
Analytics tools are a must-have if you have a website that you employ as a means to generate leads and traffic so you can amplify the reach of your products and services. Real statistics and analytics on how visitors interact with your site, including demographic information (such as age, gender, geography), traffic sources, the pages visitors spend the most time on, the number of conversions, and more, are made available through website analytics. With this data at hand, you'll be able to make more educated business decisions and accelerate your company's growth.
In this piece, we'll discuss why website analytics are crucial to the development of your company as well as the top 10 analytics tools for your business. Thank us later :)
Why must your website have an analytics system?
Conversion is essential to your digital expansion plan; after all, your website serves no purpose if it doesn't successfully transform visitors into paying customers. But, what's a good rate of conversion? The average conversion rate for landing pages across all industries was 2.35%, but the top 25% convert at 5.3% or higher. You should try to get into the top 10% of landing pages, which are those with conversion rates of 11.45% or higher.

But that's just the tip of the iceberg as there are plenty of metrics to go around. Even though they all sound the same, pageviews, unique pageviews, new visitors, and returning visitors are not the same metrics. If you don't know the difference, you might misinterpret your website analytics and make decisions that aren't as well thought out as they could be. Here are some of the most important reasons of why it's essential to leverage website analytics for your business growth.
Metrics, metrics, metrics. There used to be a time when putting your business online was all you needed to get customers, bookings, or sales. Now, it's imperative that you use metric, otherwise, it's like flying blind. If you don't track key performance indicators and visitor data, you may miss the information you need to reach clients or customers online for your. Getting your website's analytics metrics will tell you things about your business that will help you learn more about it. Adding website analytics to your business's website can also help you make decisions and adapt quickly and easily to any changes or trends in the market.
Better user experiences. Getting information about how your site is used, how well it works, and how visitors interact with it will give your business the metrics it needs to figure out what visitors want, need, or have trouble with. This will help you figure out how to fix the problems people have when they look at your website. By fixing the problems that most of your visitors have, you will also find out more about your ideal customers.
Get insights on who your visitors are. Website analytics help you find out who your visitors are by understanding where traffic comes from. Demographics come in handy when tailoring specific content or offerings. It may surprise you to learn where traffic is coming from, leading to new potential prospects for business growth.
Uncovering trends and finding the most relevant topics. Your online presence is crucial to ensure your content is appealing and relevant to your prospects and clients. Analytics helps you discover which trends are relevant, giving you hints about what type of content to create. You can also spot emerging trends so you better engage your audience.
Measure the performance of your site. Thanks to website analytics, you can improve, plan ahead, update, and even adapt your website to improve performance. There are many contributing factors to how visitors interact with your website, and learning those insights can prompt you to focus on specific areas, amplify some sections, or remove things that no longer serve you. They don't call them business-improving metrics for nothing.
Analytics for website: most popular solutions
Web analytics programs will let you look at data in a lot of different ways. You can usually choose from a few standard reports that tell you how many people are visiting your site, what they are clicking on, and if they are becoming customers. You will also be able to change reports to find the information you need. Once you've made your custom report, which usually takes a few minutes, all the information you're looking for will be in one place.
Now, instead of having to sort through a lot of web analytics data, you can get to everything you need right away. Most of the time, these reports are very easy to show to management or coworkers. Today, you need to be able to see statistics about your site in real-time. For example, with apps like Google Analytics, you can see if the new content on your website is popular, if the promotion that started this morning is actually bringing people to your site, and if blog posts and tweets have an immediate effect.
So, which are those heavy-hitters' web analytics solutions that are taking the industry by storm? Let's review.
Acoustic (formerly IBM Digital Analytics)
A problem-solving platform at heart, Acoustic provides an integrated platform that lets marketers access every aspect of their workflow in a centralized location. Thanks to its easy and intuitive user interface, marketers can effortlessly craft complex and personalized user experiences.
Acoustic solutions include Acoustic Analytics, Acoustic Marketing Cloud, Acoustic Content, Acoustic Personalization, Acoustic Experience Analytics, and Acoustic Exchange. All of them are geared towards helping your brand grow faster and building lasting relationships with your clients that are rooted on insights, planning, and careful execution of personalized data-driven experiences across all channels.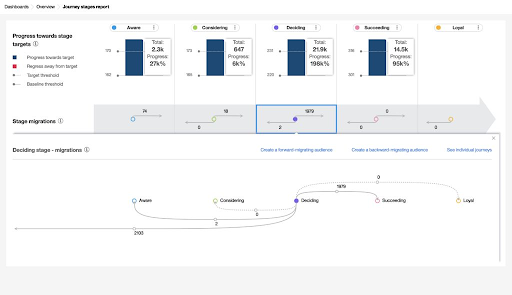 Adobe Analytics
You can mix, match, and analyze data from any digital point in the customer journey with Adobe Analytics. With in-depth analysis, flexible reporting, and predictive intelligence, you have the information you need to build better customer experiences.
Adobe Analytics Cloud is the enterprise's main source of business intelligence. It lets businesses move quickly from insights to actions by integrating audience as the enterprise's main intelligence system. It enables data across all Adobe clouds. Adobe Analytics Cloud brings together Adobe Audience Manager and Adobe Analytics to collect, combine, make sense of, and understand a huge amount of different data, which can then be turned into a single profile for each customer.
It's portfolio of solutions include Adobe Experience Platform, Analytics, Experience Manager Sites, Experience Manager Assets, Marketo Engage, and Commerce.

Google Analytics
You may have heard about this one before :) Google Analytics is the most popular web analytics tool. More than 28 million sites use it. With it, you can keep track of pageviews, unique pageviews, bounce rate, traffic channels, user retention, average session length, sessions by country, sessions by device, and more. You can also build reports about your audience, acquisition channels, engagement, and conversions.
Google Analytics gives businesses a lot of information about their websites, their visitors, and how they market online. It is a tool that helps smart marketers find the messages and channels that get them the best results. It is powerful, flexible, and easy to use. Modern conversion attribution and testing tools help both big and small businesses improve the user experience and make the most of their digital strategy.
With Google Analytics, you can learn about people who use your site and apps so you can better judge how well your content, products, etc are doing. Google can help you figure out what's working and what's not in your business, no matter how big or small it is.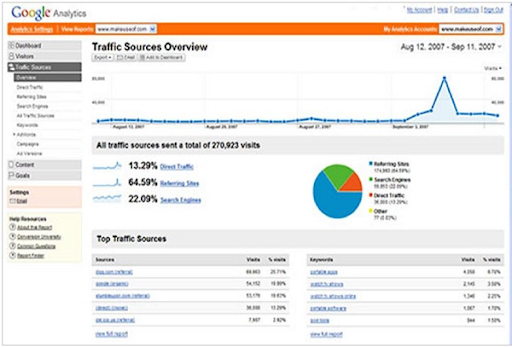 Best alternatives to Google Analytics
In the wonderful world of technology, you don't have to be a heavy-hitter to be a top-notch solution, and the same applies to web analytics tools. There are specific use cases better handled by other tools, so don't marry one of the aforementioned solutions just yet. You have options.
Next, we explore some of these worthy competitors and find out what makes them so great.
Amplitude
Price: It offers a free plan to test the tool. You can also see the fulls details of their pricing here.
Main reasons for using this tool:
Standard Event Tracking
Custom Event Tracking
Funnels
User segmentation
Custom event tracking
real-time insights
User-level analytics
User path tracking
Account-level analytics
Documentation: Amplitude has a comprehensive developer community with several resources to assist you.
Clients: Ford, Walmart, Paypal, Disney, Burger King, Capital One, Twitter, Atlassian, and IBM, to name a few.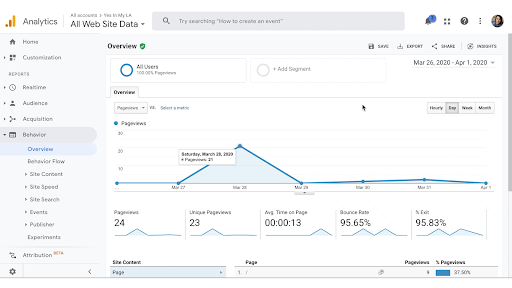 Chartbeat
Chartbeat is an analytics tool built for publishers and other groups interested in measuring their audience's participation. By analyzing data in real time and over time from many sources, Chartbeat helps businesses build a loyal consumer base.
For more than 60 nations around the world, Chartbeat is a trusted business partner to over 60,000 media outlets. Companies in the publishing industry have benefited from Chartbeat's analytics and reporting capabilities as well as the company's headline testing and other optimization features in order to determine what kinds of articles and videos are most likely to attract and retain their target audiences.
Price: It offers three plans: basic, plus, and premium, each with distinct features. Learn more about prices by submitting a request.
Main reasons for using this tool:
With Chartbeat's real-time dashboard, businesses can monitor how visitors find and interact with their content in real time.
The dashboard provides a long-term snapshot of your audience's activities, including page views, average engaged minutes, and more.
Reports are generated automatically and provided through email every day.
Real-time statistics on the site's traffic and other metrics can be seen in a "heads-up display," a feature that can be enabled on the site's home screen or landing page.
The purpose of headline testing is to determine what kinds of headlines are most effective in luring web users to click on the links and read the material they present.
Documentation: Read Chartbeat documentation here.
Clients: El Universal, Le Monde, Accuweather, Refinery29, Rolling Stone, The New York Times, and The Washington Post, to name a few.
Crazy Egg
Crazy Egg is a unique web analytics tool that is used by more than 300,000 people. It gives you heatmaps, scroll maps, and other visual reports that show you exactly how your visitors use your site. With Crazy Egg's tracking code, you'll be able to see in real-time what people are hovering over and clicking on.
Crazy Egg also has full A/B testing, so you can test things like color, copy, and placement of content to see how they affect the user experience and conversions. This makes Crazy Egg a great alternative to or addition to Google Analytics for people who want to improve conversions.
All in all, with Crazy Egg, you can easily record user interactions, do A/B tests, and view heatmaps and scroll maps. You may learn a lot about your users' needs and preferences, both qualitatively and quantitatively, and utilize that information to enhance the site's usability.
Price: Free plan and up to $250 per month for a PRO account. Enterprise pricing is available upon request. You can find all the pricing details here.
Main reasons for using this tool: some of the most prominent features of Crazy Egg include AB Testing, Activity Dashboard, Activity Tracking, Annotations, Assessment Management, Audience Targeting, Behavior Tracking, Behavioral Analytics, Campaign Analytics, Campaign Management, Campaign Segmentation, Campaign, Tracking, Competitive Analysis, and Content Management, to name a few.
Documentation: Their help center provides a number of resources to assist you.
Clients: Intuit, Zendesk, Twilio, Miller & Smith, Dell, Sendible, and Etsy, to name a few.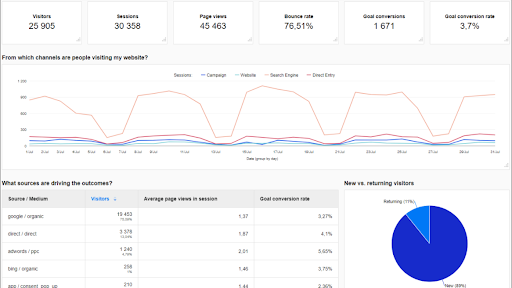 Hotjar
When it comes to understanding how consumers interact with a website, Hotjar, a web analytics tool that has only been around for a few years, has been incredibly useful for both marketers and businesses. Hotjar is a one-stop-shop that integrates a wide range of feedback tools and analytics capabilities.
Different tools, including as heatmaps and visitor recordings, are used to monitor user behavior. Hotjar also makes use of surveys, polls, and other ways for gathering user input. With this amount of information at their disposal, your marketing, analytics, UX, and CRO teams will be able to make the required adjustments to boost UX and conversions.
Price: Free plan and up to $99 per month for a business plan. Agency pricing is available upon request. You can find all pricing details here.
Main reasons for using this tool:
With heatmaps, you can see where people are clicking and how far down the page they are scrolling, among other things.
Visitor recordings – by analyzing actual user recordings and visualizing the site from the visitors' vantage point, you can gain insight into the problems that users are encountering and find out how to fix them.
To learn where people drop out of your conversion process, use a conversion funnel.
Use a feedback poll to find out what your visitors want from your site so you can make it more user-friendly.
Visitors can leave visual feedback on your site using the incoming feedback feature.
Documentation: Their guides hub provides a number of resources to assist you.
Clients using this tool: Panasonic, Nintendo, Adobe, T-Mobile, HubSpot, Microsoft, and Decathlon, to name a few.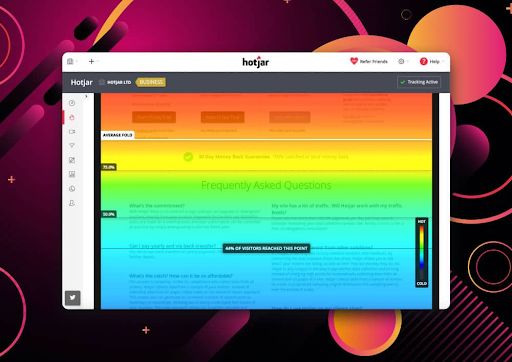 Kissmetrics
Kissmetrics' primary goal is to provide you with a more accurate view of the success or failure of your marketing initiatives. As an added bonus, it can aid with client retention and acquisition by recording user behavior before and after a transaction.
Price: Starting at $299 for Silver and $499 for Gold per month. There's also a Platinum plan and you can learn more about its pricing upon request. You can find all pricing details here.
Main reasons for using this tool:
Real-Time Data Monitoring Tool.
Funnel Reports.
No-Limit Conversion Periods.
Cohort Reports.
Customer Profiles.
Segment Data.
Testing/Staging Sandboxes.
Group Contact Lists.
Documentation: Their documentation hub provides a number of resources to assist you.
Clients: SendGrid, Unbounce, LucidChart, Microsoft, and Carvana, to name a few.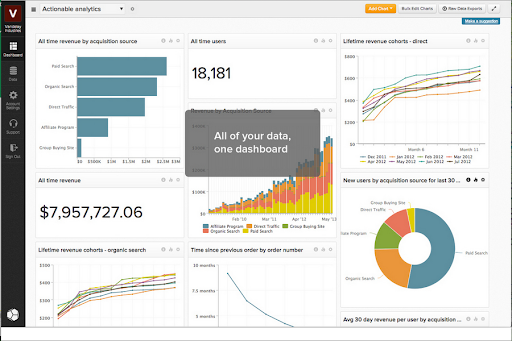 Mixpanel
Mixpanel is a service that tracks and analyzes user behavior to improve website retention rates. In order to better understand consumer behavior, spot trends, and make decisions based on the collected data, Mixpanel is a very valuable tool for websites that want to know how their customers interact with the site and the products sold there.
Mixpanel is an event-based architecture that associates consumers with their interactions, letting you personalize your messaging to increase user retention. Mixpanel's users may view easy yet comprehensive data on traffic, as well as generate cohorts, and construct funnels, in addition to accessing the powerful analytics at their disposal.
Price: Free plan and several paid ones depending on your business. The custom plan pricing is available upon request. You can find all pricing details here.
Main reasons for using this tool:
Behavioral analytics
Data Science to anticipate user behavior, recognize changes, and adapt.
Testing and messaging to induce people to take specified activities by conductingA/B testing and providing personalized messages to users.
Real-time data access: it takes less than a minute to access and evaluate the vast majority of user data.
Mixpanel's availability for connection with 30+ platforms makes it a convenient choice for optimizing your current setup.
Documentation: Their help center provides a number of resources to assist you.
Clients: DocuSign, BuzzFeed, Expedia, Yelp, Ancestry, Uber, and more.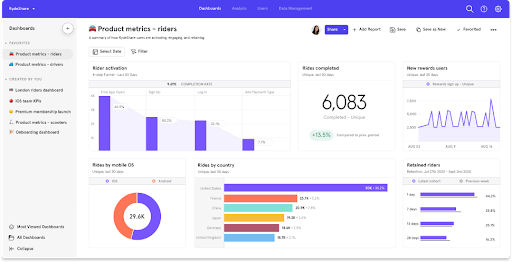 SEMrush
You can use the comprehensive range of SEO tools available on SEMrush to analyze the success of your SEO advertising campaigns. You can learn how to outrank the competitors by analyzing their strategies, examining your own backlinks, and digging into the data. You may track your brand's reputation, analyze keyword gaps, and keep tabs on your social media and network activity in addition to checking backlinks.
Price: Monthly subscriptions start at $119.95 and top out at $449.95/month. An enterprise plan is also available. See the full pricing details here.
Main reasons for using this tool: Here's a list of all of SEMrush's features. Some of the most prominent ones include:
Keyword research
On-page SEO
Competitor analysis
Content Marketing
Local SEO
Rank Tracking
Link Building
Paid Advertising
Website Monetization
Documentation: Their help center provides a number of resources to assist you.
Clients: Tesla, Quora, Vodaone, Samsung, IBM, Walmart, Forbes, and Amazon, to name a few.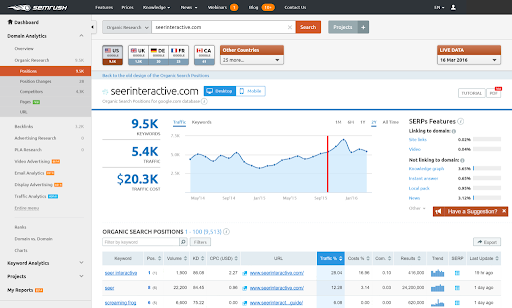 SimilarWeb
A one-of-a-kind data analysis platform, SimilarWeb compiles statistics about a website's performance, traffic, and other metrics from hundreds of independent sources.
Customers can gain the most in-depth study of their app's or website's performance and unmatched insight into the behavior of potential clients and site visitors with that business-specific data collection.
The data is run through machine learning algorithms by SimilarWeb's staff of skilled mathematicians and data scientists to derive prediction models and estimates of future client additions.
Price: SimilarWeb offers a free plan to test the service before switching to the paid version and getting even more out of the platform. The Enterprise pricing is available upon request.
Main reasons for using this tool:
Measuring traffic and user engagement provides valuable insights about your company's online presence, such as how many visitors you have and how they interact with your site.
By combining search engine optimization (SEO) and pay-per-click (PPC) advertising, you can see how effective your organic and paid keywords are.
Learn which affiliates are sending visitors to your competitors' sites so you may recruit them as affiliates for your own.
Compare data from various marketing channels to find the best way to implement your marketing strategy.
Understanding the leaks in your funnel and the performance indicators that reveal which marketing channels yield the highest conversion rates is made possible by conducting a funnel analysis.
Documentation: Their help center provides a number of resources to assist you.
Clients: eBay, Pepsico, Adobe, Lenovo, Google, MGM Resorts, and Booking.com to name a few.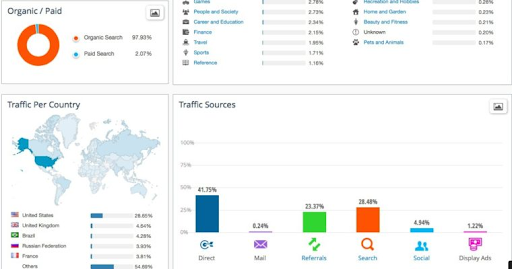 Make the most out of your website with web analytics
Web analytics can help you and your business grow, no matter if you run a small business, an ecommerce site, or an enterprise company. By collecting, reporting, and analyzing data about your website, you can make it better for users and reach business goals like increasing online sales.
In summary, you need website analytics to help you:
figure out how your website's visitors use it
learn how to make your site better for people who visit it
see how people get to your site and where they came from
find out which pages are doing the best and how to make them better to bring in more customers
know what kind of people are in your market, so you can learn from them and change your website to make it a marketing machine
At Svitla Systems, we can help you choose and make the most out of website analytics to help your business grow. Across numerous projects, we've helped clients leverage the power of data, transform it into intelligence, and execute actionable insights for the betterment of their business.
Care to learn more? Reach out to our Svitla representatives who will be happy to assist you.
by Svitla Team
November 01, 2022
Related articles
article
article
Let's discuss your project
We look forward to learning more and consulting you about your product idea or helping you find the right solution for an existing project.
Thank you! We will contact very shortly.
Your message is received. Svitla's sales manager of your region will contact you to discuss how we could be helpful.