Hotel Revenue Management Tools You Can't Build a Hotel Business Without
If you're managing a hospitality business, investing in a hotel revenue management system could be a smart move. AHLA research shows that business travel – a major revenue source for hotels – is still struggling to recover after the impact of COVID-19. In the first half of 2022, revenue was more than 30% lower than in 2019. The report predicts that the sector won't bounce back to 2019 levels until 2024.
In this challenging situation, hotels are working hard to get every possible booking and make sure every guest is happy. There's where hotel revenue management software (RMS) becomes a game-changer.
Keep reading to find out the RMS types, their features, and the advantages you'll get from their integration into your business process.
Hotel Revenue Management Strategies
Before diving deep into the details, let's find out what hotel revenue management is. Robert G. Cross, the author of the book Revenue Management: Hard-Core Tactics for Market Domination, offers the following definition: "the art and science of predicting real-time customer demand at the micromarket level and optimizing the price and availability of product."
Simply put, revenue management predicts customers' behavior to sell a product at the best price. For hotels, this means selling the right room to the right guest at the right time and price, using the best distribution channel for maximum profit.
Now that we've covered the basics, it's time to move on to the hotel revenue management strategies.
1. Dynamic pricing
This strategy supposes room rate adjustment to maximize revenue. The main factors for price change are demand fluctuations, market conditions, seasonal trends, events, and competitor rates.
By setting the right price at the right time, hotels can capture the optimal value from each client segment. For instance, during periods of high demand, prices can be increased to capitalize on travelers willing to pay more for a booking. Similarly, during off-peak times, prices can be lowered to attract budget-conscious guests and maintain occupancy levels.
In 2022, GBTA surveyed 200 travel managers on awareness and adoption of a dynamic pricing strategy. 22% of them had begun using dynamic pricing and applying it with at least one hotel company. The managers have highlighted the following advantages of its implementation:
47% appreciated its cost-effectiveness
33% gained access to more rooms
25% appreciated the transparency of rates
2. Demand forecasting
Hotels analyze historical booking data, local events, economic indicators, and market trends to predict future demand for rooms. This analysis helps hoteliers make informed decisions about pricing, inventory allocation, and marketing efforts. Hotels can optimize their revenue potential by adjusting rates and allocation strategies accordingly due to anticipation of demand fluctuations.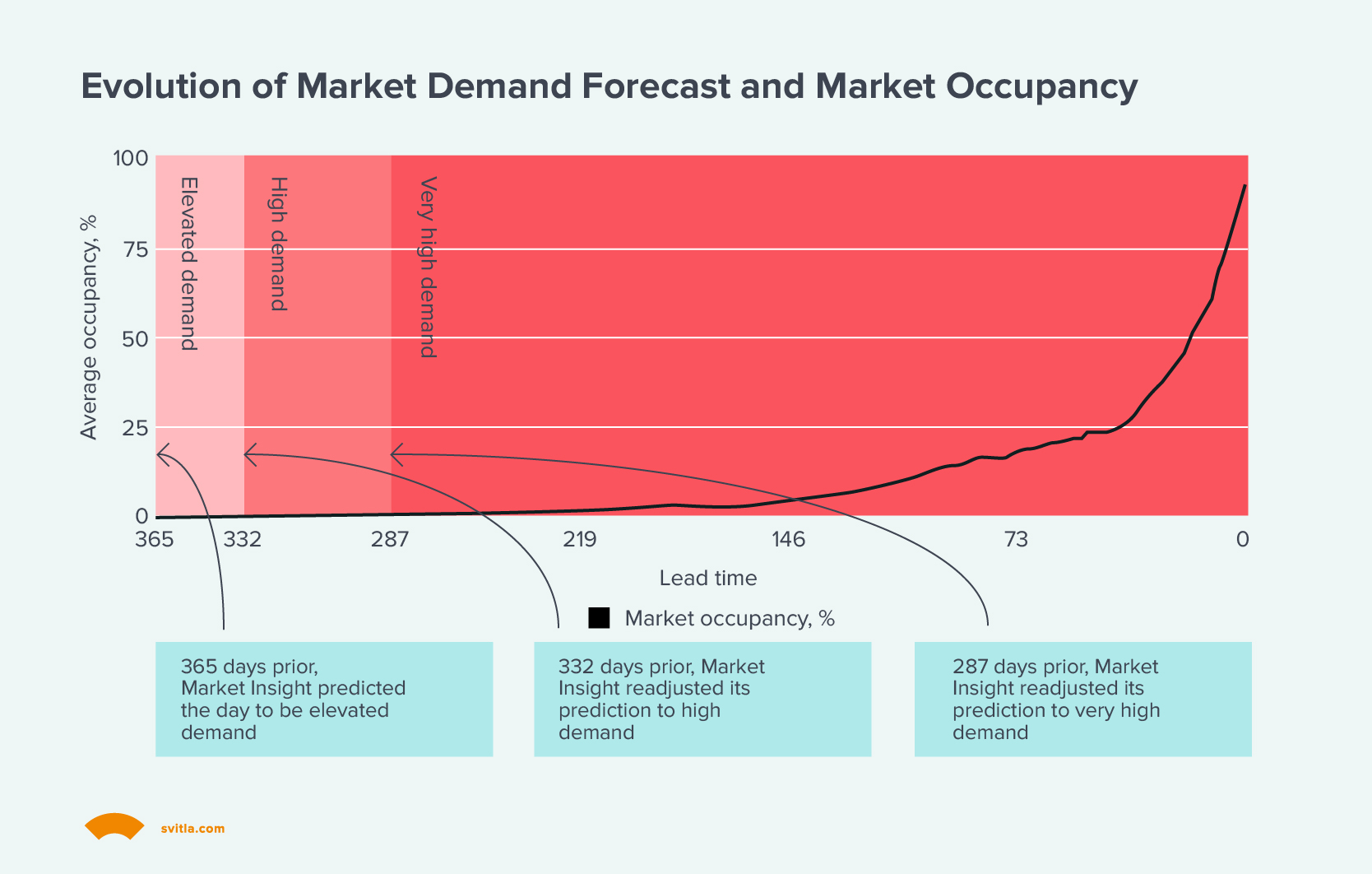 The graph above, based on OTA Insight research, illustrates increased demand leading up to Valentine's Day in Dubai, in 2022. Demand started growing a year before the travel date. Around 287 days ahead of the date, Market Insight predicted very high demand. Yet, only 146 days before the travel date that market occupancy started to rise.
As you can see, hoteliers had enough time to optimize their approach to achieve high occupancy at the most favorable price. Yet, it's a must to have a solid strategy during the early booking phase.
3. Room rates optimization
Room rate optimization supposes the balance between maximizing revenue and maintaining high occupancy levels. In order to achieve room rate optimization, you must understand different customer segments and their willingness to pay at various times. Your goal is to set rates that capture the maximum value from each segment without pricing potential guests out of the market. Tools like price elasticity analysis can help determine how sensitive guests are to price changes and guide the rate-setting process.
4. Inventory allocation
Inventory allocation refers to the distribution of available rooms across different channels and segments. It involves deciding how many rooms to divide to different booking channels such as direct bookings, OTAs, and corporate clients. Effective allocation ensures that rooms are available for different customer segments while preventing overbooking or underutilization. This involves close monitoring of reservations, cancellations, and no-show patterns to optimize inventory and maximize revenue.
Key Challenges in Hotel Revenue Management
Revenue management is trickier than it may seem. It brings difficulties, which can be addressed with RMS. Let's see the main ones.
1. Seasonal demand fluctuations and market volatility
Market conditions are always shifting, which makes predicting the future challenging. This is especially important in revenue management, where accurate predictions matter.
Imagine you run a hotel in a town famous for its yearly harvest festival. If you don't realize that the festival brings more tourists and increases room demand, you might miss out on higher prices, while competitors benefit.
Solution: Here AI and ML-powered RMS will come in handy. The revenue management system for hotels assists in predicting future performance by employing adjustable rules. These rules, categorized as static and dynamic, shape the forecasting process. Static rules remain constant, while dynamic rules can be modified based on factors like hotel location and size. These software solutions often harness the power of AI and ML, minimizing the likelihood of errors.
2. Competing with online travel agencies (OTAs)
Issues like overbooking and underbooking arise due to the need for individual updates on various platforms, potentially leading to operational glitches. Commissions, driven by market concentration, have surged, burdening hotels with higher costs, particularly impacting small businesses.
The limited control over brand representation, coupled with the intermediary positioning of OTAs, further impedes direct relationships with guests. In navigating this landscape, hotels must address these multifaceted challenges to maintain profitability, brand integrity, and customer connections.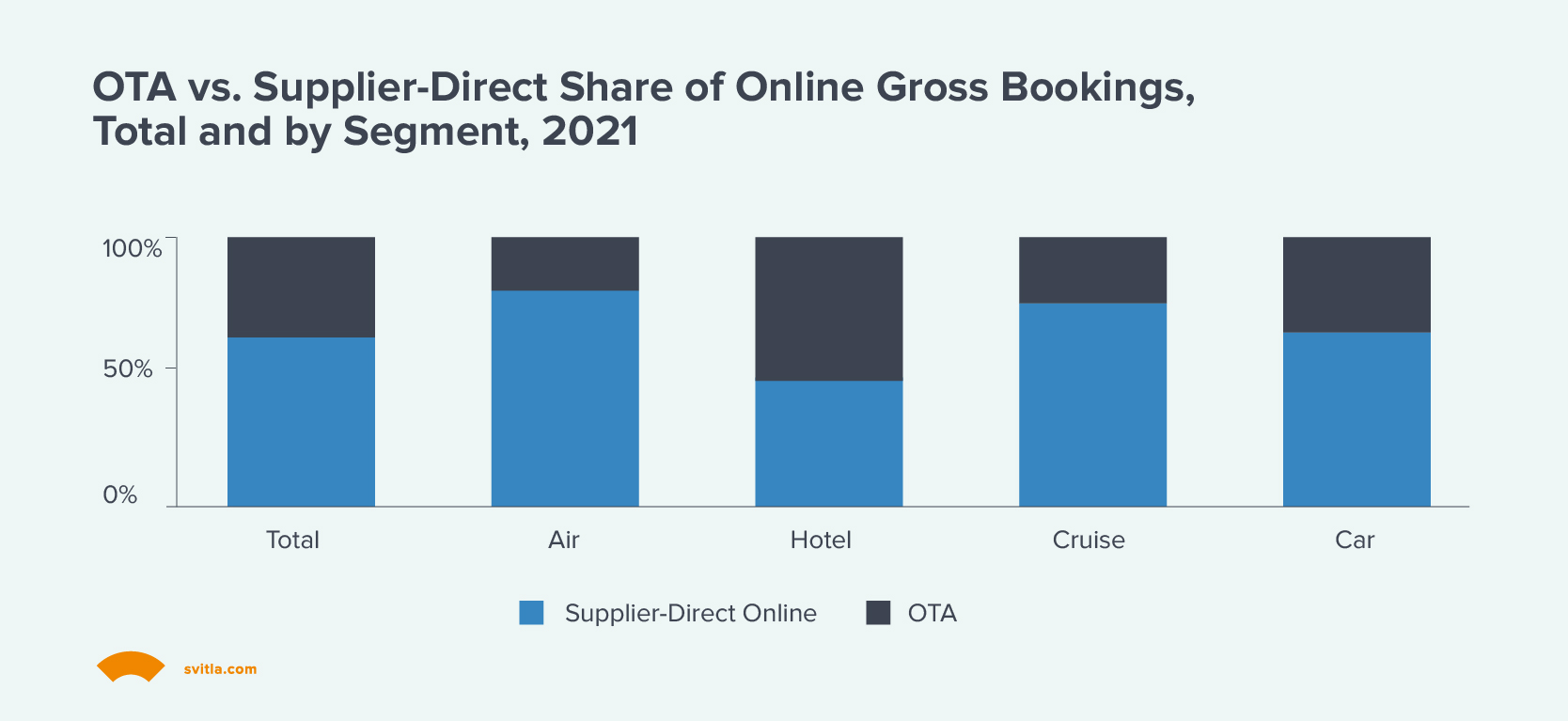 Solution: Effectively handling OTA relationships involves the adept evaluation of rate competitiveness. Business intelligence tools grant hotels the capacity to delve into comprehensive data analytics, a capability that has upheld OTA dominance over time. Through effortless data analysis, hotels can plan revenue and distribution strategies, eliminating the need for extensive spreadsheet navigation.
3. Implementation costs
RMS implementation may seem rather costly. However, the reality is different. In its early days, revenue management systems were primarily adopted by luxury properties offering extensive amenities like spas, gift shops, and specialty restaurants. For budget hotels, the idea of investing in such automation appeared unproductive due to limited inventory, lower guest numbers, and seasonal operational patterns.
Solution: Modern RMS can be fully customized to align with your specific needs. Furthermore, the software boasts user-friendly dashboards, necessitating only a few training sessions for RMS providers to familiarize hoteliers with its operations.
Once the setup is complete, hotel managers and owners can simply review rates and inventory once or twice a day. This streamlined approach not only conserves time, but also leads to noteworthy cost savings.
Hotel Revenue Management Tools You Need
Even though an RMS implementation offers many benefits, only 28% of hotels used them as of 2021. In this section, we'll give you a quick look at some of the tools.
Revenue management systems (RMS)
The revenue management system is a tool that automates analytics for hotels. RMS automates data collection by analyzing historical data, market data, and demand indicators to predict consumer behavior and determine the right price for your hotel rooms. Hence, you can focus on creating the most effective revenue management strategy.
Examples:
Property management systems (PMS)
PMS helps hotels with handling reservations, managing the front desk, coordinating housekeeping, setting room rates, and processing payments. It's like an all-in-one tool for keeping track of who's staying at the hotel, making sure rooms are clean, managing money, and even handling some employee-related tasks. Overall, a PMS makes hotel operations run smoothly, both inside and out.
Examples:
Svitla Systems also has examples of developing a full-fledged PMS system. Our team worked closely with a leading technology solutions provider in the real estate and travel industries to design, implement, and extend their PMS. We used technologies such as .NET Core, React, Docker, and cloud deployment to deliver a high-performance system with responsive design.
Our efforts culminated in an advanced system that offered streamlined property management, smooth cloud deployment, and ongoing support, empowering the client to enhance their service delivery to a global network of corporate clients.
Business intelligence software (BI)
Business intelligence software stands out as a formidable asset within a revenue manager's arsenal. Using this technology, hotel data that resides in different compartments is unified, allowing hotels to gain a holistic view of all hotel operations. Through business intelligence platforms, the capacity to track KPIs, generate performance reports, oversee distribution channels, predict demand, and propose optimal room rates becomes streamlined, all from a singular interface.
Examples:
We also have experience in BI software development. Svitla collaborated with a dynamic cloud-oriented software provider for the global hospitality industry. We created a dedicated team of back-end and front-end developers, along with QA specialists, to support the client's on-site team.
We enriched end-users' experiences with various report formats, including client statistics, room reservations, and financial insights by introducing adaptable reporting systems powered by Stimulsoft Reports. Through Agile methodologies and clear communication, we seamlessly integrated third-party systems, rapidly developed microservices like rate management and reservation management, and provided the client with a nimble development process that empowered real-time feature additions.
Online reputation management tools
Reputation management software automates the labor-intensive responsibilities of tracking, evaluating, addressing, and taking action based on feedback. It goes a step further by proactively sending in-stay surveys, allowing you to identify and resolve concerns before they become visible to the public.
Examples:
Channel manager solutions
Channel management tools provide the means to collaborate with OTAs and smaller travel agencies, simplifying your room listings and the rates regulations. Serving as a consolidated booking engine, a Channel Manager eliminates the need for revenue managers to access each OTA separately for adjustments to room rates, promotional activities, and package offerings.
Examples:
Benefits of Revenue Management Tools Implementation
Now, when you're familiar with the main RMS tool types, we move to their benefits. Stick around to find out how RMS can help your hotel business prosper!
Increased profit
By refining processes such as pricing and marketing, a hotel can get a surge in revenue and gross profit. A study by CBRE Group shows that effective revenue management led to a 6.2% increase in 2021 in average gross profit per room compared to 2019.
Automation
There is currently a significant shortage of labor, with over 90% of hotels struggling to fill vacant positions. To alleviate this strain on your team, you can use RMS to automate tasks, particularly in the realm of revenue management.
Intelligent decision-making
Companies use AI to make quick, precise, and consistent choices. So, smart decision-making software could be really important for managing risks in business. When AI and RMS work together, they improve processes, conduct deep analysis, and help make important business decisions.
Cost savings
An RMS implementation might seem expensive. Yet, many companies find that it saves money in the long run. If you use this data in the right way, you can boost earnings and cut costs for your business.
Conclusion
RMS helps hotels navigate uncertainty, optimize pricing, and manage demand. With AI-powered solutions, hotels can easily tackle challenges like fluctuating demand and OTA competition.
A suite of affordable revenue management tools, including RMS, PMS, business intelligence software, online reputation management tools, and channel management solutions, enables hotels to increase revenue, automate operations, save time, make smart decisions and reduce costs in the long term.
Want to develop an RMS? Svitla Systems is here to help you. Our tеam ensures seamless development, intеgration, and optimization of your revenue management system. Our strong partnеrships and industry expertise make us your ideal choice for successful RMS implementation. Contact us today to get started!
by Svitla Team
September 19, 2023
Related articles
article
article
Let's discuss your project
We look forward to learning more and consulting you about your product idea or helping you find the right solution for an existing project.
Thank you! We will contact very shortly.
Your message is received. Svitla's sales manager of your region will contact you to discuss how we could be helpful.