Digital Transformation in the Travel Industry: How It Can Power the Recovery from COVID-19
COVID-19 has posed unprecedented challenges to all industries, and digital transformation has emerged as a powerful solution.
The hospitality industry, renowned for its adaptability, has embraced this paradigm shift, leveraging digital transformation in the hospitality industry to enhance customer experiences, streamline property management, and revolutionize customer relations.
In this article, we'll explore the impact of digitalization on the hospitality sector, and how it not only assists in recovery from the pandemic, but also enables the industry to tackle perennial challenges, creating memorable and positive customer experiences.
Join us as we unravel the dynamic world of digital transformation and its pivotal role in reshaping the future of the hospitality industry.
Why Digital Transformation Will Help the Hospitality Industry Recover
In 2021 and 2022, the travel industry experienced a gradual and steady increase in demand and performance metrics. As pandemic conditions improved, hotels and airlines around the world witnessed a resurgence of leisure demand, driving them back towards a healthy business state. Hotels managed to achieve rates and revenue per available room (RevPAR) surpassing 2019 levels, while US air travel volume reached at least 80% of 2019 levels daily between July 5 and November 30, 2022, due to limited capacity and higher fares.
Even though the COVID-19 pandemic left a lasting impact on the travel industry, travelers seem to be moving beyond the pandemic's concerns. As health worries subside, new challenges have emerged, including consumer financial anxieties, a widespread labor shortage affecting all travel segments, climate change concerns, and the likelihood of corporate travel never fully returning to pre-pandemic levels.
While 2022 witnessed a welcomed surge in pent-up demand, 2023 appears to be a year of grappling with complex realities facing the travel industry. It appears this year will be defined by the fundamentals of product, performance, and price, set against the backdrop of economies and societies reshaping themselves after a once-in-a-generation crisis. As the travel industry navigates through these challenges, it will need to focus on the essential role of digital transformation to adapt to the changing landscape and ensure sustainable growth.
The hospitality industry extends far beyond hotel management, encompassing resort and event management, gastronomy, wine and spirits, travel, and tourism. According to the World Travel and Tourism Council, this industry comprises 319 million jobs and is projected to create an additional 100 million jobs over the next decade.
Modern innovations like facial recognition, artificial intelligence, chatbots, and data analytics are driving digital transformation in the hospitality sector. AI and machine learning are applied to the booking process to provide more personalization, pricing recommendations, etc.
The hospitality industry's evolution into a digital-first landscape is revolutionizing how guests interact with establishments, enhancing convenience, and delivering tailored services that cater to individual preferences like never before.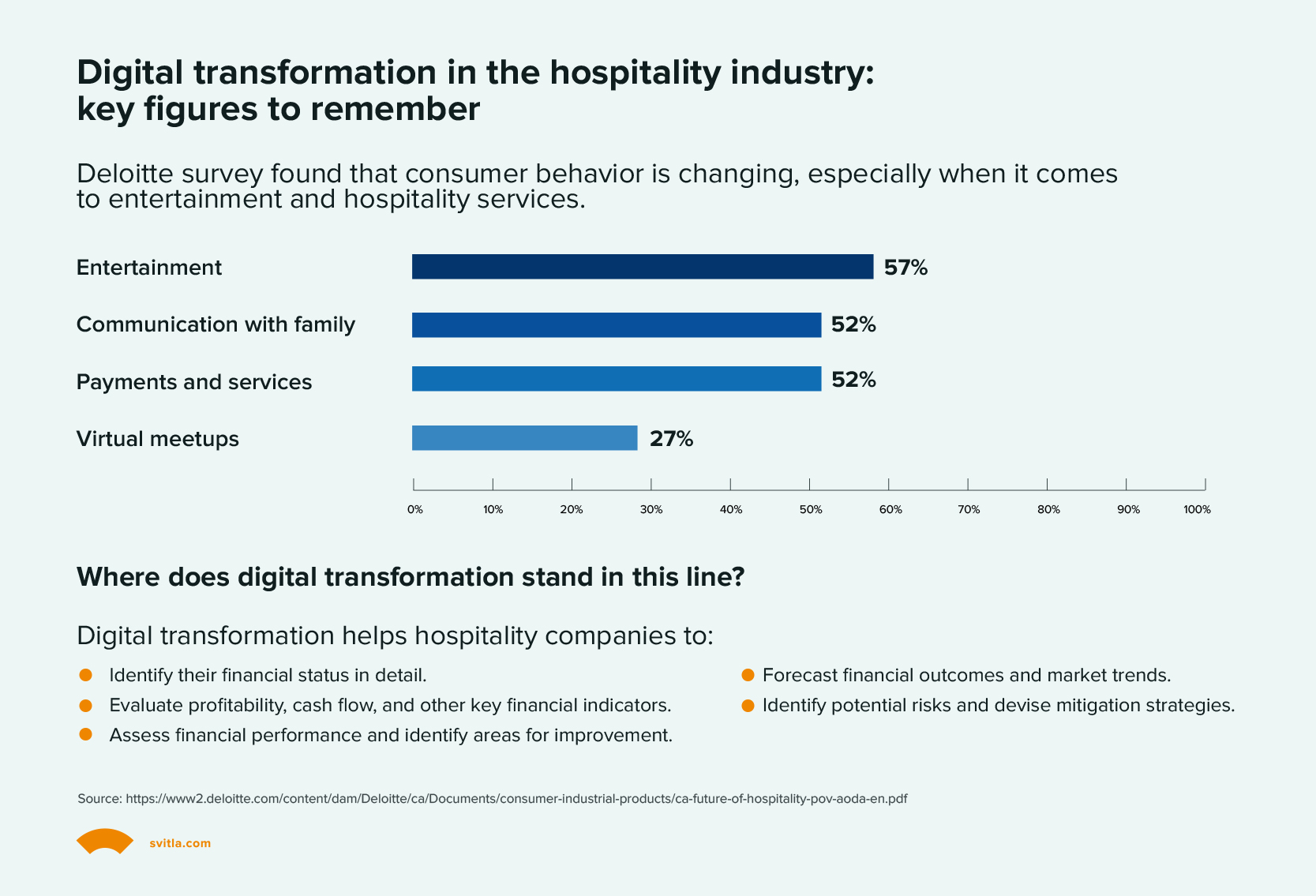 Improving Digital Marketing Strategies
One of the key benefits of digital transformation in the hospitality industry involves the way the industry approaches marketing, allowing hotels and resorts to attract new customers and retain existing ones more effectively than ever before.
Personalized Customer Experiences
Hotels collect and analyze vast amounts of data about their customers' preferences, behaviors, and booking patterns. This data can be used to create personalized marketing campaigns, tailored offers, and targeted promotions that resonate with individual guests. This level of personalization not only attracts new customers but also fosters a sense of loyalty and satisfaction among existing ones, encouraging repeat bookings.
Example: KLM, a prominent travel brand, showcases a remarkable level of personalization throughout its digital marketing efforts. To reengage abandoned online shopping carts, the company uses personalized emails. This approach enables customers to resume their user journey right from where they left off.
A particularly noteworthy demonstration of KLM's personalization is iFly 50, an interactive edition of its brand magazine. The 50th edition of iFly offered readers inspirational narratives, reviews, and general travel advice, in addition to a chance to win an extraordinary travel experience. Encouraging readers to actively interact with the brand, rather than simply scrolling, fosters a deeper sense of engagement. By prompting users to share their email addresses and opt-in for the iFly newsletter, KLM gained the opportunity to follow up with tailored marketing communications centered around the chosen destinations.
Enhanced Digital Advertising
Hotels can target specific demographics and geographic locations with precision, ensuring their marketing messages reach the right audience at the right time. This targeted approach helps hotels attract new customers who are most likely to be interested in their offerings.
Example: Best Western enhanced customer engagement by optimizing the email content based on the recipients' device and location. To start, they dynamically adjusted the message based on the device used to open the email. This ensured a seamless experience: recipients using Apple devices were directed to the Apple app store, while Android users were guided to the Google Play store. Additionally, Best Western leveraged geo-targeting to deliver personalized offers aligned with the recipient's location. For instance, the email recommended different destinations to individuals opening the email in New York City compared to those in Los Angeles.
Data-Driven Decision Making
By analyzing customer data and marketing performance metrics, hotels can gain valuable insights into the effectiveness of their marketing efforts. This data-driven approach allows them to fine-tune marketing strategies, allocate budgets more effectively, and optimize campaigns for better results.
Example: Instead of the conventional loyalty program, Virgin Hotels introduced "The Know" – a preference program designed for crafting exceptional experiences. Through an online questionnaire, guests can personalize their minibar, share allergies, and even pre-select a welcome cocktail. This level of personalization is unparalleled, positioning hotel brands to rival the intimate encounters offered by platforms like Airbnb. By treating guests as unique individuals rather than a uniform group, this approach fosters loyalty and increases the likelihood of future returns.
Handheld Hospitality
Handheld hospitality is gaining traction in the hospitality industry, offering guests a seamless and contactless experience through smartphones. With the increasing adoption of mobile devices, hotels and resorts are leveraging guests' smartphones to redefine the way services are delivered, ensuring convenience, safety, and enhanced guest satisfaction.
Mobile Check-In and Check-Out:
Upon arrival, guests can complete the check-in process on their smartphones, receive a digital room key, and proceed directly to their rooms. Similarly, at the end of their stay, guests can conveniently check out through their devices, reducing waiting times and enhancing overall guest experience.
Example: The Hilton Honors loyalty program, which boasts a membership exceeding 60 million individuals comes with a mobile app that empowers guests to handpick their preferred room, pre-order meals, check in and check out, and even access rooms and elevators using a digital key. These functionalities not only streamline various processes for both the hotel and its patrons but also enable front desk staff to focus on enriching face-to-face interactions, while guests can eliminate concerns about misplaced room keys.
Room Service at Your Fingertips, Contactless Food Ordering, and Payments:
Digital transformation enables guests to order food at hotel restaurants and make payments through their smartphones, eliminating the need for physical menus and cash transactions. Guests can conveniently request room service and additional amenities using their smartphones, ensuring a contactless dining experience and minimizing face-to-face interactions. From ordering in-room dining to requesting extra towels or housekeeping services, guests have full control over their stay through mobile apps.
Example: Hilton recently enhanced its Honors loyalty program, allowing guests to combine loyalty points with money for travel bookings, as well as consolidate loyalty points with all guests. Additionally, Hilton is implementing a feature that seems reminiscent of Uber's innovation. Guests will soon be able to track their room service's journey, observing its movement from the elevator to their room door. Location technology plays an important role in Hilton's customer experience journey. Teaming up with Spotify and Live Nation, Hilton offers Honors members exclusive "Money Can't Buy Experiences," encompassing unique deals on concerts and musical walking tours that guide guests through significant landmarks in music history.
Personalized Recommendations and Offers:
By analyzing guest preferences and behavior, hotels can offer tailored promotions, special discounts, and loyalty rewards, enhancing guest engagement and fostering repeat visits.
Example: HiltonSuggests is an adept team that constantly monitors Twitter for users inquiring about suggestions in cities such as Seattle, Miami, and Chicago. With firsthand insights, team members include their names and recommendations with each tweet, maintaining the transparency. The spectrum of recommendations spans from attractions and dining venues to hotel options. Remarkably, even rival accommodations are suggested if they align with the user's requirements. Currently amassing over 120,000 followers and substantial engagement, this account burnishes Hilton's reputation as a brand synonymous with a comprehensive travel experience you can rely on.
Cutting Operational Costs
By leveraging technology in the hospitality industry and data-driven solutions, hotels and resorts can identify areas where inefficiencies exist and implement strategies to reduce expenses. Here are some key ways digital transformation can help the hospitality industry cut costs:
Automating Administrative Tasks
By adopting property management systems (PMS) and automated workflows, hotels can streamline processes such as reservations, guest check-ins, and billing, leading to increased efficiency and cost savings.
Example: Scandic hotels in the Nordic region responded to the dissatisfaction of their guests with lengthy codes from paper vouchers. The Scandic "Easy Wi-Fi" feature extends the advantage of a single-button reconnection to returning guests whenever they are at a Scandic hotel. Guests merely need to provide their email or phone number during their initial sign-up for the service. Once more, this straightforward digital innovation not only fulfills a convenience demand for guests but also relieves back-of-house operations from the administration of countless printed paper codes.
Optimal Resource Utilization
Through digital transformation, hotels can gain real-time insights into room occupancy, food and beverage demand, and other operational aspects. This data-driven approach enables better resource planning and utilization, minimizing waste and lowering operational costs.
Example: Library Hotels, a boutique chain operating in North America and Europe, employs a concise questionnaire to customize the guest experience. In a confirmation email, Library Hotels sends a brief form asking about the reason for the trip once a booking has been made.
Based on the response, the hotel curates tailored experience offers that align with the guest's travel intent while optimally using the right combination of resources and amenities. Additionally, special gestures such as complimentary champagne are extended for occasions like anniversaries or honeymoons. This strategy provides teams with the insights required to craft unique and personalized encounters for each guest, while optimally using resources and staff.
Data-Driven Energy Management
By analyzing energy usage patterns, hotels can identify opportunities to reduce energy consumption and lower utility costs.
Example: Virgin Hotels Chicago leverages mobile technology to elevate guests' experiences throughout their stay while maximizing the use of resources and energy consumption. Virgin aimed to empower guests to tailor their hotel experience using their existing devices. The outcome was "Lucy" – a mobile app enabling guests to customize room temperature, stream content on hotel TVs, make external dining reservations, and more.
Increasing Revenue
Embracing digital transformation allows hospitality companies to enhance their market presence, increase direct bookings, and foster customer loyalty. Here are key ways in which digital transformation can lead to increased revenues:
Expanding Market Presence
By leveraging digital marketing channels, social media platforms, and search engine optimization (SEO) techniques, hotels can effectively target potential customers and showcase their unique offerings.
Example: Best Western France used AI-driven revenue management to tailor pertinent offers to its customers. Using historical stay information and preferences, AI algorithms identified the products such as hotels, destinations, and regions that held the most appeal for individual customers. Additionally, the algorithms gauged the likelihood of customers reserving specific products at distinct points in time. With personalized email campaigns, Best Western's marketing and revenue management teams targeted offers based on the preferences of each recipient. The outcome was remarkable: predictive campaigns yielded a threefold increase in booking rates compared to conventional campaigns.
Driving Direct Bookings
By offering personalized booking experiences, loyalty programs, and exclusive direct booking benefits, hotels can entice guests to book directly through their websites or mobile apps.
Example: Following its acquisition of Starwood Hotels in 2016, the brand ascended to become the global hospitality leader, amalgamating the membership bases of three renowned rewards programs: Ritz-Carlton Rewards, Starwood Preferred Guest, and Marriott Rewards. The unified Marriott Bonvoy program boasts a substantial membership of approximately 140 million individuals. The Bonvoy app revolutionized the booking process with a mobile-centric approach, incorporating hotel chat functionalities, mobile keys, guest reviews, user-friendly search and booking capabilities, and multi-lingual support.
To differentiate between leisure and business guests and meet their distinct needs, Marriott uses customer data and AI capabilities. The cumulative impact of these advantages has led to a remarkable 70% surge in direct sales via the Bonvoy app. Thus, Marriott strategically reduces reliance on OTAs, emphasizing a more direct relationship with its customers.
Enhancing Guest Experience
From mobile check-in and in-room smart devices to AI-powered chatbots for instant guest support, hotels can cater to the tech-savvy preferences of modern travelers.
Example: Staying true to its "Happiest Place on Earth" ethos, Disney World Resort is ceaselessly pursuing ways to enhance the already exceptional guest experience. A recent investment exceeding $1 billion in Internet of Things (IoT) technology and wearable solutions has propelled their commitment to delivering exceptional customer encounters to even greater heights. Among their innovative endeavors, the MagicBand stands out as a testament to Disney's visionary approach. The journey begins when guests book tickets online and curate their preferences for attractions, dining, and rides. These choices are transformed into a comprehensive itinerary, optimizing the logistics for all desired activities. Just before the trip, the MagicBand arrives at the doorstep, elegantly combining pre-selected experiences to create a highly personalized customer journey. Within each wristband resides an RFID chip and radio technology akin to cordless phones. Boasting a battery life of up to two years, the MagicBand negates the need for typical carry-ons like backpacks. Beyond serving as an itinerary, the wristband functions as a room key and can be seamlessly linked to a credit card for in-stay payments. Empowered by the versatile MagicBand, guests can streamline their necessities into a discreet wrist accessory.
Building Customer Loyalty
By harnessing guest data and feedback, hotels can create targeted marketing campaigns, loyalty programs, and exclusive offers to keep guests coming back.
Example: Marriott employs an effective strategy to foster customer loyalty. Their rewards program not only incentivizes ongoing service usage but also offers a means for personalized customer care. By enrolling in the loyalty program, customers gain the ability to tailor their experience. Through the online community, Marriott Insiders, staff frequently interact with members, gaining insights into their preferences and receiving feedback for enhancing their experience. Moreover, Marriott employs rewards to ensure continued patronage from loyal customers. Members of the loyalty program accumulate points that can be exchanged for complimentary hotel stays. They also benefit from convenient mobile check-in options, accumulate gifts over time, and access exclusive member rates.
Improving the Customer Experience
Customer experience has become a critical differentiator for success in the hospitality industry. Through this article, we can confidently conclude that digital transformation allows hotels and resorts to offer seamless, personalized, and memorable guest experiences. Here are key ways in which digital transformation enhances customer experiences in the hospitality industry:
Personalized Guest Interactions
From personalized welcome messages and room preferences to tailored offers and recommendations, hotels can make guests feel valued and understood.
Example: Recently, Best Western collaborated with IBM's Watson to engineer a collection of AI-driven interactive advertisements. These ads ingeniously employ customer responses to a set of uncomplicated queries, promptly activating travel insights and suggestions directly within the ad itself. Prospective guests can initiate a dialogue with the ad by sharing information about their upcoming or desired travel plans. This action initiates a sequence of conversational cues that gracefully lead the user through a discussion tailored to their travel requirements. Subsequently, the user can opt to secure a room reservation at a Best Western establishment, embark on a virtual tour of a Best Western hotel, or delve deeper into the range of amenities offered across Best Western destinations.
AI-Powered Chatbots and Virtual Assistants
Digital transformation enables hotels to deploy AI-powered chatbots and virtual assistants that can provide instant support and information to guests. These AI-driven tools offer 24/7 assistance, answer common guest queries, and provide recommendations for nearby attractions and activities.
Example:AccorHotels' Mercure brand distinguishes itself by crafting establishments deeply immersed in their distinct locales. Recently, the brand introduced an innovative addition to its services – the Mercure Bot, hosted on Facebook Messenger. This intelligent bot acts as a digital concierge, engaging in conversations with guests to unveil the treasures of its properties worldwide. Mercure Bot possesses the unique ability to retain geographical particulars and narratives from across the globe, surpassing human capacity. As the suggested experiences necessitate geolocation for implementation, the hotel garners invaluable customer insights while providing assistance to its guests.
Enhanced Guest Feedback and Reviews
Hotels can leverage guest reviews and feedback to identify areas for improvement, address concerns promptly, and continuously enhance their services.
Example: While personalization demonstrates its effectiveness during active stages such as research, booking, and traveling, Expedia's 2014 campaign underscored the potential of driving social interaction. In its "Travel Yourself Interesting" initiative, Expedia invited Facebook users to generate a personalized infographic showcasing their travel experiences. This included data like "total miles traveled" and "number of countries visited".
This campaign followed a prior example that allowed users to craft messages using luggage tags. Using social media as a natural hub for travel-related conversations and a hint of boasting, Expedia produced a highly engaging campaign for Facebook users. With more than 15,500 individuals crafting their travel profiles across eight countries, the outcomes are a testament to the campaign's success. For Expedia, this campaign presented an opportunity to gather distinctive social data, enabling a better comprehension of its customers and informing more targeted advertising strategies.
Immersive Virtual Experiences
Digital transformation enables hotels to offer virtual tours and immersive experiences to potential guests, allowing them to explore rooms, facilities, and amenities before making a booking decision.
Example: The Atlantis Dubai hotel offers a virtual tour allowing guests or potential guests to take a look at their hotel room, or other parts of the hotel, before they book or before they arrive. Although the optimum way to enjoy these tours is through a virtual reality (VR) headset, they can also be accessible to individuals without headset access through platforms like Facebook, utilizing its 360-degree video technology.
Revolutionizing Revenue Management in the Hospitality Industry
Revenue management has always been a critical aspect of success in the hospitality industry, and digital transformation is reshaping how hotels and resorts approach this vital function. By harnessing technology and data-driven strategies, hotels can optimize pricing, maximize occupancy, and boost overall revenue. Here are key ways in which digital transformation is transforming revenue management in the hospitality industry:
Data-Driven Pricing and Rate Optimization
Hotels can gather and analyze vast amounts of data, including historical booking patterns, demand trends, competitor pricing, and guest preferences. By utilizing revenue management systems and algorithms, hotels can optimize pricing in real-time, ensuring competitive rates and maximum revenue.
Example: EVEN Hotels cater to health-conscious travelers, both for business and leisure, by allowing them to uphold their wellness routines even while away from home. Crafting such a deeply engaging guest experience within the hotel environment begins with its staff and the data they are empowered with. They possess a thorough understanding of health and wellness, as well as a rich data-driven understanding of their guest, to readily offer advice on local jogging paths as well as rate optimization based on the hotel experiences guests want to experience. The role of hotel general managers extends to being titled as "chief wellness officers," personally coordinating and leading group runs for guests unfamiliar with the city they are visiting, and thus effectively building customer loyalty. The staff's commitment sets the foundation for the comprehensive facilities that contribute to an environment of wholesome living. Each room provides exercise guides and designated workout areas featuring a variety of fitness equipment (not to mention standing desks for guests).
Personalized Offers and Upselling Opportunities
Hotels can deliver personalized offers and upselling opportunities to guests based on their preferences and past behavior. By leveraging guest data, hotels can present tailored packages, room upgrades, and add-on services that resonate with individual guests.
Example:Delta has recently reintroduced its Guest Service Tool, a handheld device designed to grant flight attendants access to comprehensive passenger information. As an example, this tool allows staff to identify frequent travelers for upselling or individuals who require special assistance. Additionally, KLM has rolled out the "Meet and Seat" feature, allowing passengers to view seating arrangements and fellow travelers.
Digital Transformation in the Travel Industry is Changing the Game
Digital transformation empowers the hospitality sector to adapt to the changing landscape and navigate through uncertain times, as demonstrated during the COVID-19 pandemic. The use of contactless technologies, virtual experiences, and data-driven insights has allowed hotels to continue serving guests while ensuring their safety and well-being.
As the industry progresses, embracing digital transformation will be crucial for sustained growth and success. Hotels and resorts that invest in innovative technologies and strategies will gain a competitive edge, foster guest loyalty, and drive revenue growth.
At Svitla Systems, we recognize the significance of digital transformation in the hospitality industry. Through our data-driven approach, we help hotels and resorts unlock their full potential and thrive in the market of the future. Get in touch with our team to discuss your project idea.
by Svitla Team
August 17, 2023
Let's discuss your project
We look forward to learning more and consulting you about your product idea or helping you find the right solution for an existing project.
Thank you! We will contact very shortly.
Your message is received. Svitla's sales manager of your region will contact you to discuss how we could be helpful.