Published: January 31, 2022
Updated: September 13, 2023
7 min. read
Increasing Your Success Rate with Value-driven Project Team Formation
The effect that the COVID-19 pandemic has had on the world of business will reverberate for years to come. No overview of any industry would be complete without addressing how this health crisis revealed the lack of modernization and responsiveness in many of our day-to-day business processes.
Also made clear was that in-flight projects couldn't be put on hold. Instead, many organizations worked with limited and constrained resources to get their jobs done. Some firms drew upon temporary solutions such as simplifying a project's scope or deferring parts of their projects. It was necessary for projects to keep moving and still provide tangible value after their implementations.
The ability to capitalize and maximize project management strategies in high-risk, uncertain situations came into play, as it does in any high-risk situation. Through nuanced strategies and alternative approaches, there's always room to adapt and ensure the delivery of solutions that protect robust investments and realize benefits.
In this article, we address some measures that can be taken to increase the success rate by matching team formations to a fast-moving world that continues to prove to be everything but static.
Value realization
"Your task as a leader is to help others to succeed, not to strive only for your own success." by David H. Maister in "True Professionalism: The Courage To Care About Your Clients & Career" - May 2000.
The concept of continuous innovation is thrown around a lot, but it's essential that organizations realize and weigh the balance between change and impact to achieve business value outcomes.
We continue to see an industry-wide shift towards a more project management-oriented model to help increase value realization and accelerate the digital transformation journey. To manage this balancing act, it's important to clearly define the roles of project managers and team members and for each to reflect upon how their tasks impact end results with their given sets of resources.
Of course, project organizational structuring and clear role definition are steps of a bigger process as we move away from a methodology-centric model into a more flexible project-centric model. To leverage the benefits of agility and business alignment, organizations must nurture the skills and competencies of their workforce in arrangements designed to minimize unplanned disruptions and maximize business outcomes.
Part of this conversation is value realization. Value realization is the true economic value realized from a solution. Modern Project Management Office (PMO) leadership expects swift and assertive project implementation to support intended and expected value realization. As such, the PMO must monitor teams and influence team composition in addition to being the manager of all project managers. In this conductor role, the successful PMO understands the nuanced changes and scenarios that compel a project manager to focus on preserving value-based outcomes.
Back in the day (1), (and maybe ongoing), one way of doing business for PMOs was to develop a business case with Return on Investment (ROI) to help justify the case. However, sometimes a given PMO would conduct delivery-focused quality verifications to get the software built and running, but then be less clear about who accounted for the expected tangible financial returns. This type of model, which some still use or slip into, supports the delivery of expected scope and quality but is not as assertive about financial value realization.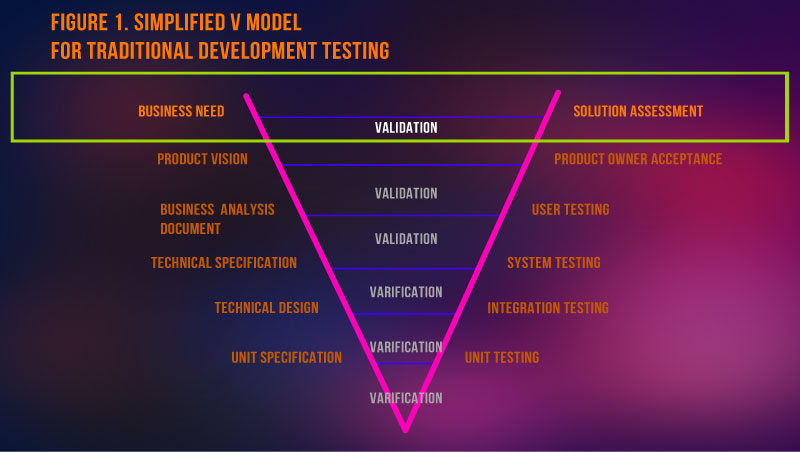 In stark contrast, the more unabashed and forward-thinking approach brings focus to the PMO for persistent value recovery. To achieve this, at Svitla Systems, we elevate business-focused project payback starting from the strategic justifications and continuing through project rollout with short-term, one-time, and recurring value capture. Svitla did not invent value realization, but we do align with our clients and empower our teams to bring focus to the value disciplines and the desired outcomes.
The approach favored by Svitla Systems provides insights that help the PMO form and manage project delivery teams to ensure business value thanks to the following considerations:
Stakeholders across different teams involved in the project provide value expectations.
By emphasizing key project themes, Svitla's teams drive towards successful value recovery.
Our team's buy-in to their project's mission helps the PMO ensure project value in real-time.
Quality practices are used to drive durable solutions that allow value realization to occur.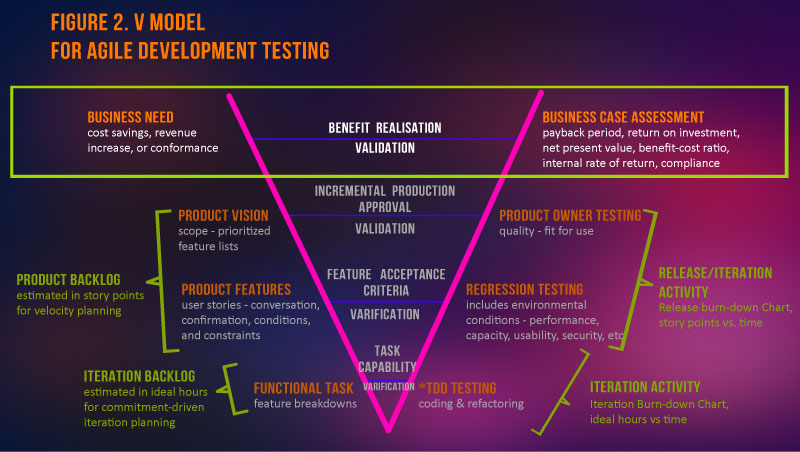 Svitla Systems has coined what's called the Progressive Value Delivery Program. With this approach, which is compatible with iterative best practices, individuals capture project business value as they go, similar to what takes place in Lean Six Sigma. For PMOs and project managers, the Progressive Value Delivery Program starts with identifying and aligning strong and comprehensive project management resources and assets to meet the value proposition. Value-centered team members are informed and empowered to help ensure project delivery achieves the business outcomes.
"Value-centered team members" sounds promising, but how do you do it? Well, another key element of this modern approach to project management is project and program staffing, which we'll cover next.
Project and Program staffing
"No Plan Survives First Contact With Customers" by Steve Blank in "The Startup Owner's Manual: The Step-by-Step Guide for Building a Great Company" - 2012.
In earlier times, some projects, programs, and services were staffed based on these approaches:
The "Pyramid" model where software delivery and maintenance organizations, which can lack speed and innovation, accept project orders and subjectively attempt to figure out the value as they go. Value realization is of interest, but maybe not a focus.
Conventional, project-based staffing model that meets the perceived needs of a project without fully understanding what it's about (e.g., the value proposition) only to later face the consequences when project change orders start pouring in and people lose sight of the financial benefits.
Now, having learned from past experiences, benchmarks, mistakes, and best practices, we've come to the conclusion that project staffing should be a holistic approach. Wise PMOs are flexible and nimble enough to accommodate different capabilities that help ensure the right teams with the right experience levels are working on the right projects to meet unique goals. With this holistic approach in effect, it's easier to adapt the composition of a team as project requirements change while retaining focus on realizing financial and qualitative benefits during and following project completion.
Let's look at project staffing models through the lens of time and cost pressures which are very common when mapping out a software development project.
Classic Pyramid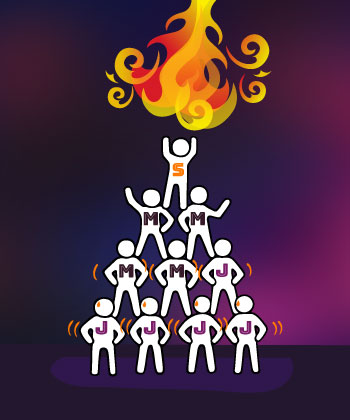 Thought of as a classic capacity staffing approach, the Pyramid model carries the unique risk of placing excessive pressure on junior and middle-level resources. This type of model can work for projects with long-term recurring situations like maintenance projects or repeatable tasks. Much like real-life pyramids, this model provides support from the ground up and is not very flexible or responsive to new additions. Given its structure, this model is susceptible to eroding capabilities and stagnation, two nemeses of project management, which can occur from endless cost-saving measures (a.k.a. "The Cheapening").
Flex Pyramid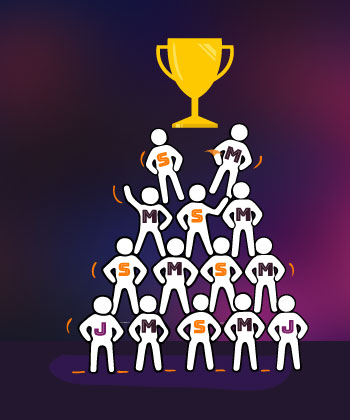 To solve where the classic Pyramid model falls short and delivers greater value, Svitla offers clients the Flex Team including the Flex Pyramid model. The Flex Pyramid model ensures flexibility and resilience at all levels of the staffing hierarchy. To achieve flexibility and stay responsive, Svitla invests in junior and middle-level resources starting from selection to onboarding, training, and mentoring through development assignments and growth measures. Developing team members encourages them to seek ongoing success. This ensures unwavering commitment to client innovation. With such methods, client value realization always occupies the team's focus.
Water tower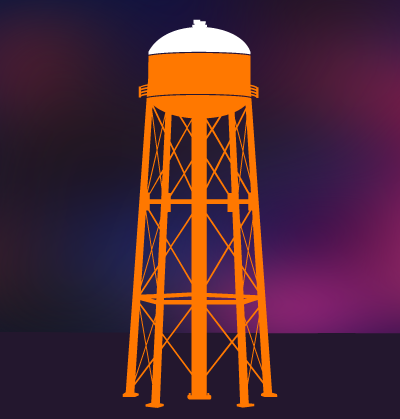 This model offers reduced delivery risks with higher-level resources thanks to its reliance on seniors, a few middles, and only sparingly some high-potential juniors who support their peers in low-risk essential tasks. This model tends to require higher investment per resource and works best for high-impact, short-term, high-pressure projects that typically carry long-term roadmap implications or near-term high-visibility and impacts.
Office building or skyscraper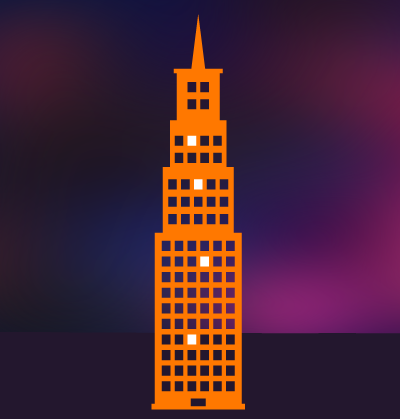 For this model, members of the project with similar experience levels occupy their respective "floors" of the team structure. This leads to lower risks, moderate costs, and moderate resource leverage. This type of model works best for mid-sized projects that focus on discovery followed by optimization, modernization, and cost reduction. A great example of a project for this type of team is application migration to the cloud with a selective mix of equal numbers of seniors, middles, and juniors collaborating to meet client business objectives and realize the expected business value.
Onion dome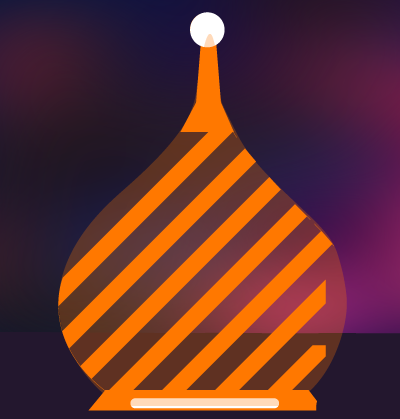 This model leverages a few seniors while placing moderate pressure on middle-level leaders and contributors and offers some reduced risk with selective grooming and the development of well-managed juniors. This model is cost-effective while preserving schedule integrity, spend visibility, deliverable quality, and the ever-important attainment and sustainment of project benefits. In the dimensions of the audience (internal or external) and priority (timeframe or cost), these are the governance perspectives for the above-mentioned staffing model metaphors.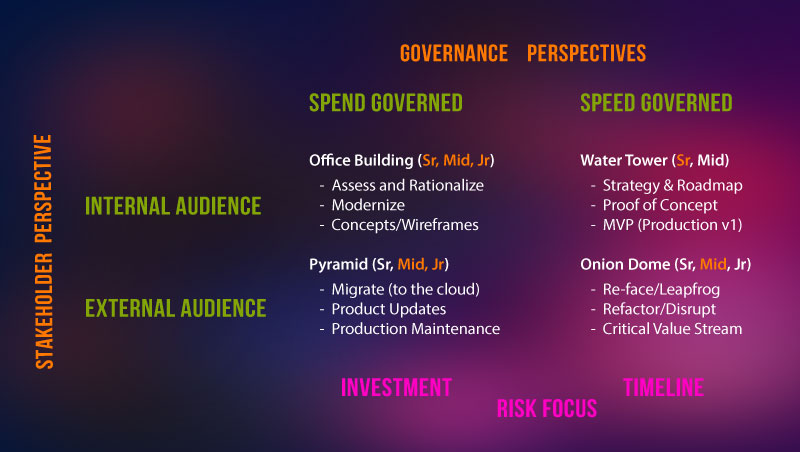 Looking at the visuals above, it's evident how vital it is to use the right staffing approach to match each set of unique project needs.
Keith Liggett, Svitla Systems Vice President of US Delivery Management
shares his thought leadership on the subject and says, "Treat every project as a business startup committed to the value proposition for their stakeholders. Staff for resilience and quality to build a culture of success." For you non-consultants, "build and lead strong teams to deliver business benefits."
Conclusion
Successful software development projects require speed, agility, and quality. The key is to have a properly-staffed, well-organized team with a clear structure and clearly assigned roles. With such a foundation, teams are empowered to attain the project's value proposition. Svitla Systems provides flexible arrangements to meet the needs of clients looking to meet their business goals.
About Svitla Systems
Svitla Systems promotes a "do it right the first time" approach with every project. To achieve this, Svitla provides not only the aforementioned strong development teams, but also proven experts in DevOps, Architecture, Integration, and QA to implement and manage complex project workflows. Whether it's building a project from the ground up, tweaking an existing project, or anything in between, there's a Svitla Systems approach to staffing projects that ensures deliverables are value-driven to address each client's unique business requirements.
If you care to learn more about our unique staffing models, please reach out to a Svitla Systems representative to see how we can take your project idea and turn it into a success story with the help of the best talent that is organized and guided to help you succeed.
***
1. Monteleone, Mark (2013), A Proposal for an Agile Development Testing V-Model, www.modernanalyst.com
Related articles
article
article
Let's discuss your project
We look forward to learning more and consulting you about your product idea or helping you find the right solution for an existing project.
Thank you! We will contact very shortly.
Your message is received. Svitla's sales manager of your region will contact you to discuss how we could be helpful.