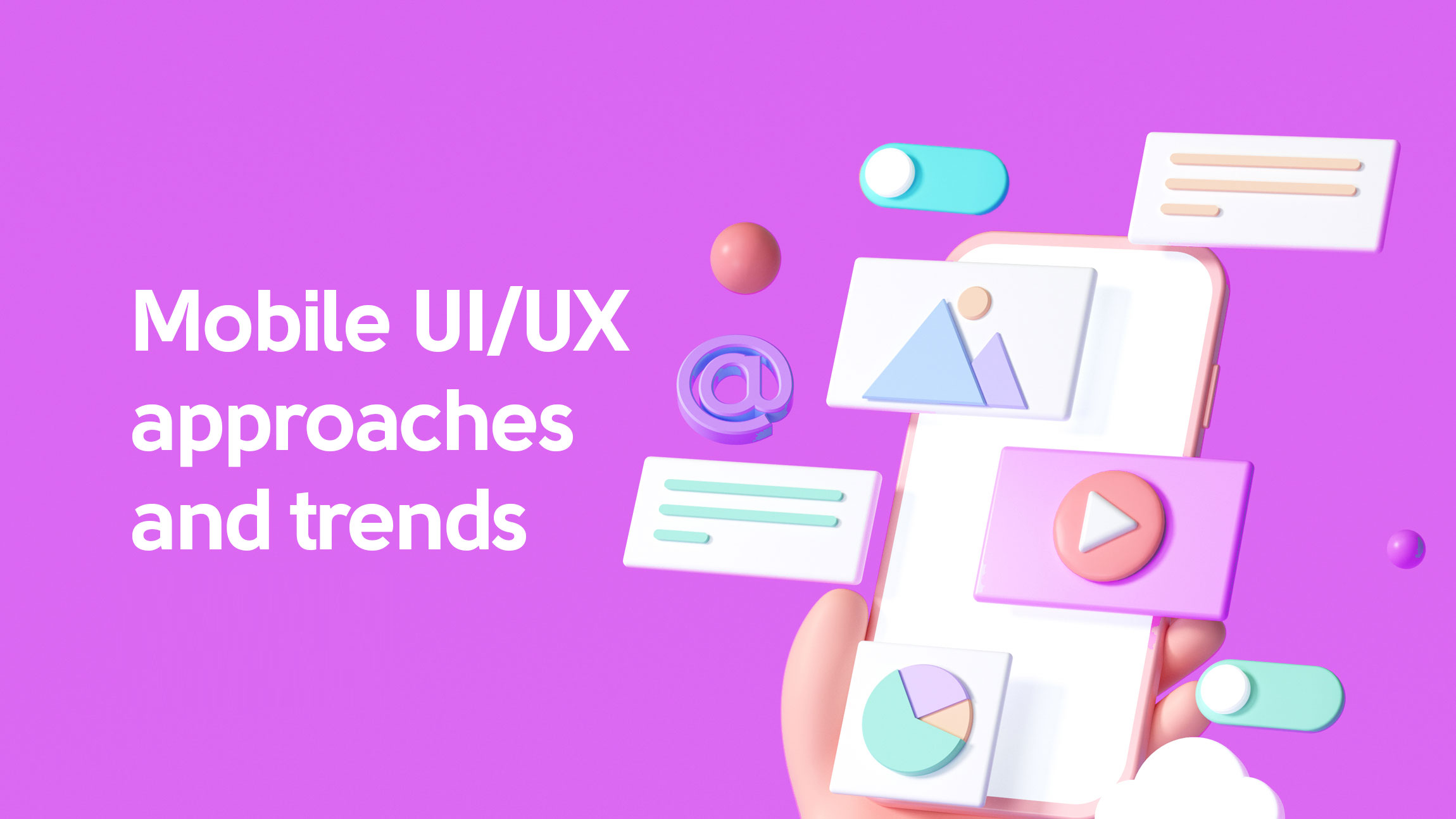 Published: April 26, 2022
Updated: October 10, 2023
10 min. read
Mobile UI/UX Approaches and Trends In 2023
The pandemic accelerated mobile habits, which only solidified in 2021 and 2022 and will continue to ride that wave in 2023. Spanning different mobile app preferences, there's no way to overlook the fact that the world has gone mobile, especially with over 230 billion downloads taking place by the end of 2021.
In fact, mobile devices, except for tablets, accounted for more than 54% of web traffic worldwide in the last quarter of 2021, and by the end of 2023, this usage surged to 57.38%. This number becomes even more striking when merely a decade ago, it was 8.53%.
It's inevitable that the rise in mobile traffic impacts the IT industry in multiple ways. For one, mobile developers are in high demand, with the urging for new content reaching new highs. One of those mobile development layers focuses on mobile user interfaces (UI) and user experience (UX) designers. Both roles are very sought after, but as 2023 continues to bring change and emerging technologies continue to appear, it can be hard to keep up.
For this blog post, we'll be focusing on the approaches and trends that 2023 brings for mobile UI/UX, and how both areas are pivotal to the success of mobile apps.
Here we go!
What is UI Design?
The IT industry is plagued with confusing terms but two of the most conflated ones are, without a doubt, UI design and UX design. Frequently bundled together as UI/UX design, many think of them as a single entity, and have a hard time pinpointing where each differs.
In short, UI design, which stands for User Interface design, is the graphical interface, or layout, of an application. Everything that makes up an interface, has a design element to it that is addressed by UI design. Think of buttons, search boxes, text entry fields, images, transitions, animations, even micro-interactions, screen layouts, and every other item a user might interact with. That's all UI design.
Cue UI designers who are the folks who design how an application is going to look and feel. From fonts, color schemes, and button shapes, all design elements are decided by the UI designer.
In the case of mobile applications, mobile app UI designers also focus on native elements that will make the journey of a mobile user-intuitive and easy. For example, face recognition for logins, a clean layout as the surface is relatively smaller than that of a web application, fingerprint recognition, and more.
Because of the heavy design element involved, most UI designers are graphic designers who focus on aesthetics and making the mobile app visually attractive, stimulating, and branded so it's in line with the tone of the app.
What is UX Design?
User experience, UX for short, is how the user will interact with an interface. So you have the buttons, the right font, and the layout, but how intuitive is the application? Is it easy to find what you're looking for? Is the layout confusing? Those are the questions that UX design focuses on.
UX design is rooted in defining how easy or complex it is to use an application with the design elements that UI design has set in place. As you've probably guessed, both UI and UX design are intricately woven together, which is why we land in the confusion of using both terms interchangeably or lumping them together. The key difference is that UI design decides how the interface will look while UX design defines how the interface will work so users have a successful user experience. For UX designers, it's all about making sure users have a seamless and effective user experience.
In the case of mobile UX design, designers determine how the application will meet the unique requirements and restrictions of a handheld device. Areas like accessibility, discoverability, and efficiency take center stage so UI in mobile experiences are interactive and engaging, prioritizing features unique to mobile apps like self-evident navigation or finger-friendly taps for interactive elements.
Modern UI for Mobile Devices
Once the pandemic hit, many mobile devices became an all-in-one-place office of sorts. Entire workloads were moved online, with the demand to be able to access work-related items via mobile devices higher than ever.
The need to have it all in your pocket, your mobile is now a center of entertainment, your supermarket, your library, and your office, all at once. Inevitably, modern user interfaces tend to new requirements and design patterns.

UI design can be an intricate and complex process. More so than functionality and user experience, humans are all about first impressions, which is why design is monumental.
These are some of the trends we've seen for modern UIs for mobile devices that will continue to carry their weight in 2023:
Make splash screens interesting: Splash screens are the first thing you see when launching a mobile app. Splash screens are used to hide the loading process of the software embedded in the mobile app, and it doesn't hurt to make it equal parts engaging and intriguing. Some marketers use splash screens to introduce the atmosphere of the mobile app, promote a brand, or simply say hello. Splash screens should be simple, and quick, and include a progress bar if you know the load time is high so users know what to expect. Of course, not all mobile apps require a splash screen as modern apps can now load super fast, making splash screens irrelevant.
Keep login/profile screens short and sweet: Many modern mobile apps require registration, so login screens are a must. Designers should make the login experience seamless, appealing, and clean-cut so the interaction is easier and short to avoid app abandonment. We recommend that you keep login screens free of distractions, straight to the point, with a limited number of form fields, or provide one-click logins via social media platforms like Facebook or LinkedIn.
Make invisible headers your friends. Modern apps are typically free of solid-colored headers. Instead, headers now slide and are transparent to provide just enough context to perform quick actions as the user navigates the app. Remember, white spaces in your mobile apps make them look more clean and less cluttered, which is always visually pleasing.
Keep it curvy. Sharp corners can feel outdated or aggressive in mobile apps. Rounded corners are your friend in UI design, so it's recommended that you keep buttons with rounded corners so your mobile app feels friendlier.
Images and illustrations keep things visually attractive. Humans thrive on visual stimulation, so photos and illustrations are an express ticket to convey your message. Break long scrolls with relevant images so users don't get tired and abandon the app.
Give it some movement. Motion in mobile apps is one of the latest trends, embedding mobile apps with smooth animation that make it feel smooth and modern. You can add real-time and non-real-time interactions so motion supports your usability. Basically, motion in your mobile app enhances user experience with continuity for the user flow, a consistent narrative so there's a linear progression of events, and a spatial, temporal, and hierarchal relationship between interface elements so users understand what it's supposed to do and guide decision-making.
How to Create UI Design for an App
Material Design for Android
Created by Google in mid-2014, Material Design is an Android-specific design language that provides rich guidance for visual, motion, and interaction design for multiple platforms and devices, supporting robust features, onscreen touch experiences, natural movement that emulates real-world elements, and more.
UI Designers leverage Material Design to optimize the user experience with realistic components like lighting or animation features. All in all, the goal of Material Design is to provide high-quality results that are consistent and give users control over aesthetically-pleasing components that behave like real-world objects.
The idea behind Material Design is to reduce the cognitive load for users as they try to figure out what a feature does. Instead, by using Material Design to mimic real-world objects in terms of lighting and motion, users can predict what an element does, eliminating ambiguity along the way. For instance, users find onscreen objects more credible if they abide by the laws of gravity.
In 2018, Google released an updated version of Material Design to fix some of the issues UI Designers were encountering including restrictive guidelines. In the new update, Google gave designers added flexibility to brand apps more in line with their design. Now, designers find it easier to tweak aesthetics.
Apple UI/UX Design for iOS
Apple's UI/UX design for iOS helps designers create mobile application layouts that are interactive, readable, efficient, graphic-pleasing, and clean.
Apple's developer site provides several tips and best practices for UI designs for mobile apps and UX for mobile design, including resources, tools, UI for iOS templates, and in-depth information on how to design apps for iOS that seamlessly integrate with Apple platforms.
Before jumping straight to building a UI design for iOS, Apple recommends that designers take the following considerations under careful consideration:
Formatting content. iOS UI Designers are recommended to build mobile app layouts that are capable of fitting any device's screen. Ideally, users should be able to see primary content without having to zoom in or out, or scrolling horizontally.
Touch controls. Designers should consider and define touch gestures the mobile app will recognize so users get an easy and natural interaction with the UI elements. For example, when choosing a date, some mobile apps let users spin wheels that list the day, hour, and minute, so users can easily move their fingers up or down to choose the right date and time.
Hit targets. Apple gives designers the tools to create target elements that users can easily and accurately tap with one finger. These hit targets are at least 44 points x 44 points so fingers have no issue tapping them.
Text size. Mobile devices are smaller than a desktop or laptop computer, so it's important to keep the text legible so users can easily read the content from a typical viewing distance, without having to zoom in or out.
Contrast. Designers need to ensure the contrast between the mobile application's background and the font color is ample and doesn't clash so the text is easy to read for users.
Spacing. Text overlaps are a no-no. Improve user experience by making sure text doesn't overlap, and there's enough spacing and adequate line height.
Resolution. All visual assets should be displayed in high-resolution versions so they don't appear blurry to the user.
Distortion. Designers need to make sure the aspect ratio is as intended to avoid image distortion.
Organization. It's all about keeping the layout clean so users have an enjoyable experience. For example, easy-to-read flows put controls next to the content they modify so users see the impact their clicks and taps have on specific controls.
Alignment. Text, images, and buttons need to be aligned to users can see the relationships between specific information elements.
Current Trends in Mobile Apps
Making a good impression with your mobile app is crucial to its success. The goal of your UI/UX design is to quickly engage users and connect with them through the app via smooth navigation that has a direct impact on your app's return on investment (ROI).
As the landscape continues to transform and evolve, designers need to look beyond looks and combine intent with the app's architecture so the UI/UX outputs are organized, structured, accessible, and visually pleasing, all in one beautiful package.
With 2022 over and with plenty of trend mobile apps seen then, let's review some of the UI/UX trends that will shape and rise in 2023:
Customization, customization, customization. Mobile app customization is picking up speed as an essential aspect of UI for apps in mobile development. Tailored experiences can be made richer with the help of smart technologies like artificial intelligence or machine learning which can help offer, for example, user recommendations, based on past behavior.
Remember we said to keep things curvy? Round edges and corners make your mobile UI app immediately look and feel more modern and friendlier. Both Android and iOS devices have rounded corners, making it the flagship of both mobile giants.
Get your voice interaction ready. Voice-controlled virtual assistants are all the rage, and it's no wonder why as they go above and beyond in helping users with their day-to-day tasks. Products like Siri, Bixby, or Alexa have become staple names in the virtual assistant game, with AI-enabled voice-powered applications that yield quick search results and a tailored user experience.
Password who? Let's face it, it's getting harder and harder to remember all the passwords we have for different applications or services. Going password-less was already very popular in 2022, and will continue to keep up that momentum in 2023 with more and more UI for mobile apps offering password-less logins and instead requesting facial or fingerprint recognition, one-time temporary passwords, sign-in links, or social media linkage.
Animation. Animation has a way of making a mobile app immediately feel more modern and professional. Animated in-app moves and motions can help transfer tons of data, whether it's about explaining changes, confirming actions, or adding a certain cadence to interactions, UI/UX designers will be focusing heavily on embedding more animations in their mobile apps.
Dark themes are cool. Not only are these low-light UIs more power-saving, but they also help reduce eye strain which is a huge plus in the era where everyone is using their mobile device more and more.
Make way for AR/VR. Virtual reality and augmented reality technology help marry digital elements with real-world imagery, giving users a superior experience.
Conclusion
UI and UX designers care about one thing above all: to design things simple and effective for the user. Both areas complement each other and frequently work side-by-side to make sure the mobile app's look and feel are cohesive, intuitive, and engaging.
With new trends making an appearance on the daily, UI and UX designers can have a hard time keeping up, but by staying on top of new technologies and approaches, designers open up a world of possibilities to make the lives of mobile users a whole lot easier.
At Svitla Systems, our mobile UI and UX designers are always excited about the latest trends in design to provide clients with modern and sleek-looking apps that fit their brand and increase their direct revenue
If you'd like to learn more about how our mobile UI and UX designers can take your mobile app and transform it into a value-driven, best-possible experience for your users that is centered around boosting customer satisfaction and increasing app engagement, reach out to our Svitla Systems representatives and we'll be happy to help.
Related articles
article
article
Let's discuss your project
We look forward to learning more and consulting you about your product idea or helping you find the right solution for an existing project.
Thank you! We will contact very shortly.
Your message is received. Svitla's sales manager of your region will contact you to discuss how we could be helpful.