Top 5 Nearshore Software Providers in Mexico
The surge in digital business investment has resulted in a significant disparity between the demand for digital talent and its limited supply. Software outsourcing has emerged as an optimal solution for businesses that want to guarantee uninterrupted operations, cost-effectiveness, and high-quality outcomes.
Mexico, a vibrant and thriving IT destination, has become a hotbed of technical talent and competitive advantages. It offers organizations an unbeatable location with easy access and cultural fit to regions like the U.S. and Canada. The IT sector in the Mexican market experienced significant growth of 9.6% during the first quarter of 2022, and by the end of the year, more than 400 companies became interested in establishing themselves in Mexico.
In this article, we will delve into why Mexico stands out as a compelling nearshore choice, as well as review the best nearshore software service companies in the country.

Source: Pentalog.com
The Fierce Competitiveness of Nearshoring in Mexico
Proximity to the Strategic Client Locations
Situated in close proximity to the United States and Canada, Mexico enjoys a unique advantage for software outsourcing. In fact, the country's government recently communicated that Mexico was considered the 6th largest exporter of information technology products and services with the revenue in the IT Services market projected to reach US$11bn in 2023.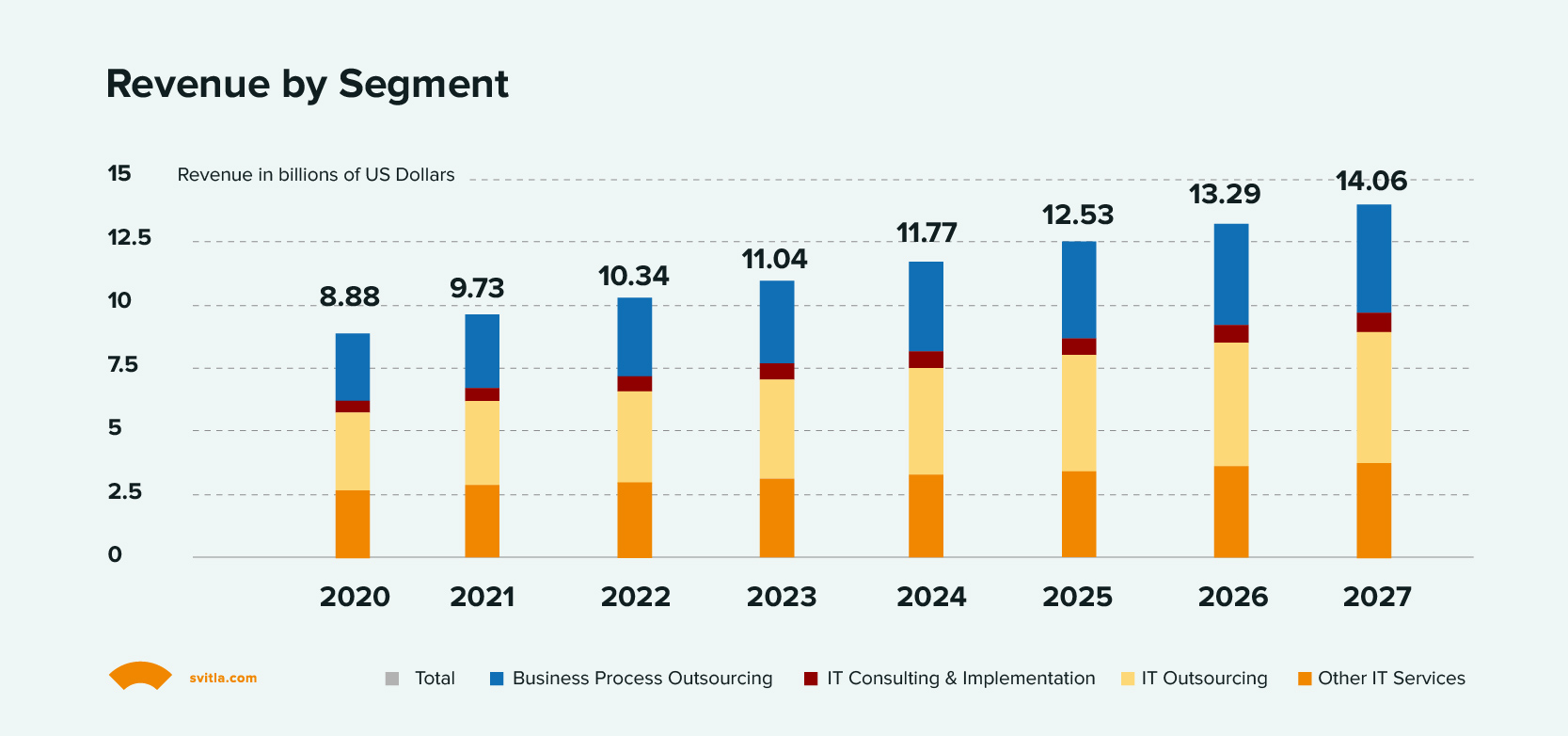 Source: Statista.com
​​The strong economic ties between the US and Mexico are reinforced by the US-Mexico-Canada Agreement (USMCA), which came into effect in 2020. This agreement includes a dedicated chapter focused on digital trade, reflecting the importance of collaboration among the three countries in developing and integrating their digital markets.
Overall, Mexico's geographical proximity significantly reduces travel time and enables frequent face-to-face meetings, fostering effective collaboration and streamlined communication. Quick and efficient travel between Mexico and the United States allows for better project management, on-site visits, and seamless coordination, ultimately enhancing the overall outsourcing experience.
Technically Skilled Workforce
With an impressive pool of over 700,000 tech talents, Mexico firmly positions itself as a powerhouse in the software development arena, consistently delivering superior services to its global clientele. The talent pool is expected to increase further due to the annual graduation of over 130,000 engineers.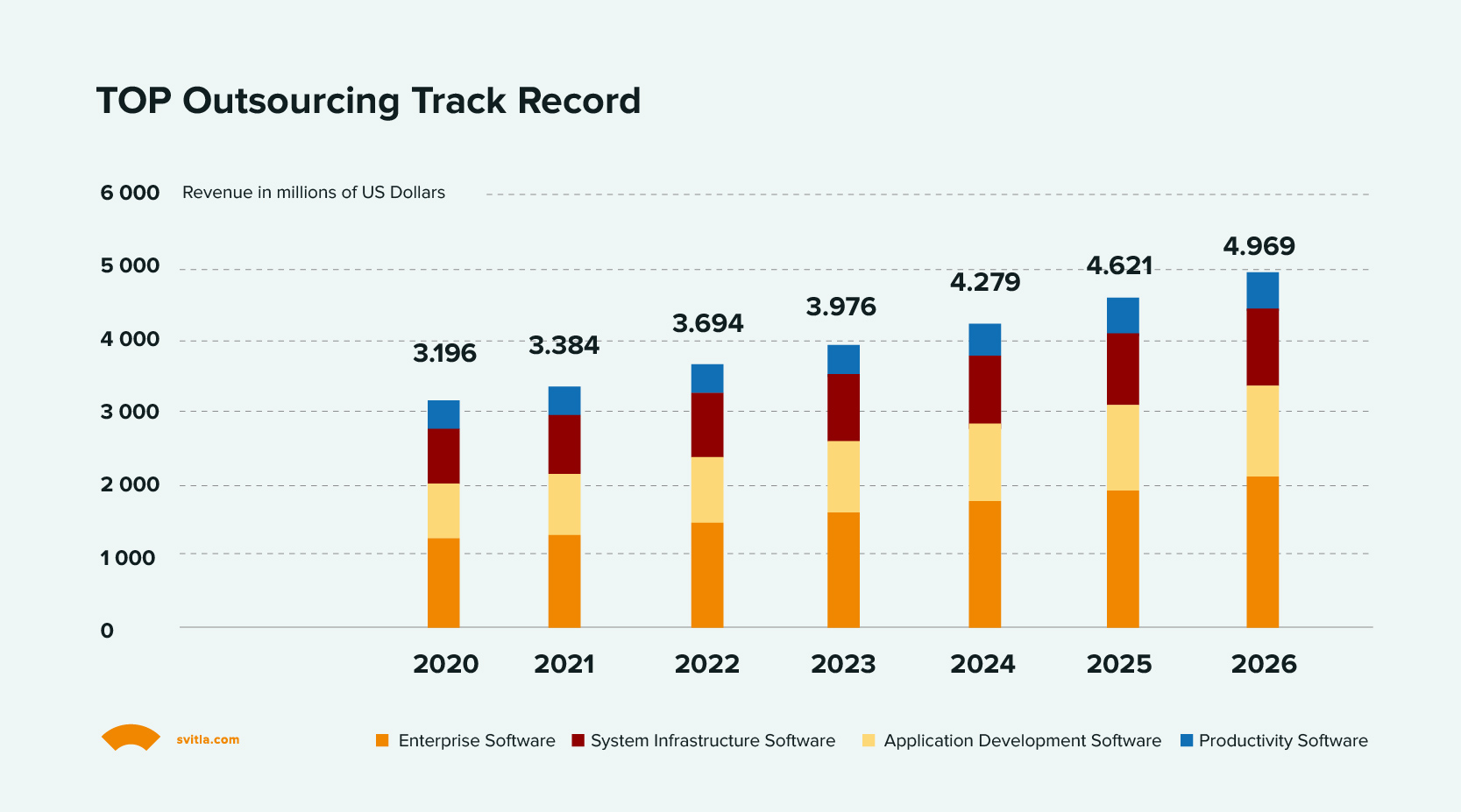 Source: Statista.com
Reports further emphasize the fact that Mexico possesses an extensive reservoir of skilled developers, ranking just below Brazil. Additionally, in Latin America, Mexico stands out with the highest percentage of engineering graduates, accounting for 25% of all tertiary degrees focused on STEM disciplines.
Mexico's educational establishments are widely recognized, with six universities positioned among the top 50 in Latin America. Notable institutions include the National Autonomous University of Mexico, Tecnologico de Monterrey, Benemerita Universidad Autonoma de Puebla, National Polytechnic Institute, and several others. Coursera's assessments of developer skills reveal that Mexico has achieved impressive rankings in various domains:
Data analysis: Mexico excels with a 38% proficiency rate.
Machine learning: The country demonstrates a commendable 20% expertise in this field.
Probability and statistics: Mexico boasts an exceptional 83% proficiency in this area.
Data management: With a 55% proficiency rate, Mexico displays strong capabilities in managing data.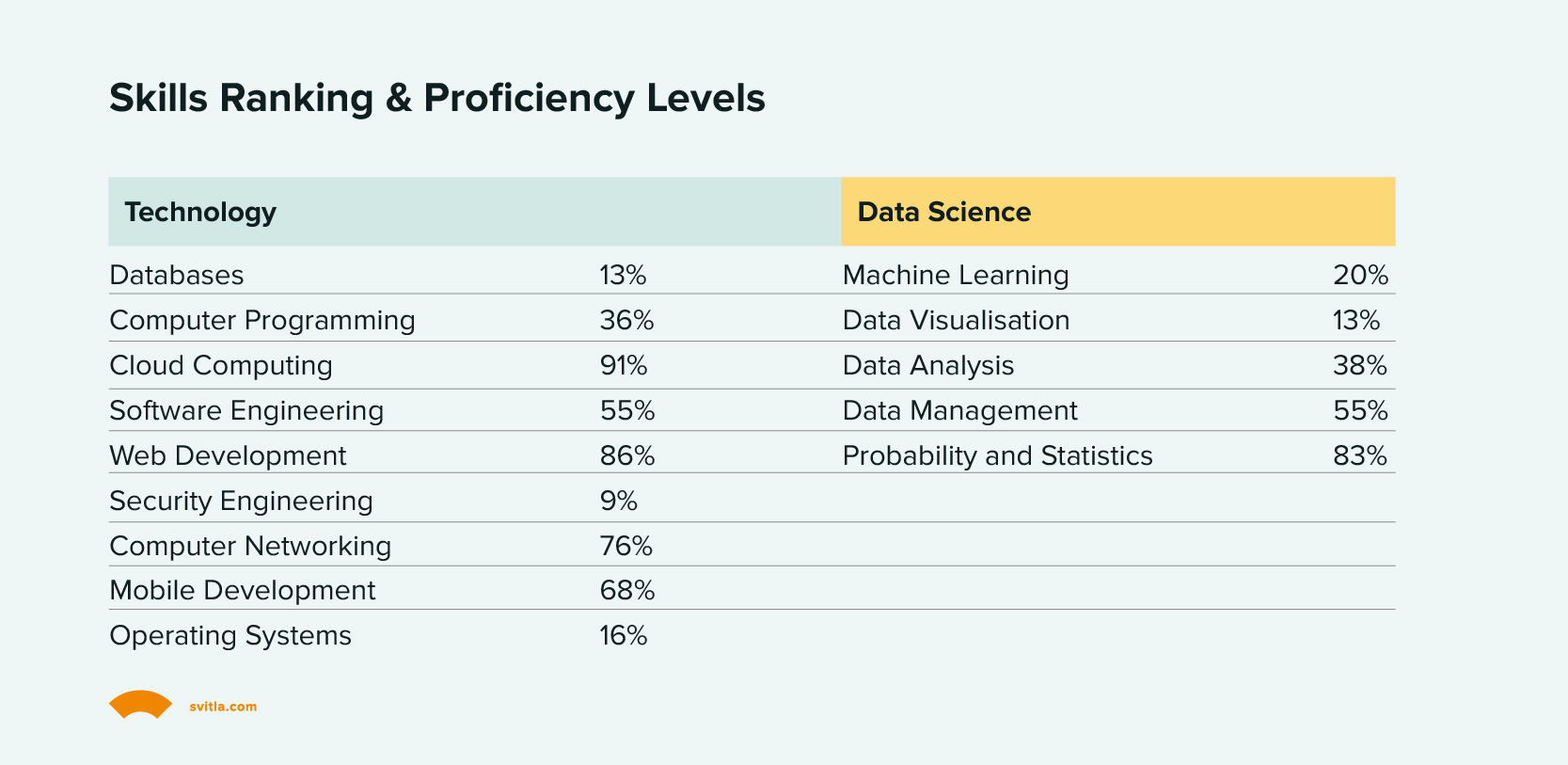 Source: Coursera
Cost-Effectiveness and Price Models
Compared to other outsourcing destinations, Mexico offers competitive pricing structures without compromising on quality. After conducting a thorough analysis of local Mexican job boards and salary statistics, we have gathered valuable insights into the compensation rates for developers based on their level of experience. For junior software engineers with less than 1 year of experience, the expected annual salary amounts to MXN $696,000 (USD $36,507). As engineers gain 1-4 years of experience, their compensation rises to an average of MXN $960,000 (USD $50,355) for middle-level positions. Senior specialists with 5-9 years of experience can earn MXN $1,290,972 (USD $67,716). In the case of hiring experienced architects or team leads, the average total compensation reaches MXN $1,316,628 (USD $69,062).
To further illustrate, here's another range of salaries as reported by multiple platforms: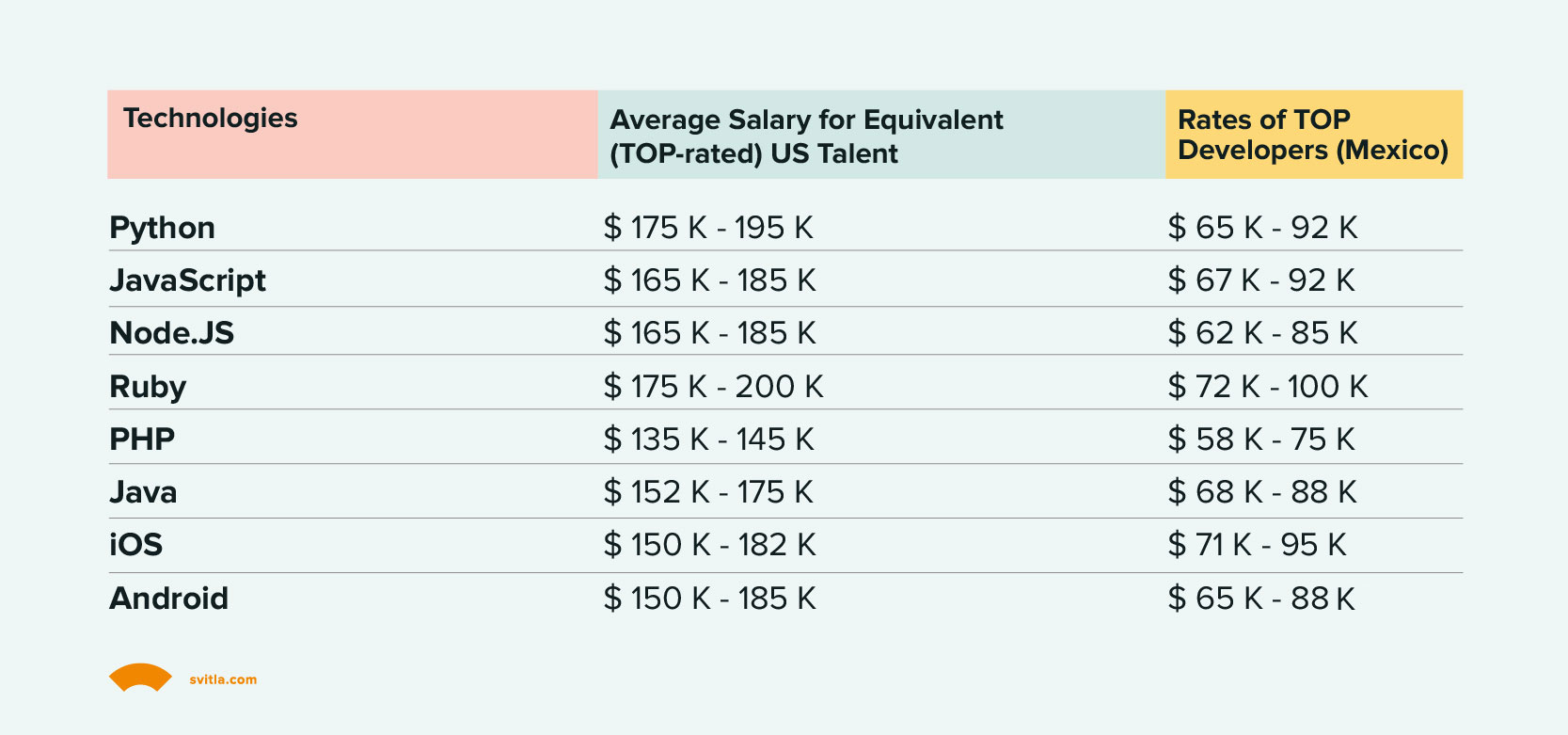 The lower operational costs, combined with a favorable exchange rate, present significant savings for businesses. Moreover, the cost of living in the United States is approximately 329% higher than in Mexico. Specifically, the disparity in rental costs can reach nearly 400% in certain cases. Consequently, software developers have distinct economic requirements in each location, leading to a cost arbitrage situation where a skilled engineer in the US may be 40-60% more costly compared to their Mexican counterparts.
Cultural Similarities and Time Zone Compatibility
Shared cultural values, language proficiency, and a deep understanding of the North American business environment enhance the working relationships between Mexican outsourcing teams and their U.S. counterparts. This cultural synergy facilitates efficient knowledge transfer, mitigates potential misunderstandings, and fosters strong collaboration.
Moreover, given that Mexico operates in close time zones with the United States, it's easy to see how organically Mexican IT companies achieve and deliver real-time communication, timely updates, and prompt issue resolution. When comparing Mexico to the United States, the maximum time-zone difference between the two countries is approximately 2 hours. As a result, companies that choose to outsource to Mexico can enjoy the benefit of real-time or nearly real-time collaboration.
This minimal time difference enhances productivity and minimizes delays, providing businesses with a significant advantage in project execution and responsiveness to client needs.
Choosing the Right Nearshoring Partner in Mexico
When selecting an outsourcing provider for nearshore software development in Mexico, it is crucial to carefully evaluate various parameters to ensure a successful and productive partnership.
Experience and Technical Expertise
Assess the provider's track record, portfolio of successful projects, and industry experience. Look for providers with expertise in the specific technologies, frameworks, and domains relevant to your project. This ensures that the outsourcing team possesses the necessary skills and knowledge to deliver quality results and navigate any technical challenges that may arise.
Scalability
Assess whether the provider has a proven track record of scaling resources effectively, both in terms of team size and infrastructure. A scalable provider can adapt to your evolving requirements, ensuring a smooth and uninterrupted project execution.
Communication and Project Management Skills
Clear and transparent communication channels facilitate seamless collaboration and help assess project management skills, ensuring that they follow established methodologies, provide regular progress updates, and demonstrate a proactive approach to issue resolution.
Security and Data Protection
When outsourcing software development, security and data protection should be of utmost concern. Assess the outsourcing provider's security measures, protocols, and certifications. They should have robust systems in place to protect sensitive data and ensure compliance with relevant regulations and industry standards.
Interesting point
In contrast to numerous other nations, Mexico and the United States have established trade agreements that ensure the safeguarding of intellectual property. This provides the assurance that you can freely share the necessary information for software design and development with remote workers in Mexico, without any concerns about potential theft or misuse of your intellectual property.
Location Advantages
Consider the location advantages offered by the outsourcing provider in Mexico. Ensure they have access to reliable internet connectivity, electricity, and other necessary infrastructure for seamless software development.
Best 5 Nearshore Software Providers in Mexico
1. Svitla Systems
Svitla Systems stands out as a leading nearshore software development company in Mexico, offering a range of advantages to its clients. The company excels in providing cost-effective solutions without compromising quality. Their team of talented and experienced consultants and engineers brings extensive experience in many domains including Cloud Solutions, Web & Mobile Apps, E-Commerce Development, Data & Analytics, DevOps Consulting, Quality Assurance, Internet of Things, AI and ML, RPA, UX/UI Design, and more.
Svitla Systems is also AWS Advanced Tier Partner, which enables it to offer the most innovative and advanced cloud solutions available on the market, as well as expert advice and solutions on:
Cost reductions and streamlined resource usage through optimized cloud infrastructure
Enhanced application performance and improved user experience
Increased business agility with rapid deployment and seamless integrations
Robust security measures, ensuring compliance and mitigating risks
Competitive advantage in the digital landscape, driving growth and success
​​Key Working Models
Consulting Services
Offers a comprehensive range of consulting services tailored to different aspects of digital transformation and software development projects.
Enhances project quality through expert advice on architectural design, technology selection, project planning, process improvement, code review, and performance optimization.
Leverages industry expertise and best practices to provide insightful guidance and recommendations.
Facilitates informed decision-making and optimizes development processes.
Managed Teams
Serves as an effective extension of the in-house team, offering specialized expertise as needed.
Provides a dedicated team of professionals selected specifically to meet the project requirements.
Ensures seamless integration into existing processes and workflows for minimal disruption.
Manages all administrative and operational aspects, including recruitment, HR, infrastructure, and project management.
Allows the client to retain full control over the project's direction and goals.
Managed Projects
A specialized working model emphasizing agile software development practices.
Under this model, Svitla helps clients avoid project management risks by taking control over the delivery of their projects within specific requirements, time, and budget.
Teams are self-organizing and cross-functional, combining a range of professional skills for a holistic approach.
Promotes collaborative and iterative work to deliver software in short, effective development cycles, or sprints.
Encourages flexibility, adaptability, and close collaboration for rapid development and continuous improvement.
Technology Stack
Backend: Python, Java, JavaScript, C#, C++, Ruby, PHP, Node.js, Swift, Kotlin, TypeScript, Go, Scala
Frontend: JavaScript, TypeScript, HTML, CSS, React, Angular, Vue.js
iOS: Swift, Objective-C, Xcode, Cocoa Touch, UIKit, SwiftUI
Android: Java, Kotlin, Android Studio, Android NDK
Quality Assurance: Selenium, Postman, JUnit, Pytest, Appium, Cucumber, Cypress, Jest
Data & AI: Spark, Hadoop, TensorFlow, Keras, Pandas, NumPy, PyTorch, Kafka, Elasticsearch, Amazon SageMaker, Microsoft Azure ML, Google Cloud ML
IoT: Node-RED, AWS IoT, Azure IoT, Home Assistant, Grafana
Computer Vision: OpenCV, TensorFlow, Google Vision API, Microsoft Azure Computer Vision API, Amazon Rekognition
Cloud: AWS, Azure, GCP
DevOps: Terraform, Ansible, Docker, Kubernetes, Azure DevOps, GitHub, GitLab, Jenkins
eCommerce: WooCommerce, Shopify, Magento, BigCommerce, Stripe
2. Divelement
Divelement takes a people-centric approach to software engineering services, collaborating closely with companies to enhance their digital product roadmap. Their expertise lies in general-purpose software development, catering to a wide range of industries and market goals. By leveraging their technical skills and industry knowledge, Divelement has become one of the leading nearshore software companies in Mexico by helping clients achieve their desired outcomes in the competitive market landscape.
Technology stack
Design: Sketch, InVision, Illustrator, pencil.
Front-end: HTML5, CSS3, React, Gatsby, React Native, Vue, Next.
Back-end: Node, Netlify, Contentful, AWS, Serverless, magic, MongoDB, Express, Firebase, MySQL.
Working models
Web Development, Mobile Development, Prototyping, UI/UX Design, App Operations, and Consulting.
3. ClickIT DevOps & Software Development
ClickIT is a prominent nearshore software development firm in Mexico specializing in DevOps and Software Development services. They assist startups, SaaS, and enterprise companies in achieving their business objectives with cutting-edge solutions. As an AWS Select Partner and a top software outsourcing company in LATAM, ClickIT offers comprehensive services that encompass analysis, consultancy, design, and implementation of custom cloud projects.
Technology stack
React, GitLab, Node.js, NewRelic, SonarQube, Ruby, Github, Terraform, Kubernetes, Angular, CircleCI, Ansible, and more.
Working models
Nearshore Service Delivery: Model for organizations who want to decrease expenses without sacrificing quality with a team that is geographically and culturally close. Within the Nearshore Service Delivery model, they have several offerings: Software development, DevOps services, and dedicated teams.

Staff Augmentation: ClickIT's staff augmentation model is centered around collaborating on client projects as an extension of the client, immersing engineers into daily meetings and reporting for the management team. Within their Staff Augmentation model, they have several tiers: Dedicated team, staffing services with a dedicated team of engineers to support the client's operations.
4. Teravision Technologies
Teravision Technologies brings over 17 years of experience as a trusted nearshore development company in Mexico. With a team of over 300 professionals located in Mexico, Colombia, and Venezuela, Teravision excels in design, development, and quality assurance of custom software solutions. Their broad industry expertise spans various sectors in the U.S. and Latin America. Teravision Technologies focuses primarily on custom software development, providing tailored solutions to meet clients' specific requirements.
Technology stack
Jest, JWT, Mocha, Next.js, NYLAS, SCSS, Typescript, MySQL, PHP, Amazon Web Services, MongoDB, Node Js, React Native, Cassandra, PostgreSQL, Kotlin, GraphQL, Swift, Arango, Golang, Adonis, Bootstrap, Laravel, Docker, Elasticsearch, and more.
Working models
Dedicated Team: Dedicated team of professionals to work exclusively on a client's project. The team is selected based on the client's specific requirements and consists of developers, designers, testers, and other relevant roles. The dedicated team becomes an extension of the client's in-house team, working closely with them for an extended period.

Fixed Scope Project: The client and Teravision agree upon a fixed scope of work, deliverables, timeline, and cost upfront, ensuring both parties have a mutual understanding of the desired results and deliverables.
5. GoNet
Founded in 2008, GoNet is dedicated to helping industries innovate through technology. They offer business solutions in high-performance areas such as FinTech, Banking, SaaS Application Development, Systems Support, and Network Solutions. With a global presence across Mexico, the United States, Puerto Rico, Colombia, and Spain, GoNet ensures accessibility and collaboration with clients worldwide. Their commitment to delivering the best solutions is reinforced by their ability to find and leverage talented professionals from across the globe.
Technology stack
Quality assurance: Cucumber, CUnit, Device Anywhere, Enterprise tester, Fitnesse, HP WinRunner, Jasmine, JUnit, NUnit, Protractor, QF-Test, QuickTest Professional, Rational PurifyPlus, Rational Quality Manager, Rational Test RealTime, RoutineBot, Selenium, SmartBit, Jenkins, Ranorex, and more.
Working models
Engineering team extension: Access industry expertise and skills with no need to hire more staff with GoNet's engineering team extension which has a fully dedicated team catering to the client's needs.

On-demand testing: GoNet spearheads testing processes for clients who are embarking on new projects or digital roadmaps, and are faced with a lack of QA resources.

Test consultancy: Expertise in software testing to deliver an all-in-one solution tailored to client needs.
How Svitla Systems Can Help You Nearshore in Mexico
Svitla Systems can become your partner of choice for nearshore software development in Mexico given the following:
Partner with Svitla Systems and earn a strategic competitive advantage for your business by working with a nearshoring expert!
by Svitla Team
July 10, 2023
Let's discuss your project
We look forward to learning more and consulting you about your product idea or helping you find the right solution for an existing project.
Thank you! We will contact very shortly.
Your message is received. Svitla's sales manager of your region will contact you to discuss how we could be helpful.