Svitla Systems' WBE Certification-2020
Today, Svitla Systems celebrates recognition by the Women's Business Enterprise National Council (WBENC) as the recipient of the National Women's Business Enterprise Certification 2020. With this valuable, world-class certification, Svitla Systems further validates just how far it has come under the intelligent and strong leadership of Nataliya Anon, the company's CEO and Founder.
Nataliya's deep-rooted belief in promoting innovation through diversity and equal opportunity has opened a world of possibilities for her and the company, further fueling her determination to shed light on the important role that women play, specifically in the world of tech.
"This certification embodies the challenges, the opportunities, and the satisfaction that come with being a woman in a leadership position. I know the importance of promoting women and creating valuable opportunities, as I was once myself in a position where there were many more barriers to bring down. Now, and this certification is evidence of it - I'd like to think that we are building a future where girls can dream of being anything they want and have no obstacles in their way, only tools. With this certification, I'll continue to cement my advocacy for more favorable circumstances where diversity and equality can thrive."

Nataliya Anon, CEO and Founder in Svitla Systems
With the Women's Business Enterprise (WBE) certification, Svitla Systems not only validates that it meets all the criteria and standards as a woman-owned, operated, and controlled company, but it also proclaims that it's a force to be reckoned with when it comes to the advancement of diversity and women in the high-tech industry - and it shows no signs of stopping.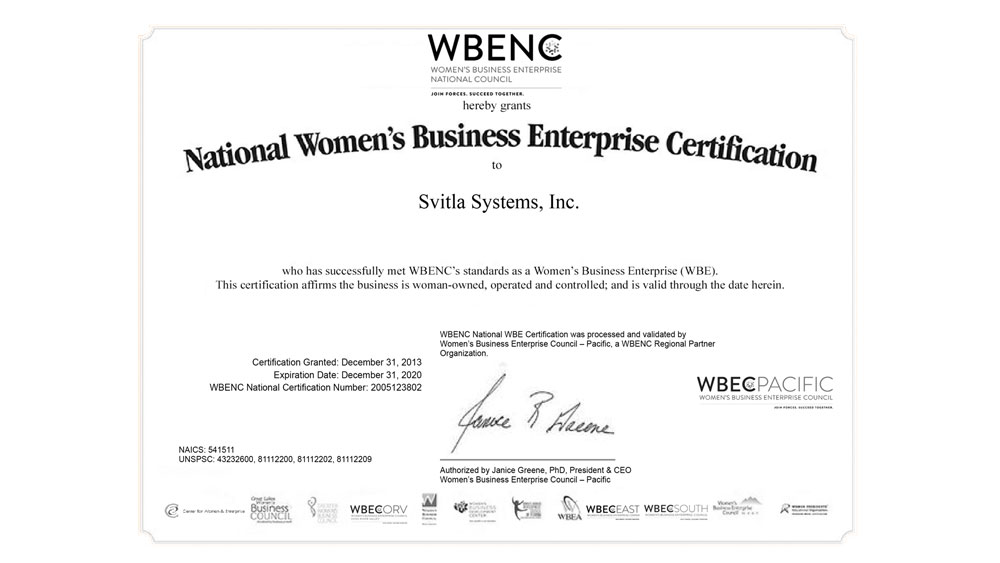 by Svitla Team
November 19, 2019
Related articles
news
news
Let's discuss your project
We look forward to learning more and consulting you about your product idea or helping you find the right solution for an existing project.
Thank you! We will contact very shortly.
Your message is received. Svitla's sales manager of your region will contact you to discuss how we could be helpful.