5 steps for making great mobile apps
Development of mobile apps is one of the trends not only for 2012 but also for next couple of years.
Let's see how we can save time and money when we decide to build a great app that can blow up the market.
These steps will be useful for entrepreneurs who start their activity in the field of app development.
1. Great idea.
To find a great idea for the market that you decided to build an app for you must be a marketing expert. You must know what apps already had many downloads and sell pretty well. Of course you should know what problem your app is solving and what features are making it unique. Great idea could easier be born after comprehensive marketing analysis and knowing your customers' needs.
2. Wireframes.
This step is describing the logic of your app. There are special tools for making wireframes that are a great help and you shouldn't draw something like that: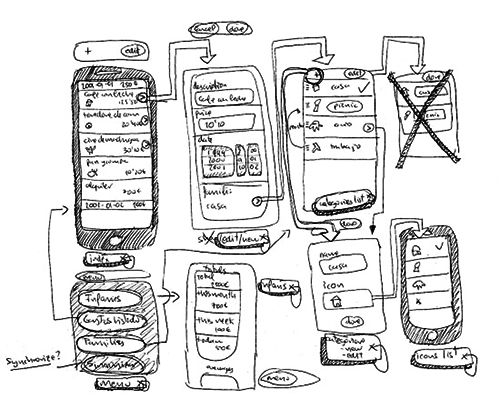 Developer is thinking about the architecture of the future app, what API should be, what queries are expected, load, used libraries etc.
3. Core development.
This is the step where magic happens: all these wireframes, sketches, storyboards become real application through programming. Yes, you can finally see your app and play with it! And you will need the next step for sure.
4. Testing.
Polishing your app to make it work excellently, fixing the bugs in different browsers or versions of operational systems – is a huge amount of work. Obviously, you can't do everything, but you should be prepared for the first release .
5. Deployment and support.
You need to deploy your app into the Appstore, Android Market or other places where users could find it. Don't forget to release updates for your app with fixed bugs. Pay attention to feedback of a social media about your app and make changes that users are asking for.
Promotion of your app is the next step of its evolution and can take 3-4 times more money than development did.
Are you ready for making a great app for your business?
by Svitla Team
January 13, 2012
Let's discuss your project
We look forward to learning more and consulting you about your product idea or helping you find the right solution for an existing project.
Thank you! We will contact very shortly.
Your message is received. Svitla's sales manager of your region will contact you to discuss how we could be helpful.