Published: July 16, 2018
Updated: September 11, 2023
6 min. read
Bringing Innovation into the Software Development Lifecycle
Make creativity a habit
Creative corporate culture
Culture and creativity. These two concepts are more often than not thrown around together, and interestingly enough, they are crucial to each other's success. Creativity can be found in each and every single one of us. To unlock this potential, companies are interested in finding the right methods to harness creative thoughts from individuals. That's where culture comes to play. With the proper nurturing environment, culture sets the tone for individuals to feel motivated and inspired to share their creativity.
The creative corporate culture is cultivated from these seeds, which can be broken down into further subcategories to understand its entire scope:
Mindset. When you set the right mindset for your team, creativity flows. Individuals should be encouraged to grow and not be afraid of failure, taking into account that every idea matters and is worth considering. Additionally, the atmosphere must be motivating and fun. This helps spark originality and inspiration. With this mindset, employees benefit from being recognized and rewarded to applaud a valuable idea accompanied by a job well done. These incentives help celebrate successful results, which can stem into creative behaviors.
Environment. The work environment must be flexible, offering individuals a safe space to participate that flows organically, leaving boring office landscapes as a thing of the past. Now more than ever, companies are moving towards open-space concepts that help individuals move with ease and share ideas freely. Most importantly, the office environment needs to be diverse. Diversity provides autonomy and encourages people to be inclusive and open to other standpoints.
These concepts are vehicles of a successful creative culture; great ideas come alive with a bright mindset encompassed by a nurturing environment.
Software Development Lifecycle
Process and Innovation
The Software Development Lifecycle (SDLC) is a framework that's been around since the early 60s. While it's not considered new, it is constantly evolving and bringing change to the industry.
The SDLC methodology, used in project management, details the blueprint that must be followed by a development team, categorized into tasks, to develop, maintain, and replace software. This methodology aims to improve the quality of the process and the resulting software.
It's important to mention that before a product, in this case, software, journeys through the product development life cycle, it must undergo the software development lifecycle.
In Svitla the software goes through the following SDLC stages: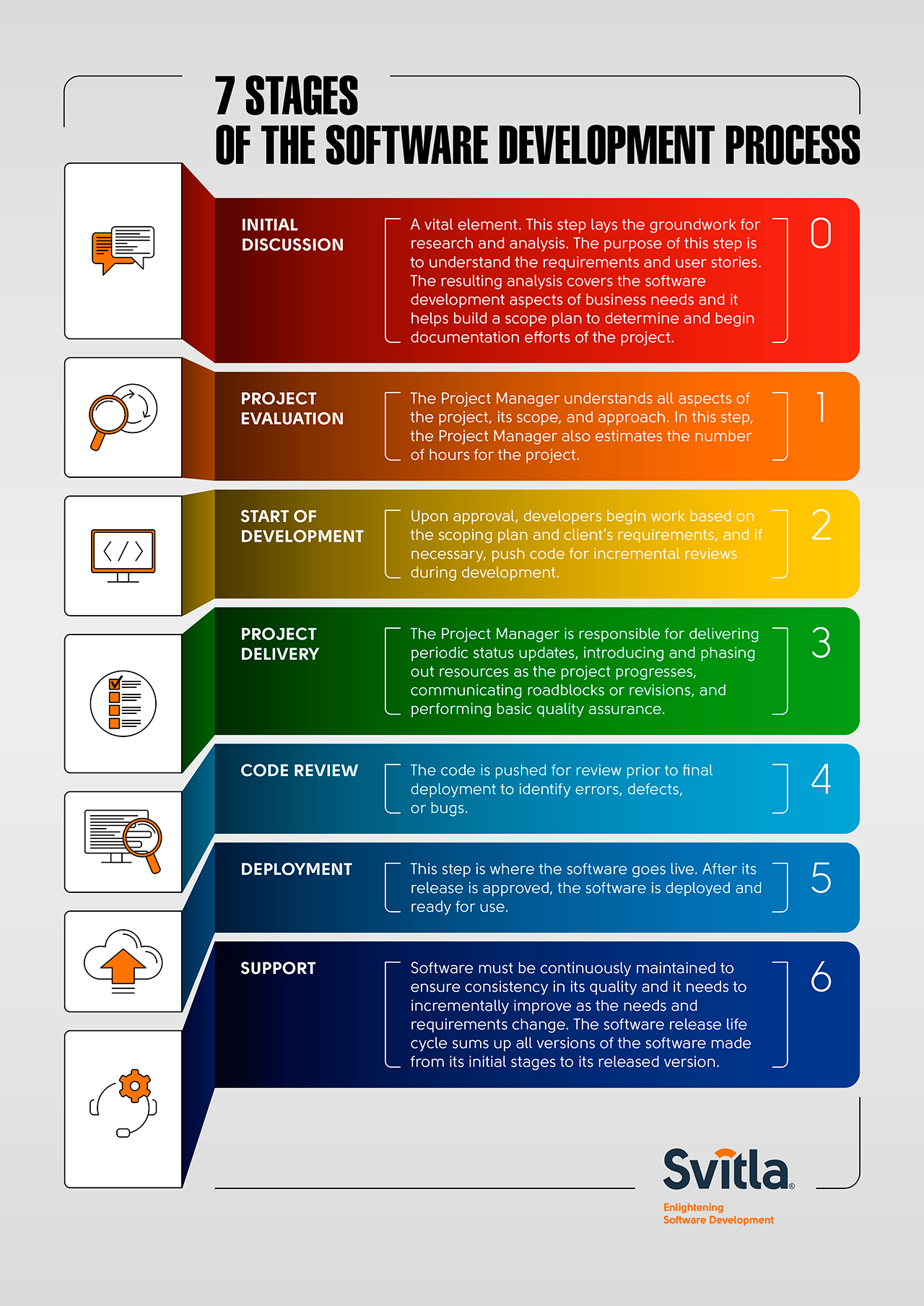 Innovative Technology Solutions
Given the nature of the SDLC process and the number of parties involved on a development team, it is natural that its evolution and flexibility flow in an organic and innovative fashion. This flexibility gives the process the ability to easily adapt to several factors such as changes in scope, requirements, complexity, and more. But this can also be a detriment when the project requires a strict and steady process.
Ideally, a high-functioning SDLC includes the best from both worlds: a reliable system that leaves enough room for personalization.
For instance, the Agile Software Development concept is a term coined for a specific SDLC model that is oftentimes used to harbor practices based on the Agile Manifesto principles and its influence within the SDLC framework, creating a comprehensive set of Agile Software Development phases to follow. You can learn more about them in this article.
Among the software process modeling options, Agile stands proud as one of the main representatives of these SDLC methodologies, joined by the Waterfall model, V model, Spiral model, and more.
Recipe for innovation
Innovation drives change. The art of combining creativity with the SDLC framework empowers businesses to unlock and create value.
To generate impact, creativity and company strategy must be companions. If there's no clear direction or if the idea is not a solution to an existing problem, the idea stagnates and falls under the radar.
The essentials of innovation are:
Vision. The power to think beyond expectations. Vision and creativity generate ideas for improvement, innovation, and growth.
Selection. Sometimes, the issue is not coming up with ideas. But identifying the ones worth pushing forward. It is the ability to recognize the power of an idea that can launch positive outcomes on a grand scale.
Insights. Actionable insights are fundamental to power an idea into a tangible result. Knowledge helps transform a simple idea into a full-fledge innovative project.
Evolution. Accepting change and adapting is an important quality to consider when driving innovation. It is with this adaptability that businesses can think ahead and prepare for change with solutions and results.
Scale. Go big or go home right? While it's mostly true, this isn't always the case. Businesses must evaluate the reach and scope of an idea and how the impact can drive success in certain markets.
Expand. Know your peers. Get to know the competition. And collaborate. It is through cooperation and benchmarking that businesses can grow into unexpected fields, driving innovation from all over the worlds and expand.
Research
Every new project should begin with research. Insights and data power ideas and new developments, which is why the SDLC process of a new software or project must be comprehensively researched to deliver a robust product.
During research, different and exciting alternatives to approach the project may arise. This is exactly what every SDLC team must strive for. To search for innovative paths to reach the desired end result.
Single-queue Workload Management
Managing the team's workload brings balance and harmony to the SDLC framework. It is through well defined stages of the workload and a proper assignment of each task for every team member, that helps the project advance seamlessly and without hiccups that may detriment its journey.
Software Release Management
Release Management encompasses every stage of the SDLC deployment process across multiple environments and stages. It achieves this via planning, monitoring, scheduling, and controlling the software build process.
Release Management helps teams understand its role throughout each stage of the process, maintaining consistency and driving innovation from its members to complete the defined tasks in new and different ways.
Metrics and Incentives
Metrics are incredibly helpful but sometimes overlooked. Not every team member is committed to documenting their results in a measurable manner, thus providing an image of the progress of the team.
The importance of metrics lies in progress and recognition. It is through progress and results that team members can be properly recognized and applauded for a job well done. It is a well-known fact that employees thrive under-recognition, which is why it's of the utmost importance for companies to push a carefully drawn-out reward system to incentivize and spark motivation in its employees.
How to build an innovative development team?
While developers are highly analytical individuals, there's a certain degree of creativity and forward-thinking that goes along with building code. The key question is: how can technical teams be creative and innovate to build a productive project? There are a few key ingredients that can get a team motivated to create and innovate. These ingredients, mixed right, create an environment that gets the developers' creative juices flowing. Overall, a creative environment needs to be inviting, diverse, open, encouraging, inspiring, and collaborative.
At Svitla Systems, we offer a comprehensive set of consulting services that help teams be more innovative and effective:
Managed Team Extension. Our team of skillful resources becomes an extension of your team, dedicated solely to your project. The team of qualified professionals is carefully selected by Svitla to cater specific project needs and bring strategic goals to life.
Build-to-Order Software Applications. The team of highly experienced developers take your project concept and deliver a custom software solution to match your needs within budget and in a specific time frame.
Consulting. The team of savvy consultants helps businesses develop a technology strategy that aligns technical and business resources. These specialized resources provide a unique experience tailored to the company's specific needs.
Want to learn more? Please reach out to us so we can help you bring innovation into your work - we look forward to hearing from you.
Let's discuss your project
We look forward to learning more and consulting you about your product idea or helping you find the right solution for an existing project.
Thank you! We will contact very shortly.
Your message is received. Svitla's sales manager of your region will contact you to discuss how we could be helpful.