Data migration to Salesforce - best practices
According to IDC, the amount of data in the world will grow to 175 zettabytes in 2025. The biggest drivers behind this massive growth include greater internet access worldwide, faster internet speed, mobile phone usage, the explosion of social media sites, and recently, the growing number of employees working remotely and using more internet-based services than ever. All of this translates into data, but organizations don't just need data. They need to know what to do with it to create information and how to use information to gain insights for business advantages.
That's where Salesforce comes in.
In this article, we're going to talk about why migrating your data to Salesforce is a game-changer for your data analytics goals and becoming a genuinely data-driven organization. Within that context, we'll focus on why and how to migrate your data to Salesforce, the different stages involved, common challenges, and best practices you can follow to successfully migrate data to Salesforce.
Here we go!
Why Salesforce matters
The corporate world rewards risk-takers, but that doesn't imply corporations should take advantage of every risky opportunity. Cue data-driven strategies. The term "data-driven" refers to a methodical approach to making business decisions based on information gleaned from data, such as to find new markets, enhance customer service, increase revenue, enhance operations, and more. It enables businesses to make well-informed judgments and meticulous plans to achieve their goals.
A data-driven decision is one that is backed up by hard numbers, allowing business executives to make educated choices that have a positive impact on the bottom line. As opposed to relying on assumptions, a data-driven approach prioritizes concrete evidence when making choices. Business leaders who are data-driven may factor in their intuition when making decisions, but they operate primarily on the basis of the numbers.
Did you know that data-driven businesses are 20x more likely to acquire new clients and 6x more likely to retain them? Those are strong figures to build a case to have your data work for you in systems like Salesforce.
Salesforce's collection of reporting and analytics tools is robust and works together to help you make sense of your data, take action on it, and share what you've learned with other business users. Below there are some key elements of Salesforce.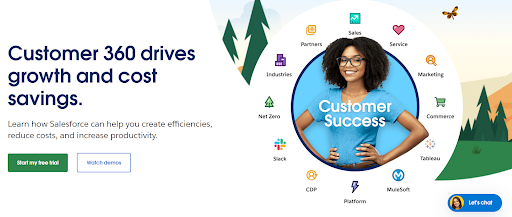 Data Visualization and Reporting
Salesforce provides a robust set of reporting tools that coordinate with one another to help you analyze your data and take appropriate action.
CRM Analytics
Originally known as Tableau CRM, the Salesforce CRM Analytics cloud platform allows users to integrate data from a variety of sources, visualize that data in a variety of ways, and then share those visualizations via apps. With CRM Analytics, information may be more efficiently disseminated to business users who can then act on the resulting insights.
Einstein Discovery
In order to uncover, surface, and visualize insights in your business data, Einstein Discovery uses statistical modeling and supervised machine learning to supplement your existing business intelligence. Einstein Discovery forecasts future outcomes and offers suggestions for improving the predictions, using predictive and prescriptive analysis. To fully utilize all that Einstein Discovery has to offer, you'll need to invest in either the CRM Analytics Plus license or the Einstein Predictions license.
Next, we cover the business benefits and overall effectiveness of integrating your systems with Salesforce.
Why migrate data to Salesforce
Salesforce gives your business a lot of power to integrate with all the apps it uses. With Salesforce integration, you can get all of your business data from any source. Salesforce in the cloud is flexible and helps businesses all over the world in a lot of ways.
As we've said, there may come times when you need to move data from one platform to another. Salesforce's powerful cloud-based environment includes many built-in benefits, such as reliable security, the ability to make changes without programming, and the possibility to quickly develop applications. The process of moving your company's data from one platform or system to another is called "data migration."
We've rounded up the most prominent benefits of migrating your data to Salesforce:
Increased productivity: Avoid the fatigue and mistakes of manually entering data.
Incoming data from several sources: Salesforce can pull data from multiple systems, helping shape a detailed client perspective.
Quality data: Salesforce lets you view every account, contact, task, event, and opportunity related to a lead, giving your firm a lot of information before approaching potential clients.
Data-backed decision-making: Business choices require precise data and Salesforce provides a clinical view of data to aid decision-making.
Collaboration: Salesforce simplifies team communication. "Chatter" enables you to securely discuss clients, territory, and other work-related matters with specific people and groups.
Workflow automation: Business works best when apps and systems work together. Salesforce uses automation to eliminate repetitive tasks and handle repetitive jobs faster and better than humans. Doing so leaves humans with more time to interact.
Data infrastructure modernization: Salesforce enhances businesses by extracting the most insights out of your data and powering informed decision-making, all within a secure, responsive and resilient cloud-based platform.
Accessibility: Salesforce is a cloud product, thus it's accessible anywhere with the Internet. Salesforce's mobile app lets you keep in touch with your business and team 24/7.
Stages of data migration
No matter the methods used, each project to move data goes through the same key steps:
Planning: Evaluate existing data elements and craft a carefully thought-out execution plan. You can think of planning as a four-pronged effort that includes refining the scope, assessing source and target systems, setting standards, and setting a realistic budget and timeline.
Data auditing and profiling: Evaluate and clean the data you'll be migrating to detect bottlenecks, resolve issues, and address any other concerns that can jeopardize data quality and then avoid data duplications and anomalies.
Data backup: While not mandatory, a full backup of your content is a smart move, giving you an extra layer of protection in case something goes awry with the migration.
Migration design: Determine the rules of your migration, clarify what criteria you will use, and assign roles across your migration team.
Migration: This is where the migration actually takes place. Simulate executing the migration, detect and resolve any issues or gaps, and then execute the actual migration.
Testing: This stage simultaneously takes place across design, migration, and post-migration audits, and it's designed that way to ensure the safe migration of data and enhanced data quality when entering the target environment.
Audit of the new system: It's important to measure and validate that data is correctly migrated. Once the audit is successfully covered, you can retire old systems.
Key roles in data migration to Salesforce
Data Migration Analyst: Person in charge of collecting customer data migration business requirements, understanding data consumption and migration consequences, designing, planning, and managing the data migration process, identifying and communicating requirements with SMEs and the migration team, planning contingencies for migration risks, developing best practices, analyzing source data, conducting and reporting audits, and more.
Project Manager: Person with experience in data migration initiatives that oversees project deliverables, timeline, budget, risks, issues, resources, and other operational aspects of the entire migration process and migration plan.
Data Analyst: A data analyst gathers, cleans, and makes sense of data sets to find answers to questions or solve problems. They support quality control and audit activities.
Database Administrator: Person in charge of making sure databases are set up and work as intended. They also make sure that the data can be used only by people who are allowed.
Cloud Sysadmin: Person in charge of figuring out how to work with a mix of operating systems and notably Windows and Unix software. This person takes care of the instances of the cloud infrastructure services and, by extension, the many cloud servers and security.
Business Analyst: Person in charge of determining the transition's business purpose, business requirements and business goals that drive the migration, identifying data needs based on business objectives as well as data attributes, knowing the origins and conditions of the source data, identifying targets, formatting the imports, and defining data modifications.
Challenges of data migration
There are many things that can change how hard it is to do this task. Larger sets of data will take more time and make it harder to make sure that the data being sent is correct. If the transfer isn't done right, information could be lost, which could affect how the new platform works or make the data repository less trustworthy.
The ease or difficulties with a Salesforce data migration depend on the types of data. Simple attributes and other simple pieces of information will be less complicated because they may not have relationships that need to be maintained. Metadata and other relationships between parents and children are more complicated, and so it will be harder to move them.
Stakeholders don't give enough thought to how long it will take to move data and how many resources they will need. According to a recent Forbes article, "recent research shows that only 36% of data migration projects stay on budget and only 46% are finished on time." Projects to move data tend to take on a life of their own, and the people in charge are wise to come to know how big the project is.
There isn't a plan for moving the data or a plan for how it will be moved. All data-moving efforts address data ownership and what technology can do with the data. When a corporation is migrating data and doesn't know why, it wastes time and money. Organizations sometimes lack the proper tools and knowledge/experience to perform a proper migration. According to the same Forbes article, 44% of respondents couldn't migrate their data because they didn't grasp crucial technology.
Failure to take into account how complicated the data is. Complex data is one of the most difficult things that organizations have to deal with. In a Salesforce environment, data can have parent-child relationships, triggers, workflows, and many other complicated connections.
No one in charge of data. The lack of data oversight is a pressing challenge for organizations. All active workflows and triggers associated with the data being migrated must be reviewed for errors and smooth operation, and as such, it's imperative to determine who will manage all data sets.
Best practices of data migration in Salesforce
Best practices help avoid mistakes and keep the budget and the timeline on track. Let's review the most prominent ones.
Set up a data governance plan
Make and stick to a plan for data governance. Data governance is important in part because of the big fines that come with not following laws like GDPR. Even without fines, ungoverned data will produce incorrect findings. Terrible!
Don't rush setting up
A big difference between successful and less-than-successful data migrations is how well they are prepared. Carefully list the information you want to move to a new place and determine all the steps to complete the task.
Focus on data quality
You can produce more actionable insights about your e-commerce operations with better data quality. Successful data-driven companies employ business intelligence (BI) solutions to gain real-time insights into sales, marketing, customer support, inventory procedures, warehouse management, and other e-commerce functions.
Create templates
Creating templates allows you to replicate the migration as often as you need to. In doing so, you literally capture your best practices for future data migrations.
Make sure data routes are clear
Putting tags on the data in different places will help you map it to the right place in your destination environment.
Verify proper transfer
Check that the data relationships and file types have been kept in the newly-put-together data repository. If data is moved incorrectly, it can get corrupted, and corrupted data will not give you the benefits you want.
Wrapping Up
Salesforce integration gives businesses more benefits, but when it doesn't work, it can lead to some serious mistakes. For Salesforce integrations to work, you need skilled consultants from a well-known company. The certified Salesforce partner can handle projects that are hard to integrate, so you don't have to worry as much about failing. Integration with Salesforce also helps retain customers, boost productivity, make data easy to access, and successfully move data more often.
The data migration process to Salesforce is an important undertaking, and while it may be daunting to many, it's a completely manageable process with the right partner. Svitla Systems is richly experienced in these kinds of projects, helping numerous clients successfully migrate their data and integrate their systems with Salesforce to start gleaning the value out of their data.
If you're interested in migrating your data to Salesforce quickly, within budget, and while enforcing data quality controls, reach out to our representatives so we can start collaborating on your project and make it a successful endeavor.
by Svitla Team
November 07, 2022
Related articles
article
article
Let's discuss your project
We look forward to learning more and consulting you about your product idea or helping you find the right solution for an existing project.
Thank you! We will contact very shortly.
Your message is received. Svitla's sales manager of your region will contact you to discuss how we could be helpful.