Top 5 Nearshore Software Development Companies in Argentina
Argentina has become a flourishing center for nearshore software development, garnering international recognition for its outstanding skills, technological progress, and cost-efficiency.
Argentina possesses a strong and thriving startup community, accompanied by various tech initiatives that foster collaboration between Argentina and the United States. This collaborative environment contributes to the growth and development of the software industry in Argentina. In fact, industry forecasts anticipate that the revenue generated by the software sector in the country will amount to approximately $2.7 billion by the year 2026.
Argentina has a notable history of technological achievements. The country has successfully generated 11 "unicorns," referring to technology companies with valuations surpassing $1 billion before their initial public offerings. Among these notable successes are Globant, a development company, Mercado Libre, a prominent e-commerce platform in Latin America, Despegar, an online travel company, and OLX, a leading classifieds platform.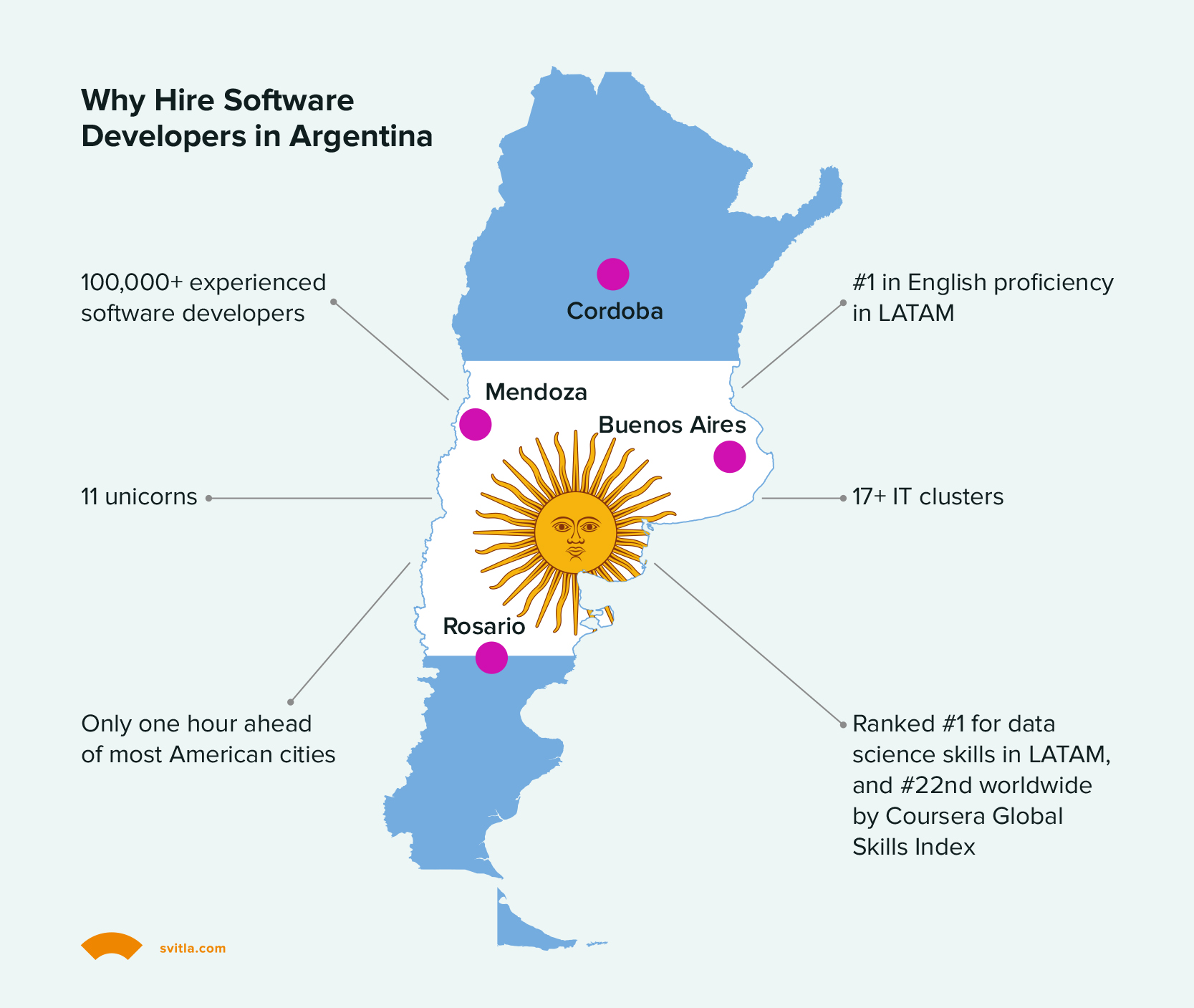 In this article, we will examine the top five nearshore software development firms in Argentina, renowned for their proficiency, creativity, and capacity to provide state-of-the-art solutions.
Why is Software Outsourcing to Argentina Competitive?
When it comes to software outsourcing, Argentina has emerged as a highly competitive destination, specifically the regions of Buenos Aires and Córdoba, offering numerous advantages over other regions. From time zone compatibility to cost-effectiveness, the country presents a compelling case for businesses seeking to outsource their software development needs.
Let's explore the key factors that make Argentina a top choice for software outsourcing.
1. Positive Investment Climate
In spite of the significant financial challenges faced by the Argentine economy in recent decades, the country has managed to emerge as a hub for highly successful tech companies in Latin America. As a result of these challenges, Argentina has fostered the growth of lucrative ventures in its borders. Buenos Aires, considered by many as the city in Latin America with a distinct "European" atmosphere, has solidified its position as the center of the country's thriving startup ecosystem.
Argentina has deployed several initiatives to attract talent, investment, and companies. The Entrepreneurs' Law, for example, reduces registration times and costs for entrepreneurs to promote business and facilitate new ventures. This law enables entrepreneurs to conveniently set up their businesses online within a single day. Furthermore, the law aims to support the growth of tech startups by providing them with a significant tax advantage, granting them a 75% tax deduction.
Another initiative is the Teleworking Law, which establishes the minimum legal requirements for telework and further promotes this practice to attract more jobs and investment for the country.
The government's efforts to enhance the number of technology graduates and foster overall innovation in Argentina are expected to contribute to the further expansion of the software developer community. Initiatives like Argentina Innovadora 2020, the Knowledge Economy Law, and Argentina Conectada aim to amplify the country's capacity as a prominent global hub for innovation. These measures are designed to bolster Argentina's potential in becoming a leading center for cutting-edge advancements.
2. Time Zone Compatibility
Argentina's favorable time zone compatibility with North American countries is one of its major advantages. Being situated in the GMT-3 time zone, Argentine developers benefit from a significant overlap of 5 to 8 hours with the United States, unlike Eastern Europe and Asia. This shared workday facilitates smoother collaboration for software engineers, allowing them to participate in meetings, receive prompt feedback, and make continuous progress on projects.
3. Cost Effectiveness
Compared to other outsourcing destinations, such as the United States or Western European countries, Argentina offers competitive pricing models that can result in substantial cost savings for businesses. Companies can access highly skilled professionals and cutting-edge technologies at a fraction of the cost, making it an appealing option for those looking to optimize their budgets.
On average, the value of one Argentine peso (ARS) is approximately equivalent to one cent in USD. Similar to many other countries, the lower value of Argentina's currency is correlated with comparatively lower wage rates in general.
Also, Argentina provides a range of flexible pricing models tailored to meet diverse business requirements. Whether it's fixed-price contracts, time and material agreements, or outcome-based pricing models, clients have the flexibility to choose an arrangement that aligns with their project scope, budget, and goals.
4. Highly Skilled Workforce
Argentina boasts a technically skilled and proficient workforce that is highly regarded in the software development industry. According to HackerRank, the country is on the 39 spot for countries with the best developers.
The country's educational system places a strong emphasis on technical education and produces a talented pool of software engineers, developers, and IT professionals.
Presently, approximately 100,000 students in Argentina are pursuing computing-related degrees and receiving high-quality education. The country is home to well-regarded institutions, with three of them ranking in the top 50 universities in Latin America. Notably, STEM education is thriving, thanks to institutions like the National University of La Plata, University of Buenos Aires, and National Technological University.
The strong university education in Argentina equips software engineers with exceptional skills. Furthermore, CESSI, or Cámara de la Industria Argentina del Software in Spanish, implements various initiatives to support tech students, including internships, job training, and job placement programs. As a result, Argentina's software engineers are not only equipped with top-notch skills but also well-prepared for employment opportunities.
Argentine software developers demonstrate exceptional technical proficiency compared to their counterparts worldwide. Argentina consistently achieves high rankings in software developer skill tests, earning the distinguished "cutting-edge" designation by Coursera in various areas.
Specifically, Argentina excels in computer programming (scoring 80%), mobile development (scoring 89%), statistical programming (scoring 91%), and data analysis (scoring a perfect 100%). Notably, Argentina has established a reputation for its app development industry, with approximately one-third of programmers specializing in mobile development.
According to Coursera's Global Skills Index report, "Argentina takes the #1 spot in Technology in both the region and the world. Driven by a powerful performance in Software Engineering (100%) and Operating Systems (95%), it outshines all of its neighbors by a wide margin. This reflects the country's strong technology community and tech-savvy government, as well as its ambitious goal to be the center of the Fourth Industrial Revolution."
Argentine developers possess a diverse range of programming skills, including proficiency in highly sought-after languages such as Python, SQL, and Java. As a result, companies can find a wealth of diverse technical skills, languages, and technologies within the Argentine talent pool.
5. Cultural Fit
The workforce in Argentina is not only technically proficient but also exhibits a strong cultural affinity with North American and European countries. Thanks to their excellent command of the English language, developers in Argentina can effortlessly navigate communication and establish strong relationships with teams from the United States. Their proficiency in English enables effective collaboration, seamless information exchange, and smooth interaction between Argentine developers and their U.S. counterparts.
Choosing the Right Outsourcing Provider in Argentina
The entrance of IT companies like Svitla Systems, Microsoft, and IBM into the Latin American market indicates a foreseeable expansion of the region's significance within the global IT value chain. It has become easier for US-based companies to outsource to Argentina due to the availability of skilled talent, while companies with extensive partnership networks facilitate connections between US companies and Argentine software development centers.
Here are key factors to consider when selecting the right tech partner for software development outsourcing:
Cost effectiveness: Argentina offers competitive rates compared to other outsourcing destinations, making it an attractive option for cost-conscious businesses. However, it is important to strike a balance between cost and quality to ensure you receive value for your investment.
Experience: Evaluate the provider's track record, portfolio, and client testimonials to gauge their experience in handling similar projects. An experienced provider is likely to possess industry-specific knowledge and best practices, contributing to the success of your software development initiatives.
Legal and technical expertise: Ensure that the outsourcing provider adheres to legal and intellectual property regulations. A reliable provider should have a clear understanding of international legal frameworks and should offer transparent contracts that protect your intellectual property rights. Technical expertise is equally important, as the provider should have a skilled team proficient in the required technologies and programming languages.
Communication skills: Language proficiency and cultural compatibility play a significant role in facilitating clear and efficient communication throughout the project. Choose a provider with a team that is proficient in English and demonstrates excellent communication skills to avoid any miscommunication or misunderstandings.
Project management skills: Evaluate the provider's project management processes, methodologies, and tools they employ to ensure effective planning, coordination, and execution. A provider with robust project management skills will help streamline the development process, improve transparency, and mitigate risks.
Cultural fit: A cultural fit facilitates a better understanding of your business goals and enhances the overall outsourcing experience.
Security and data protection: Evaluate the provider's security measures, protocols, and compliance with international data protection standards. Look for certifications such as ISO 27001 to ensure that your sensitive information is handled securely throughout the development process.
Nearshore Software Providers in Argentina
Svitla Systems
Svitla Systems stands out as a leading nearshore software development company in Mexico, offering a range of advantages to its clients. The company excels in providing cost-effective solutions without compromising quality. Their team of talented and experienced consultants and engineers brings extensive experience in many domains including cloud solutions, web and mobile application development, e-commerce development, data and analytics, DevOps consulting, quality assurance, Internet of Things, AI and ML, RPA, UX/UI design, and more.
With Svitla Systems' status as an AWS Advanced Tier Partner, it offers the most innovative and advanced cloud solutions available, as well as expert advice on:
Cost reductions and streamlined resource usage through optimized cloud infrastructure
Enhanced application performance and improved user experience
Increased business agility with rapid deployment and seamless integrations
Robust security measures, ensuring compliance and mitigating risks
Competitive advantage in the digital landscape, driving growth and succes
The company offers consulting services, dedicated development teams, and full project management, allowing you to mitigate common project risks and facilitating smooth software development process.
Azumo
The company specializes in developing intelligent applications and has gained recognition as a fast-growing provider of nearshore staff augmentation and software outsourcing solutions for various domains such as AI, Web, Mobile, Data, and Cloud. They have built a reputation for assisting leaders across the spectrum, ranging from venture-backed startups to Fortune 500 companies, in successfully achieving their technology objectives.
Key working models include dedicated development teams that work exclusively on client projects, addressing specific objectives, software staffing to rapidly and effectively expand their software engineering teams, project management, and virtual CTOs.
NaNLabs
NaNLABS was established in 2013 by a group of highly skilled full-stack developers. They offer a wide range of services: team augmentation, MVP development, software architecture consultancy, data engineering, consultancy, and research & development.
The company collaborates with client teams to configure and optimize software. Whether it involves defining components, establishing efficient pipelines, or conducting trade-off analyses, the company assists clients in eliminating bottlenecks and making informed decisions for products.
BairesDev
A leading staff augmentation and software outsourcing company, BairesDev assists technology leaders of all sizes in executing their tech roadmaps successfully on schedule and on budget. With a vast talent pool of over 4,000 experienced senior developers and software professionals, they have a proven history of delivering innovative projects for companies of all sizes, including renowned names like Google and Rolls-Royce.
BairesDev offers services like staff augmentation and dedicated teams that eliminate the burdensome tasks of sourcing, recruiting, training, and retaining talent, thereby reducing overhead costs.
The company also offers software development outsourcing services through proficient teams comprising developers, testers, designers, and infrastructure engineers assembled according to specific requirements.
3XM Group
3XM Group is a prominent software development company operating in both the United States and Argentina. With over a decade of industry experience, the company focuses on designing, developing, and implementing state-of-the-art technology solutions. Their areas of expertise include customized software development, web and mobile app development, data analytics, integration solutions, and product engineering services. They offer various engagement models, such as staff augmentation, dedicated software development teams, and software product development outsourcing.
Their key services include staff augmentation, custom software development, and product development that includes thorough analysis of the client's product or solution, roadmap, and lifecycle plan that encompasses the most effective approach to meet specific needs, ensuring the delivery of an optimal solution.
Wrapping Up
Svitla Systems can become your partner of choice for nearshore software development in Argentina given the following:
Gain a strategic competitive advantage for your projects by partnering with Svitla Systems in Argentina, a renowned global nearshoring expert.
by Svitla Team
August 15, 2023
Let's discuss your project
We look forward to learning more and consulting you about your product idea or helping you find the right solution for an existing project.
Thank you! We will contact very shortly.
Your message is received. Svitla's sales manager of your region will contact you to discuss how we could be helpful.