Nearshore Software Development in Europe: Ukraine & Poland
Starting us off, Statista reveals that the revenue in the European software market is projected to reach US$146.7 billion by the end of 2023. Now, when we turn our lens to Eastern Europe, the ranking places Poland and Ukraine as some of the top contenders, bringing in billions of euros in revenue. Based on information from the Ukrainian Ministry of Digital Transformation, the IT sector in Ukraine demonstrated remarkable resilience, with IT companies retaining 95% of contracts. As of November 2022, the industry has not only recovered but has also surpassed its performance prior to the war, with 80% of Ukrainian application and web development services being exported to the US, and the rest mostly delivered to European organizations.
For Poland, the IT services market is experiencing consistent growth, with the country securing the 9th position in Tholons' Top 100 Outsourcing Destinations. Poland also ranks 33rd in terms of ease of doing business, offering favorable conditions for foreign investors. It comes as no surprise that major corporations like Google, Microsoft, IBM, and others have taken advantage of software outsourcing opportunities in Poland.
It's clear to see why nearshoring software development in Eastern Europe has become a popular option for companies that want to find skilled workers and competitive prices. Given this rising trend, Europe has set itself up to be a major hub, offering a large pool of trained workers, proximity to strategic regions, and cultural similarities with clients.
5 Reasons for Nearshore Software Development in Europe
1. Cost-Effectiveness and Competitive Pricing
The hourly rates offered by professionals in Eastern Europe are highly competitive, making it an attractive option for businesses looking to optimize their budgets while maintaining quality output. The region boasts a pool of highly talented developers who can deliver quality work helping optimize the return on investment for hiring companies.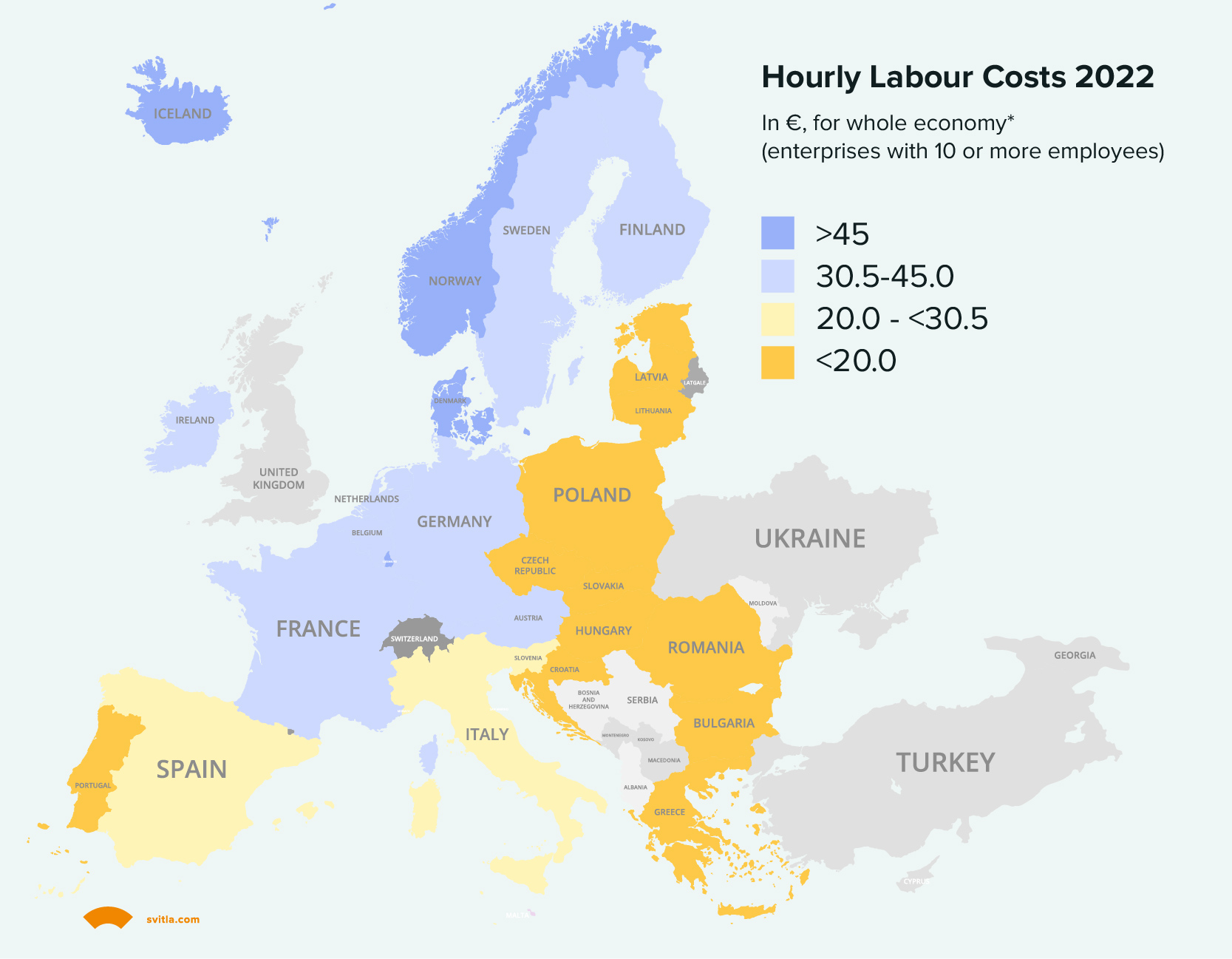 In addition to competitive hourly rates (Source: Eurostat), nearshoring to Eastern Europe brings the advantage of lower operating costs. Countries like Ukraine and Poland have lower living expenses and business-related costs compared to their Western counterparts. This translates into reduced overhead expenses for businesses. As a result, companies can optimize their cost structure while maintaining quality standards.
2. Cultural Affinity and Communication
The cultural affinity between Western and Eastern European countries makes them ideal partners for software development. European countries usually have good English skills and are culturally similar to their Western European neighbors. This alignment makes it easier for people to talk to each other, reduces language barriers, and helps everyone understand the business goals and project needs.
3. Talent in Abundance
European countries have a strong tech community, with a significant chunk of the talent centralized in Poland and Ukraine. For instance, the market in those regions shows a rising trend in the number of tech specialists, with more than 500 000 software developers in Poland, and over 250 000 in Ukraine. European professionals have a strong work ethic, are good at solving problems, and know how to use many different programming languages. Their skills and experience make sure that nearshore teams give clients high-quality solutions that meet their unique needs.
4. Time Zone Proximity and Greater Communication
Nearshore software development in Eastern Europe offers convenient time zone proximity that makes it much easier for the client and development team to talk to each other and work together. Real-time interactions, quick response times, and less delay in communication speed up development cycles and make it easier to make decisions and handle projects.
5. Data Protection and Intellectual Property
Europe has strict rules about data protection, like the General Data Protection Regulation (GDPR), which makes sure that private information is handled safely. This dedication to protecting data privacy and intellectual property gives clients peace of mind because they know that their valuable assets are being handled with the utmost care and in accordance with the law.
Nearshore Services in Poland
Favorable Investment Destination
Poland has earned a reputation for being a premier partner for nearshoring software development due to its robust economy and substantial resources. With a larger territory, population, and 500K workforce compared to many European countries, Poland offers significant advantages. In fact, CEOWORLD recognized Poland as the world's third-best country for investment recently. The country boasts over 1,000 software development companies listed on Clutch, a testament to its thriving tech industry.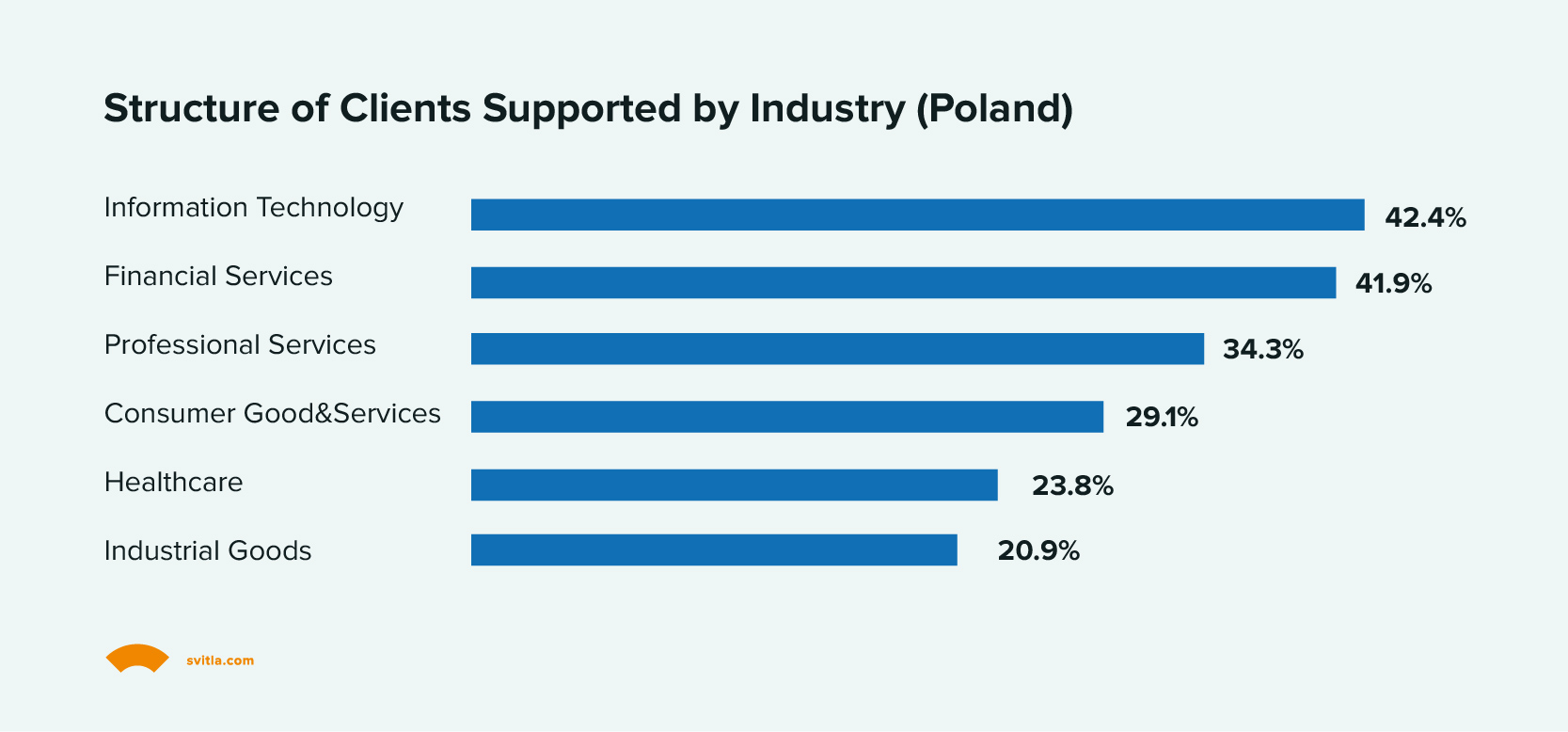 Vast Technical Pool
With its strong technical universities and a large pool of experienced developers, software nearshoring to Poland has emerged as a prominent destination, drawing attention from businesses seeking top-quality software development services. Polish software engineers demonstrate exceptional skills, ranking third globally on HackerRank as of 2023.
Poland boasts a strong educational system that emphasizes technical disciplines, producing a steady stream of talented software developers and engineers. Polish IT professionals are well-versed in a wide range of programming languages and possess deep expertise in cutting-edge technologies. In fact, according to Business Services Sector in Poland 2022, SQL (used in 82.7% of centers), Java (78.8%) & JavaScript (72.1%), as well as Python (76.0%), are still the top 4 programming languages most often utilized. They are followed by the C#/.NET/C/C++ language family – 50% of centers.
Data visualization's popularity is surging, facilitating strategic decisions by transforming data into easily understood narratives, including managerial dashboards. This digital shift underscores system integration and process efficacy evaluation, leveraging auto-generated data. Post-COVID-19, businesses show an enhanced demand for real-time, auto-updating data, largely driven by the need to scrutinize financial processes affecting cash flow due to pandemic-induced disruptions.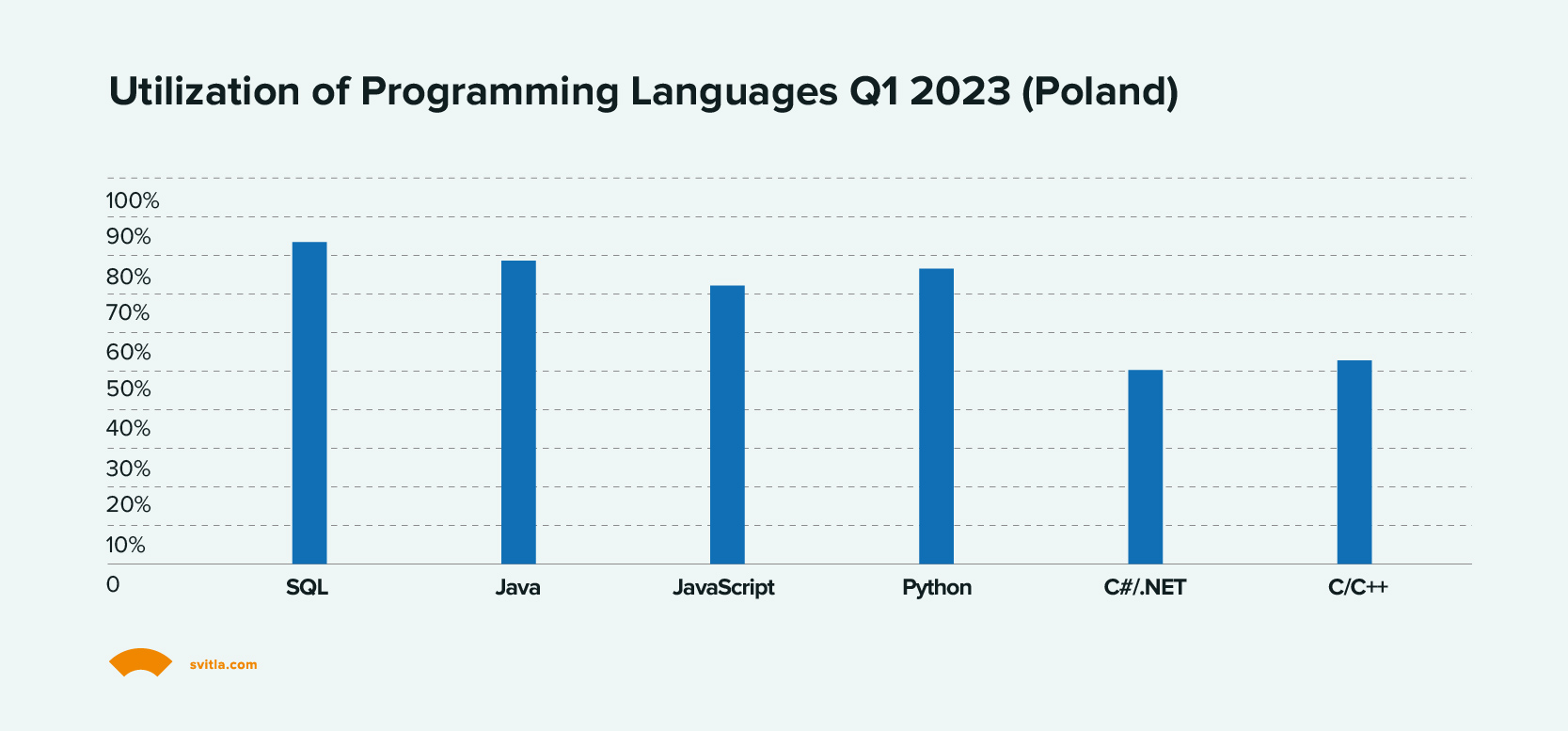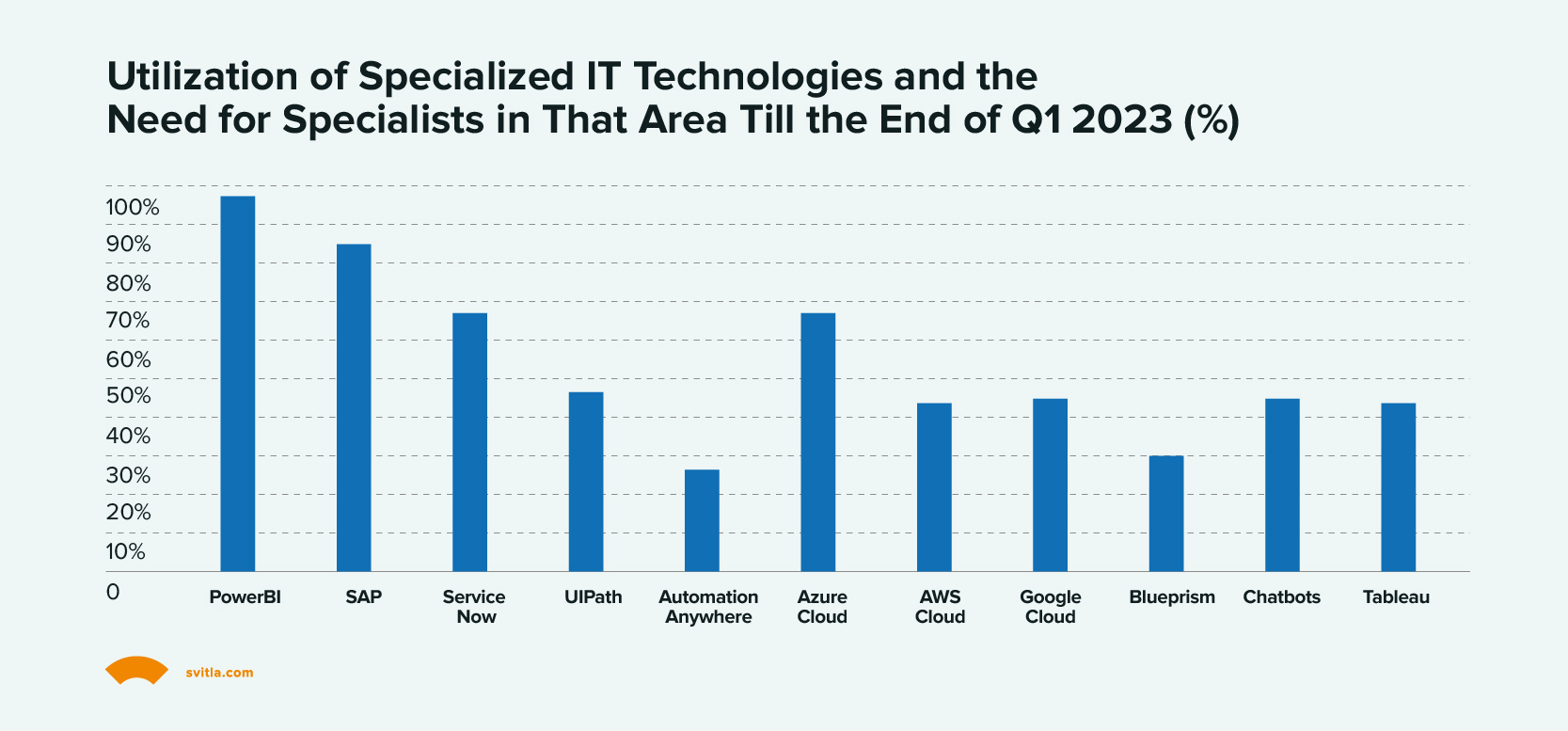 Reputation for Quality
Poland has built a strong reputation for delivering high-quality software development services. Polish companies and professionals adhere to industry best practices and have a track record of successfully executing projects with precision and attention to detail. The country's focus on quality control, thorough testing processes, and adherence to international standards ensures that software solutions developed in Poland meet or exceed client expectations.
Competitive Pricing
While offering exceptional quality, Poland remains a cost-effective nearshore destination. Software development costs in Poland are generally lower, with an average 30% reduction compared to the US, and a 20-25% decrease in comparison to Western Europe or the UK. These figures can vary based on the tech specialists' skill sets and the specifics of the contract. The salary growth experienced in 2018-2019 has now stabilized, making outsourcing to Poland more predictable. Notably, developers in smaller cities like Katowice or Poznań often earn 10-20% less than their counterparts in larger IT hubs.
Proximity and Cultural Compatibility
Poland's location in Central Europe provides geographical proximity to many Western European countries, resulting in easier travel and collaboration. This physical closeness enables regular face-to-face meetings, fostering better communication and fostering stronger relationships between client teams and nearshore development teams. Moreover, Polish professionals possess a good command of the English language and share a cultural affinity with their Western counterparts, facilitating effective communication, understanding of project requirements, and seamless collaboration.

Supportive Business Environment
Poland has fostered a supportive business environment for foreign companies, particularly in the IT sector. The government has implemented various initiatives and incentives to attract investment and promote growth in the technology industry. Given global economic trends and the International Monetary Fund's forecasts (4.4% GDP growth rate in 2022 globally, 3.9% for advanced nations and the eurozone), we anticipate that Poland's modern business services sector will employ 432,000 people in 2023, reflecting a 7.9% growth rate in employment.
Nearshore Services in Ukraine
Boosting IT Market
Ukraine, a major player in the European IT services export market, generated $7.1 billion in revenue. The United States, Great Britain, and Switzerland are the top destinations for Ukrainian IT services thanks to the country's vibrant entrepreneurial ecosystem, which hosts over 89 R&D centers for global companies like Samsung, Dell, Oracle, Bosch, Comodo, Rakuten, and Huawei. The country boasts 22 IT clusters, seven associations, and ten accelerators, as reported by the Ukrainian Tech Ecosystem platform.
In terms of Science and Technology contributions, Ukraine secured the first position out of 169 countries in the Good Country Index. It ranks fourth in Eastern Europe for the number of outsourced developers. According to the IT Competitiveness Index by Emerging Europe, Ukraine holds the 11th position.
Booming Tech-Talent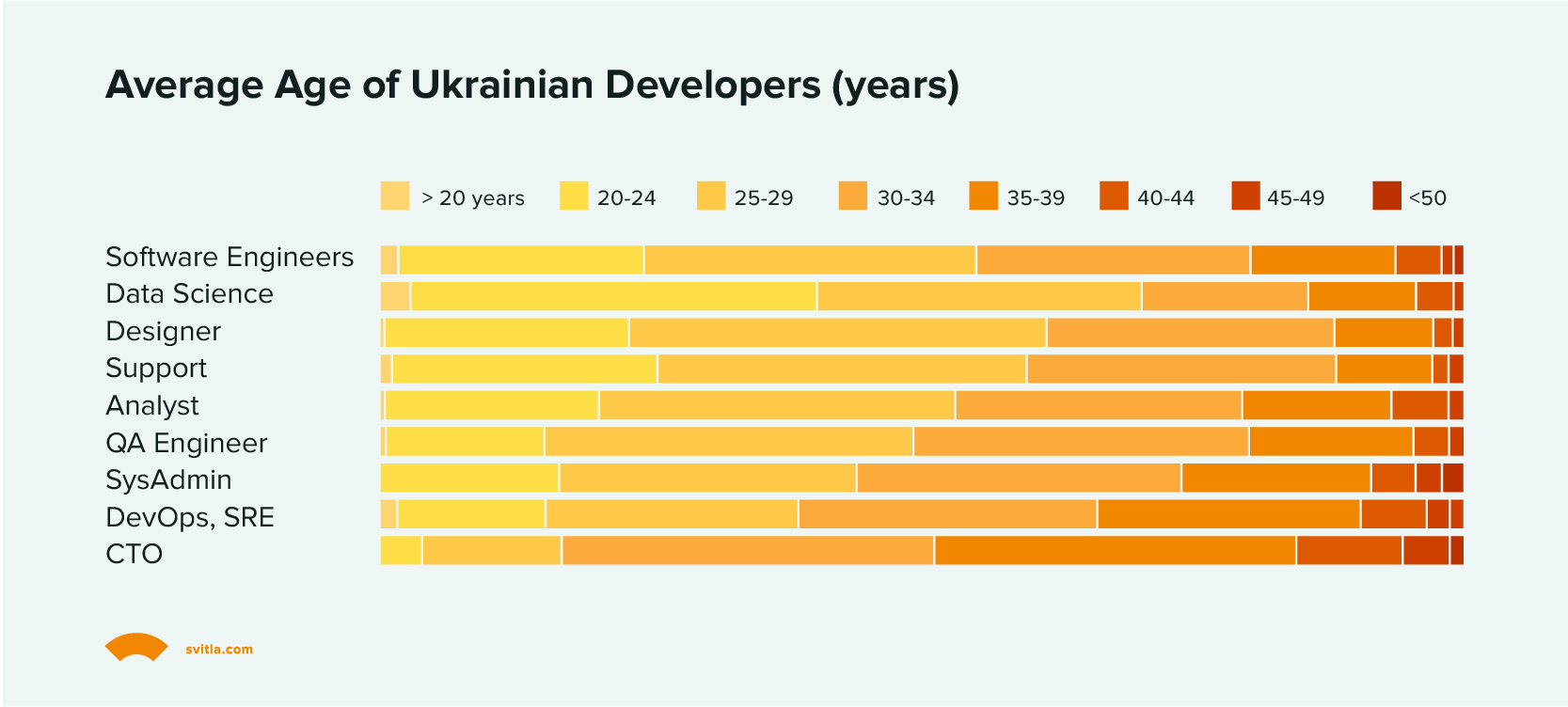 With over 250K specialists in the industry, Ukraine has earned a reputation for specialized expertise in technologies like JavaScript, Python, and Java, making the country a popular choice for businesses seeking skilled professionals. According to DOU's annual report, JavaScript holds the top position as the most widely used programming language in commercial applications, followed by Java (14.7%), Python (13.4%), C# (13%), TypeScript (13%), and PHP (7.1%).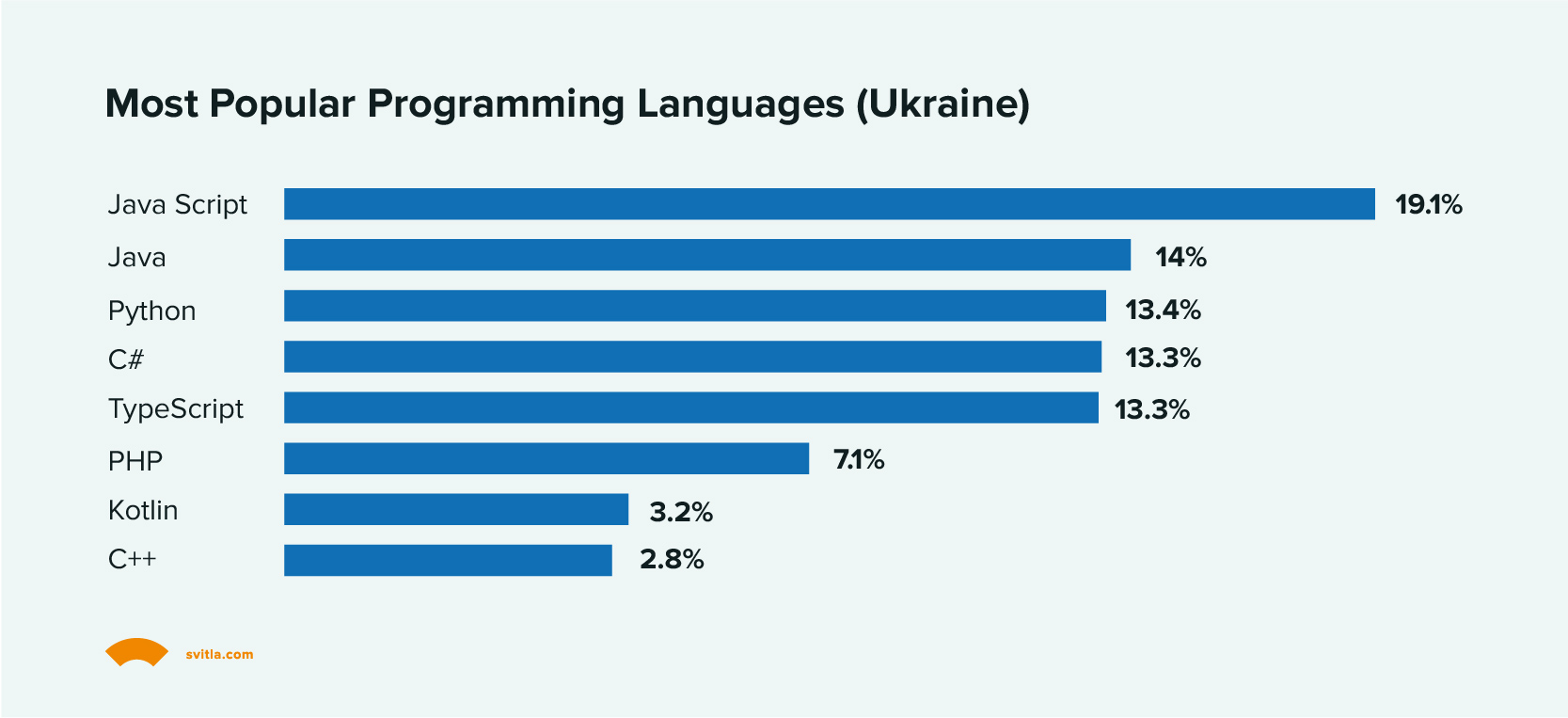 In the evolving landscape of software development, we're seeing a notable increase in the usage of TypeScript across both backend and frontend sectors, slowly overtaking JavaScript. Java and C# continue to dominate in their respective domains, but the growth of Python is unchallenged, particularly in data analysis and DevOps.
Mobile development shows a shift with the simultaneous rise of Kotlin and the decrease of Swift, echoing the Android-to-iOS development ratio. Meanwhile, Python is making its presence felt in the traditionally C and C++ dominated world of embedded development.
Halfway into 2023, Ukrainian developers have expressed their interest in learning Go, TypeScript, Rust, Kotlin, Swift, Dart, Scala, F#, C, Clojure, R, and Erlang.
Strong and Diverse Expertise
A vast majority (87%) of the surveyed IT professionals have higher education (one or several degrees). Approximately 2% of IT professionals hold a scientific degree, a trend more common among Hardware Engineers (9%), Data Science experts (7%), and CTOs/CEOs (6%).
The largest sectors employing IT professionals in Ukraine remain E-commerce (where 20% of the surveyed specialists work), Fintech (13%), Mobile (7%), Media (6%), Medtech (5.4%), Telecom (4%), and Big Data and Logistics (4%).
Most of the surveyed IT professionals in Ukraine hold Middle (35%) and Senior (26%) positions. Juniors make up 16% of all IT specialists. IT professionals' positions are closely related to their work experience. 87% of Interns have less than a year of experience, 95% of Juniors have been working in their current specialization for up to two years, 87% of Middles for 1 to 5 years, and 77% of Seniors and 67% of Team Leads for 3 to 9 years. Leadership roles often require 6 or more years of experience, with 67% of Tech Leads and 61% of Architects falling into this category.
Overall, 59% of respondents have been working in IT for five years or less, and 71% have up to six years of experience in their current specialization.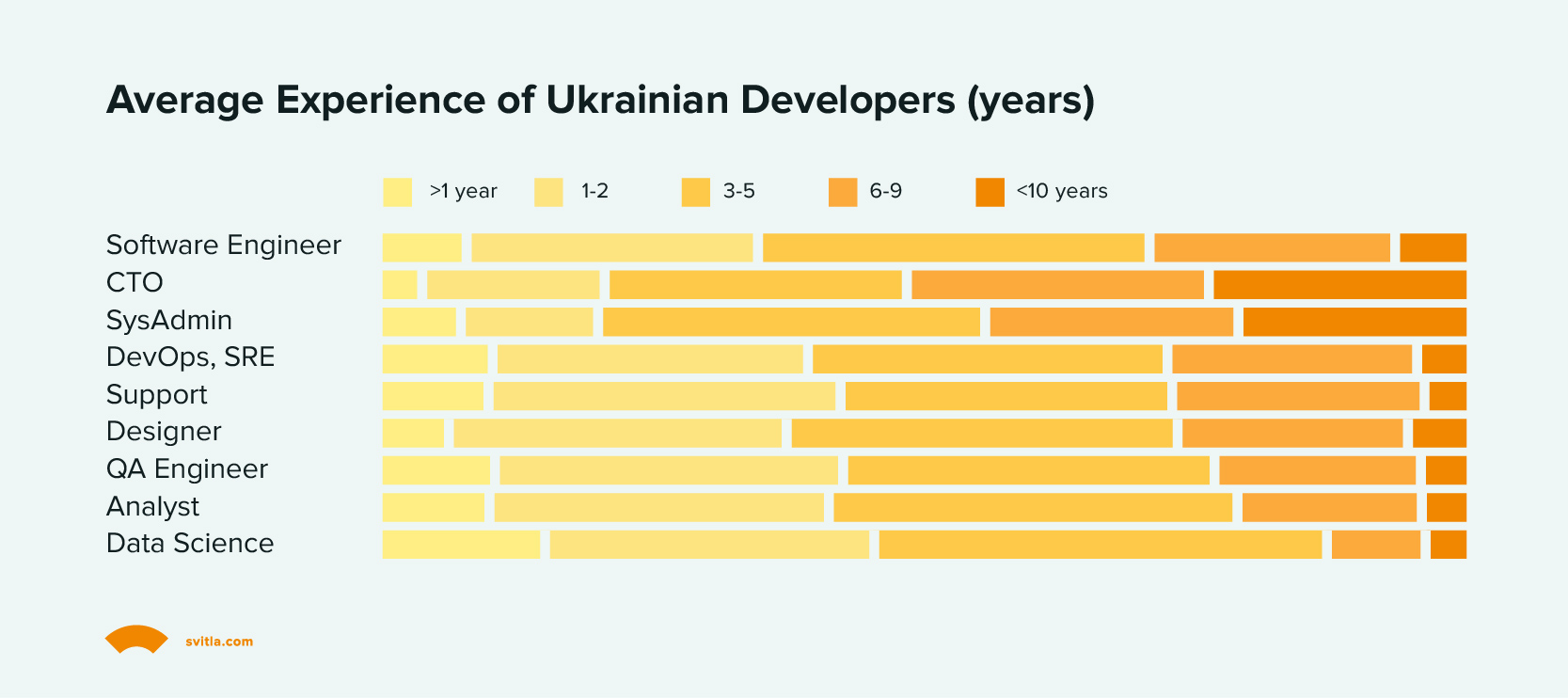 Strong English Language Skills
The proficiency level of English among professionals continues its slow but steady rise, with 53% rating their level as above average or advanced, up from 50% two years ago. English proficiency is especially strong among professionals engaging with customers and clients, such as those in Customer Success, Project Management, Sales, CTOs/CEOs, Architects, and Tech Leads. Technical writers and data specialists also show a high level of English proficiency.
Competitive Pricing and Cost-Effectiveness: The cost of living and labor in Ukraine is considerably lower compared to Western European countries or North America. This allows businesses to access top-quality development services at a more affordable rate, without compromising on quality.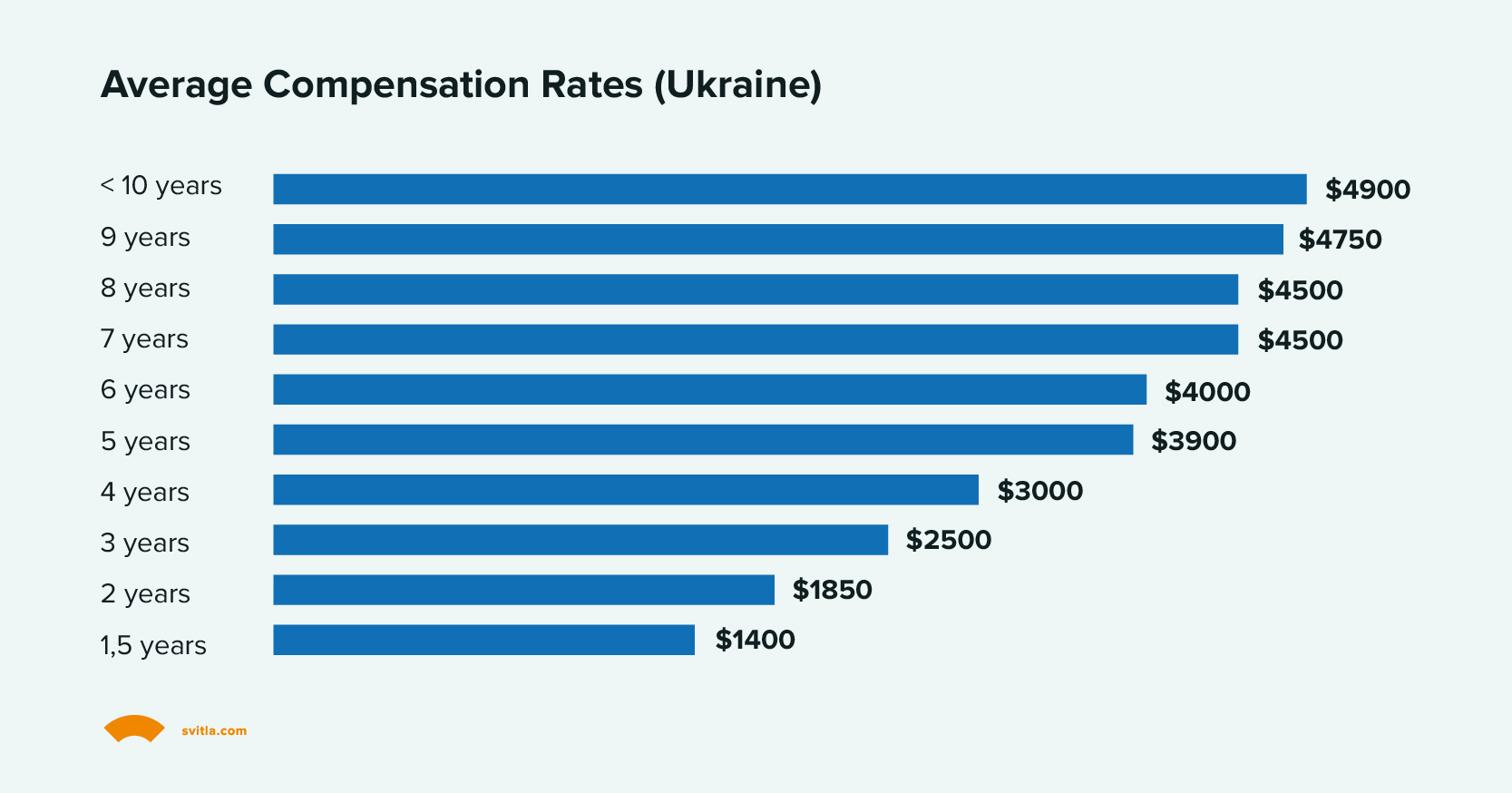 Strength and Resilience
The war had a noticeable but not catastrophic impact on the employment of IT specialists in Ukraine. 95% of respondents work full-time, although only 74% felt no or minimal changes in their work due to the war. There were fewer changes for technical specialists, with 95% continuing full-time and 77% noting no changes. Developers, DevOps/SRE, QA, Data Science, and security specialists were the least affected groups.
As evidenced by these multiple and compelling reasons, Ukraine has emerged as a top choice in Western Europe for high-stakes clients, including Eastern Europe, Asia Pacific, and the U.S. This vibrant tech hub offers a unique blend of cost-effectiveness, efficiency, and value. Ukrainian software development companies offer competitive pricing models and provide access to a vast talent pool of highly skilled engineers renowned for their technical expertise and problem-solving abilities. Coupled with favorable time zone overlaps and cultural affinity with Western clients, Ukraine becomes an ideal nearshoring destination.
How Svitla Systems Can Help You Nearshore in Europe
Svitla Systems can become your partner of choice for nearshore software development in Europe given the following:

To further evidence Svitla's proven track record of helping clients in the European region with its commitment to excellence and outstanding software development practices, here's a case study that covers the nearshoring capabilities clients access when partnering with Svitla.
CASE STUDY: Amplience, an eCommerce Experience Platform
Amplience is one of our long-term clients, in fact, our cooperation lasts for over a decade! Amplience is a dynamic commerce experience platform headquartered in London, UK. Giving 400 brands the freedom to win in the modern experience economy, from Crate & Barrel to Tumi, Traeger Grills, Argos, OTTO Group, Primark, Very Group, and Gap.
Here is what business value we deliver to our client:
We provide Amplience with the capacity for effortless integration of new content types and functionalities. This requires negligible oversight, thereby enabling the client to allocate their personnel and resources more effectively towards other internal projects, thereby augmenting operational efficiency.
We curate a visually dynamic and user-centric UI/UX interface that not only uplifts the brand's identity but also amplifies audience engagement. Through our meticulous design strategies, we facilitate the evolution of the brand's digital persona and stimulate increased consumer interaction.
Through our continuous advancement strategy, we guarantee uninterrupted user engagement with the platform. By simplifying the interaction process with the content management system, we aid in user adaptation and cultivate an efficient, enjoyable content browsing experience.
Our strategic transition from manual testing protocols to Quality Assurance automation has enabled this evolution, increasing our ability to detect and rectify any issues promptly, thereby elevating overall service standards and operational efficiency.
We've notably amplified our product support and end-user experience evaluation, facilitating frictionless client interactions and promoting perpetual product improvement.
Overall, as a dedicated tech partner, we have been helping our client to keep up with the highly dynamic tech world, staying at the forefront of the newest technologies and solutions.
Does your project need an additional tech boost? Partner with Svitla and earn a strategic competitive advantage for your business by working with a nearshoring expert!
by Svitla Team
July 04, 2023
Related articles
news
article
Let's discuss your project
We look forward to learning more and consulting you about your product idea or helping you find the right solution for an existing project.
Thank you! We will contact very shortly.
Your message is received. Svitla's sales manager of your region will contact you to discuss how we could be helpful.