Top 5 Nearshore Software Development Companies in Costa Rica
Formerly popular for being a go-to retirement and travel destination, Costa Rica has emerged as one of the most sought-after destinations for nearshoring software development and is slated to grow its gross domestic product by 2.8% in 2023 and 3% in 2024.
Further cementing this expected growth, IT and IT-enabled services currently account for a significant portion of the country's revenue, making it the number one exporter of IT services per capita in Latin America. According to Deloitte, Costa Rica is perceived as the fifth best destination for global business services.
According to the Global Innovation Index of 2021, Costa Rica ranks #3 in Latin America and the Caribbean as a global leader in innovation. With robust infrastructure, highly skilled workforce, and a favorable business environment, Costa Rica nearshore development offers several key benefits for companies looking to optimize their operations in a cost-effective, yet highly effective way.
Additionally, there's a lot ot be said about the top-tier workforce available in Costa Rica. Human capital in the country is not only a source of great investment for the government but it's also one of the key selling points to attract companies interested in highly specialized and technical talent. This next graphic depicts a sample of scores per country rating human capital fro the World Economic Forum's Global Competitiveness Report. There, Costa Rica scores 81.09, earning it a spot in the top five.
Why You Should Nearshore to Costa Rica
When it comes to outsourcing software development, it's no wonder that Costa Rica has emerged as the #1 exporter of high value-add services in the Latin America region.
Value-add services enable Costa Rica to deliver over 100 different business functions in more than 12 different languages for business units such as shared services, outsourcing, tech support or regional headquarters, among many others.
Stimulating Business Environment
Costa Rica has become a preferred destination for technology companies, including a total of 119 global IT companies, including Intel, Microsoft, Hewlett Packard, IBM, and Amazon.
Costa Rica has made progress in enhancing its business environment and promoting international market accessibility, like implementing measures to evaluate the impact of domestic regulations on the economy, gradually reducing bureaucratic processes, and streamlining formalities throughout the country. It's worth mentioning that as of 2021, there were 19 startup companies in Costa Rica focused on telecommunications, computer programming, data processing, and hosting.
Worth mentioning, as of October 2022, over 46 coworking spaces were identified in Costa Rica including facilities to develop startups such as incubators, accelerators, and more, totaling 35 locations.
Enhanced Investment Climate
Costa Rica has implemented a robust intellectual property rights (IPR) protection policy as part of its strategy to enhance the investment climate, attract foreign investors, establish a comprehensive legal framework, and cement itself as a top company of nearshore outsourcing in Costa Rica.
Businesses looking for efficient and successful outsourcing partnerships will find that Costa Rica has a lot to offer in terms of time zone compatibility, cost-effectiveness, flexible price models, a technically skilled workforce, and cultural similarities.
Time Zone Compatibility
The advantage is that Costa Rica follows the US Central Time Zone, enabling remote workers to be available during similar hours as the U.S. in-office workforce (or exactly the same if they are located in a CST state). Thus, outsourcing to Costa Rica helps you address big time gaps and ensure that your team and the outsourcing team can work together well.
Cost Efficiency
Software outsourcing to Costa Rica saves money. While maintaining high-quality standards, Costa Rican service providers offer competitive pricing compared to outsourcing destinations in North America or Western Europe. Because of lower hourly rates, you can better manage their budgets and use their resources.
To illustrate, the estimated total pay for a Software Developer is USD$3142.69 per month in the Costa Rica area. A junior software developer in the United States can anticipate an annual salary of approximately $80,000, or USD$6,667.00 per month. Thus, a software developer in Costa Rica performing the same role can expect to earn around USD$39,000. This translates to a significant cost savings of over 50% in annual salary.
Versatile Skill Set
Costa Rica has a highly-skilled technical population with a lot of specialized skills, which gives it an edge in the market. The government has put a lot of money into education and technology, which has led to a pool of talented people who are experts in different areas of software development.
Costa Rica allocates a significant portion of its Gross Domestic Product (GDP) to training and education, amounting to over 6.5%, to these areas. This expenditure represents one of the highest proportions among Organization for Economic Cooperation Development (OECD) countries. Also, the country collaborated with the International Development Bank and online education platform Coursera to provide training to 50,000 individuals in the essential technical skills needed for industry 4.0.
According to the Costa Rican Coalition of Development Initiatives (CINDE), in 2018, STEM-related companies in Costa Rica generated 12,961 new jobs, and by the end of 2022, they reportedly created over 35,000 jobs.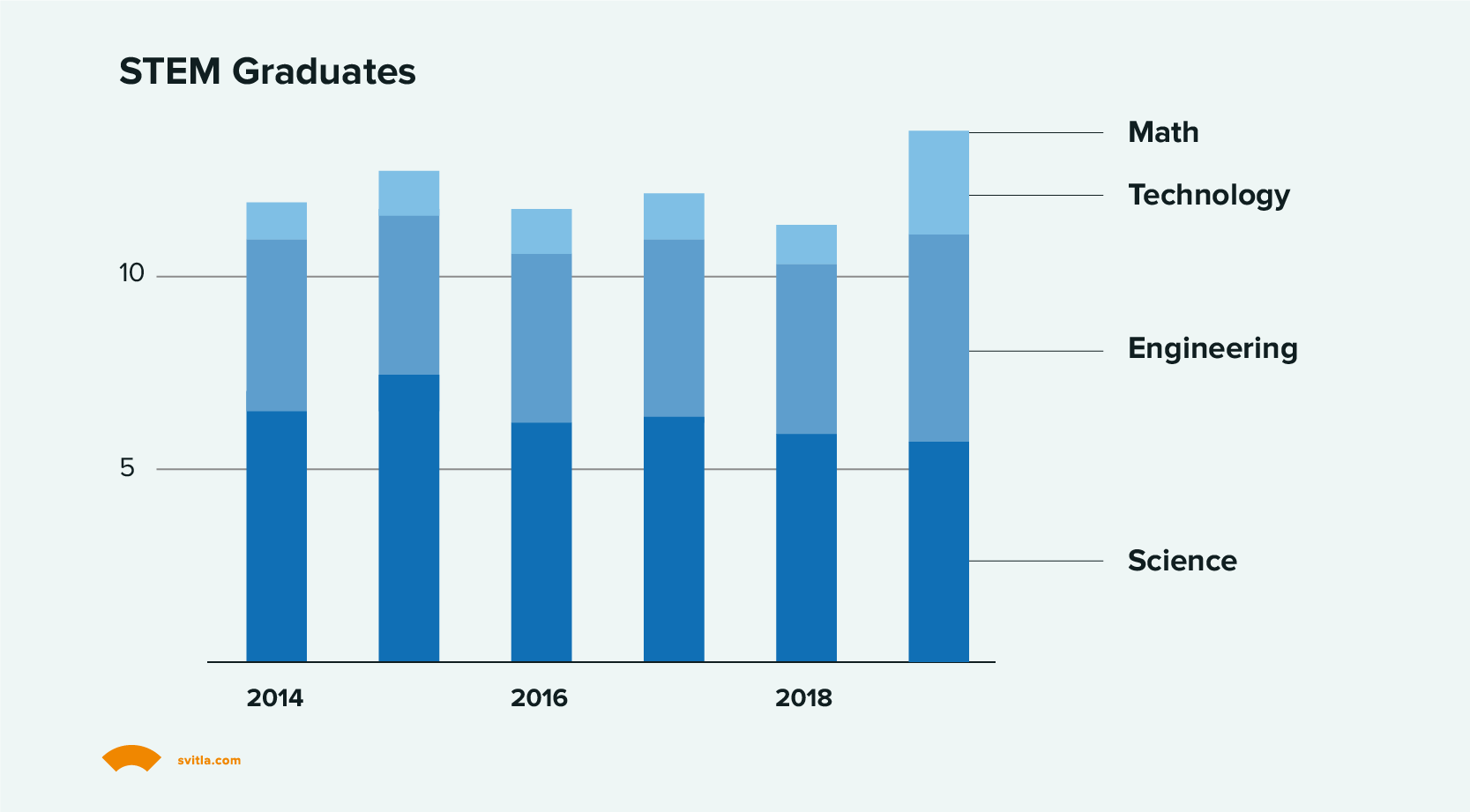 Costa Rica's public higher education system has experienced enhanced accessibility and quality as a result of the Higher Education Project. The target of enrolling over 102,000 students in undergraduate programs and more than 7,000 students in graduate programs has been successfully achieved. Additionally, the four participating universities have surpassed the target of offering 106 officially accredited programs. This project has played a significant role in improving the overall educational landscape of Costa Rica by increasing enrollment and ensuring the availability of a wide range of accredited programs.
Cultural Fit
Cultural similarities between Costa Rica and countries in North America or Western Europe are an important but often ignored part of software outsourcing success. Costa Ricans demonstrate a strong work ethic, good communication skills, and customer-centric attitude. This cultural alignment makes it easier to cooperate and understand each other when there are language hurdles or different ways of doing things at work.
For instance, Costa Rica ranks fourth in English proficiency in Latin America with a score of 51.35 according to Education First, an index that ranks levels of English in direct relation to proficiency and a variety of economic and social indicators.
Choosing the Right Outsourcing Provider in Costa Rica
There are several key factors to consider when choosing a nearshore software development provider in Costa Rica that will offer the necessary services for your business. These factors include:
Experience. It is essential to look for a provider with a proven track record and experience in the industry. Assess their portfolio, client testimonials, and the duration of their operation in the market. An experienced provider will have the expertise to handle various projects efficiently.

Scalability. Consider the provider's ability to scale their resources based on your project requirements. A reliable outsourcing partner should have the flexibility to accommodate your evolving needs and allocate additional resources when necessary.

Legal and regulatory compliance. Ensure that the outsourcing provider adheres to all relevant legal and regulatory requirements. This includes data protection regulations, intellectual property rights, and compliance with industry-specific standards.

Technical expertise. Evaluate the technical capabilities and competencies of the provider. Look for their expertise in the specific technologies and programming languages required for your project. A skilled team with diverse technical expertise will contribute to the success of your software development initiatives.

Communication skills. Effective communication is essential for successful outsourcing. Ensure that the provider has strong communication skills and can effectively communicate in your preferred language. Clear and timely communication will help avoid misunderstandings and ensure smooth collaboration.
Project management skills. A competent project management team is crucial for outsourcing success. Assess the provider's project management practices, methodologies, and tools they employ to ensure efficient project execution, timely delivery, and effective risk management.

Cultural fit. Consider the cultural compatibility between your organization and the outsourcing provider. A shared work culture, similar work ethics, and an understanding of your business values will foster better collaboration and minimize cultural gaps.

Security and data protection. Data security is of utmost importance when outsourcing software development. Ensure that the provider has robust security measures in place to protect your sensitive information. They should comply with international data protection standards and have appropriate protocols for handling confidential data.

Location and infrastructure. Evaluate the provider's location in Costa Rica and assess the accessibility to reliable internet connectivity, stable electricity supply, and other necessary infrastructure required for software development. A well-equipped and reliable infrastructure will ensure uninterrupted operations and smooth project execution.

Cost effectiveness. While cost should not be the sole determining factor, consider the provider's pricing structure and how it aligns with your budget. Compare the costs with the value and quality of services provided to ensure you are getting a competitive and cost-effective solution.
Nearshore Software Providers in Costa Rica
Svitla Systems
Svitla Systems stands out as a leading nearshore software development company in Costa Rica, offering cost-effective solutions without compromising quality. Its team of talented and experienced consultants and engineers brings extensive experience in many domains including:
Cloud solutions,
Web and mobile app development,
E-commerce development,
Data and analytics,
DevOps consulting,
Quality assurance,
Internet of Things development,
AI and ML,
RPA,
UX/UI design, and more.
Svitla Systems is also an AWS Advanced Tier Partner, which enables it to offer the most innovative and advanced cloud solutions available on the market, as well as expert advice and solutions on:
Cost reductions and streamlined resource usage through optimized cloud infrastructure
Enhanced application performance and improved user experience
Increased business agility with rapid deployment and seamless integrations
Robust security measures, ensuring compliance and mitigating risks
Competitive advantage in the digital landscape, driving growth and success
​​Key cooperation models
Consulting services
The company offers a comprehensive range of consulting services tailored to different aspects of digital transformation and software development projects. You can enhance your project quality through expert advice on architectural design, technology selection, project planning, process improvement, code review, and performance optimization.
Dedicated development teams
Svitla Systems offers a dedicated development teams (DDT) cooperation model. It's an effective extension of the in-house team that allows you to get specialized expertise and a dedicated team of professionals selected specifically to meet the project requirements.
The company ensures seamless integration into existing processes and workflows for minimal disruption and manages all administrative and operational aspects, including recruitment, HR, infrastructure, and project management. As a result, you're able to retain full control over the project's direction and goals.
Managed projects
The company offers a specialized working model that focuses on agile software development practices. Under this model, Svitla helps clients avoid project management risks by taking control over the delivery of their projects within specific requirements, time, and budget.
The key benefit of this approach is that the company provides you with self-organizing and cross-functional teams that combine a a range of professional skills for a holistic approach. Such a cooperation model facilitates collaborative and iterative work in short development sprints and encourages flexibility and close collaboration for rapid development and continuous improvement.
In addition, the company works in domains like backend, frontend, iOS, Android, Quality Assurance, Data and AI, IoT, Computer Vision, the Cloud, DevOps, and more.
Auxis
Founded in 1997, Auxis emerged with the goal of offering a unique alternative to the conventional consulting model. As a management consulting and outsourcing firm, Auxis assists organizations in modernizing and expanding their back-office operations. They enable these organizations to function at their highest potential and enhance their competitiveness, agility, and efficiency in an increasingly disruptive world. Auxis focuses on various areas of expertise, including Artificial Intelligence, Finance & Accounting Outsourcing (FAO), and IT Managed Services.
Key working models
Auxis offers several cooperation models that include:
Nearshore outsourcing. With its Delivery Center in Costa Rica, Auxis empowers clients to lower expenses, enhance operational efficiencies, strengthen capabilities, and concentrate on their core competencies.
Shared services consulting. Shared Services (also referred to as global business services) is a tried and tested approach to drive organizational transformation. Auxis designs, implements, and manages shared services solutions that unlock the potential and value of your operations.
Help desk and desktop support. Auxis helps companies modernize their service desk operations. With the help of the Costa Rica Delivery Platform thatutilizes a cost-effective, consumption-based model, Auxis achieves scalability and helps companies save costs on service desk operations.
HatchWorks
HatchWorks helps companies create digital products with the utmost precision and efficiency. Through their collaborative Agile teams in the United States and nearshore locations, they develop software solutions that provide tangible business benefits. Their expertise lies in crafting inventive, revenue-generating products, from conceptualization to launch and beyond.
Key working models
Nearshore software development. With aligned time zones and extensive footprint in Latin America, HatchWorks ensures smooth integration with client teams. By prioritizing cultural alignment and strong English proficiency, the company ensures effective communication and collaboration throughout the development process.
Technology consulting. If clients are encountering challenges in establishing an efficient Agile software development team, HatchWorks can assist in boosting speed, enhancing forecasting precision, and accelerating the delivery of the right solutions.
Integrated team model: The company works according to a model that blends US-based and Latin America-based experts, providing the best of both worlds.
Encora
Encora uses its nearshore advantage to offer tailored software engineering and technology services that cater to both established and startup software companies. Their unique approach combines a partner-centric approach, distributed Agile methodology, bilingual English proficiency, alignment with U.S. time zones, and an unwavering commitment to quality.
Key working models
Nearshore delivery model. Fully-dedicated engineers focused on a single client with intensive induction training to prepare the delivery of maximum impact to the client organization. Clients access over 40 markets where Encora hires top engineers.
Talent acquisition and learning & development initiatives:.Encora covers sourcing, recruiting, and hiring as well as ongoing technical and compliance training to provide specialized tech professionals.
Team extensions: The company offers a reliable, long-term partnership in which team extensions integrate seamlessly.
Novacomp
Novacomp is a prominent consultancy firm specializing in nearshoring, IT staffing, and outsourcing services. They offer a wide range of products and solutions, including software analysis, design, development, testing, implementation, and maintenance. These services encompass multiple platforms and utilize diverse methodologies. Novacomp serves clients across industries like financial services, government, telecommunications, healthcare, logistics, and manufacturing. They hold several certifications including Microsoft Gold Partner, Oracle Gold Partner, ISTQB Partner, and ISO 9001:2015 certification, reflecting their commitment to excellence and industry best practices.
Key working models
IT outsourcing. Novacomp has a strong and experienced team of bilingual consultants – English and Spanish – for software application development and maintenance processes across various technological platforms.
QA and software testing. Novacomp implements industry-leading practices for verification and validation processes to ensure quality assurance at every stage of the software product's lifecycle.
Licensing. As strategic partners of renowned global companies like IBM, Microsoft, and Oracle, Novacomp specializes in licensing cutting-edge technology products. They provide expert advice and tailored technical assistance to create innovative solutions that effectively fulfill clients' business requirements.
Svitla Systems has a strong presence in LATAM, with strategic development centers in Mexico, Costa Rica, and Argentina. Svitla Systems can become your partner of choice for nearshore software development in Costa Rica given the following:
Partner with Svitla Systems in Costa Rica to gain a strategic competitive advantage for your projects by working alongside a truly global nearshoring expert!
by Svitla Team
July 27, 2023
Let's discuss your project
We look forward to learning more and consulting you about your product idea or helping you find the right solution for an existing project.
Thank you! We will contact very shortly.
Your message is received. Svitla's sales manager of your region will contact you to discuss how we could be helpful.