Published: October 11, 2023
Updated: October 12, 2023
8 min. read
Best Practices for Guest Service Digitalization: Contactless Guest Service and Engagement
In the wake of the COVID-19 pandemic, contactless guest service emerged as a crucial safety measure, ensuring the well-being of both guests and staff within the hospitality industry. Now, even with the easing of restrictions and a shift towards normalcy, the demand for contactless solutions remains steadfast.
Beyond its health benefits, contactless guest service has proven to be exceptionally convenient and favored by hotel guests. As hotels embrace this transformative technology, they not only fortify their safety measures but also elevate the level of service, creating memorable stays for their esteemed guests.
Embracing the power of digitalization, we explore how guest services unlock the potential for seamless interactions, personalized experiences, and a harmonious blend of technology and warm hospitality.
1. Property Management Software (PMS) that Enables Self-Service
Today, providing exceptional guest experiences is no longer an option; it's a necessity. With the increasing demand for seamless interactions and personalized services, hoteliers are turning to innovative Property Management System (PMS) software that enables self-service capabilities. Let's see how.
Contactless Check-In and Checkout: A Seamless Guest Experience
One of the key features of modern PMS software is the ability to offer contactless check-in and checkout options. A key aspect of post-pandemic hospitality is enabling guests to complete these tasks on their own mobile devices or through self-service kiosks.
Leveraging User Data for Personalized Interactions
A smart and data-driven PMS system plays a pivotal role in understanding guest preferences and needs. By collecting and analyzing guest data, the PMS can create detailed guest profiles, including contact information, preferences, and stay history. For instance, by making mobile phone and email fields compulsory on the booking form, both for reservations made by front desk agents and those booked online, the PMS ensures that vital guest data is captured and stored. This information becomes the backbone of pre-arrival communications and personalized service offerings.
Efficient Pre-Arrival Communications
With the guest's mobile phone and email information securely stored in the PMS, hoteliers can now send targeted pre-arrival communications to enhance the guest experience. From sending personalized welcome messages and room upgrade offers to providing essential check-in instructions, these timely communications set the stage for a positive and memorable stay.
Enhancing Efficiency and Guest Satisfaction
The adoption of self-service capabilities not only enhances guest satisfaction but also improves operational efficiency for hotels. By automating repetitive tasks such as check-in and checkout, hotel staff can focus on providing exceptional guest service and attending to more critical matters.
Modern PMS software that enables self-service functionality is a game-changer for the hospitality industry. By leveraging user data and embracing contactless technologies, hotels can offer a seamless and personalized guest experience, from booking to departure. As the hospitality landscape continues to evolve, a data-driven PMS becomes an invaluable asset, enabling hotels to adapt, thrive, and surpass guest expectations in this dynamic and competitive market.
2. Contactless Check-In with a Mobile Application: Streamlining Arrival with Mobile Convenience
In the era of contactless experiences, hotels are embracing innovative solutions to cater to tech-savvy guests. One such solution is the integration of contactless check-in with mobile applications.
A prime example of this seamless guest service is the Hilton Honors app. With the Hilton Honors app, guests can experience a hassle-free check-in process, allowing them to bypass the front desk and head straight to their rooms. This intuitive mobile application empowers guests with the flexibility to choose their preferred room, receive a digital key, and even access exclusive offers.
"Expect More. Expect Hilton" is a recent tagline used by Hilton to spotlight its direct booking offerings. Hilton's inaugural celebrity-endorsed initiative showcases the array of advantages linked to using the official website and mobile app — from the assurance of price matching to the convenience of a digital key, the option to choose a preferred room, and complimentary Wi-Fi access.
This comprehensive campaign was meticulously tailored for diverse platforms and mediums, strategically designed to resonate with millennials and Generation Z consumers, potentially transforming them into enthusiastic brand advocates across social media platforms. In the year following the campaign's launch, direct online reservations experienced a growth rate threefold higher than bookings made through alternative channels.
3. Contactless Room Service with On-Spot Devices: Enhancing Room Service with Technology
For guests seeking a heightened level of convenience, hotels are revolutionizing room service with on-spot devices. Many forward-thinking establishments embed tablets within rooms, enabling guests to place orders for room service and other amenities at their fingertips.
Additionally, hotels offer mobile applications that effortlessly facilitate service requests, further contributing to a seamless guest experience. By embracing contactless room service, guests can indulge in a delightful culinary experience without the need for physical interaction, giving them the freedom to savor their meals in the comfort of their own space.
For instance, comprehensive hotel digital concierge platforms consolidate an array of essential hotel services, ranging from check-ins to contactless payments, empowering guests to independently oversee their entire stay.
These applications deliver personalized services, round-the-clock assistance, and significantly enhance the operational efficacy of hotels.
Guestfriend serves as an exemplary illustration of such an application, centralizing invaluable information and significantly reducing staff workload. This app functions in a contactless manner, seamlessly delivering essential stay-related details directly to guests' device screens, thereby obviating the necessity for printing expensive paper brochures.
4. Self-Service Kiosks: A Gateway to Efficiency and Guest Empowerment
As hotels continue to prioritize guest convenience, self-service kiosks are gaining momentum in the hospitality landscape. A shining example of this trend can be seen in Marriott hotels, where self-service kiosks streamline the check-in process for guests. These user-friendly kiosks allow guests to check themselves in and print key cards, significantly reducing wait times and offering a touchless experience.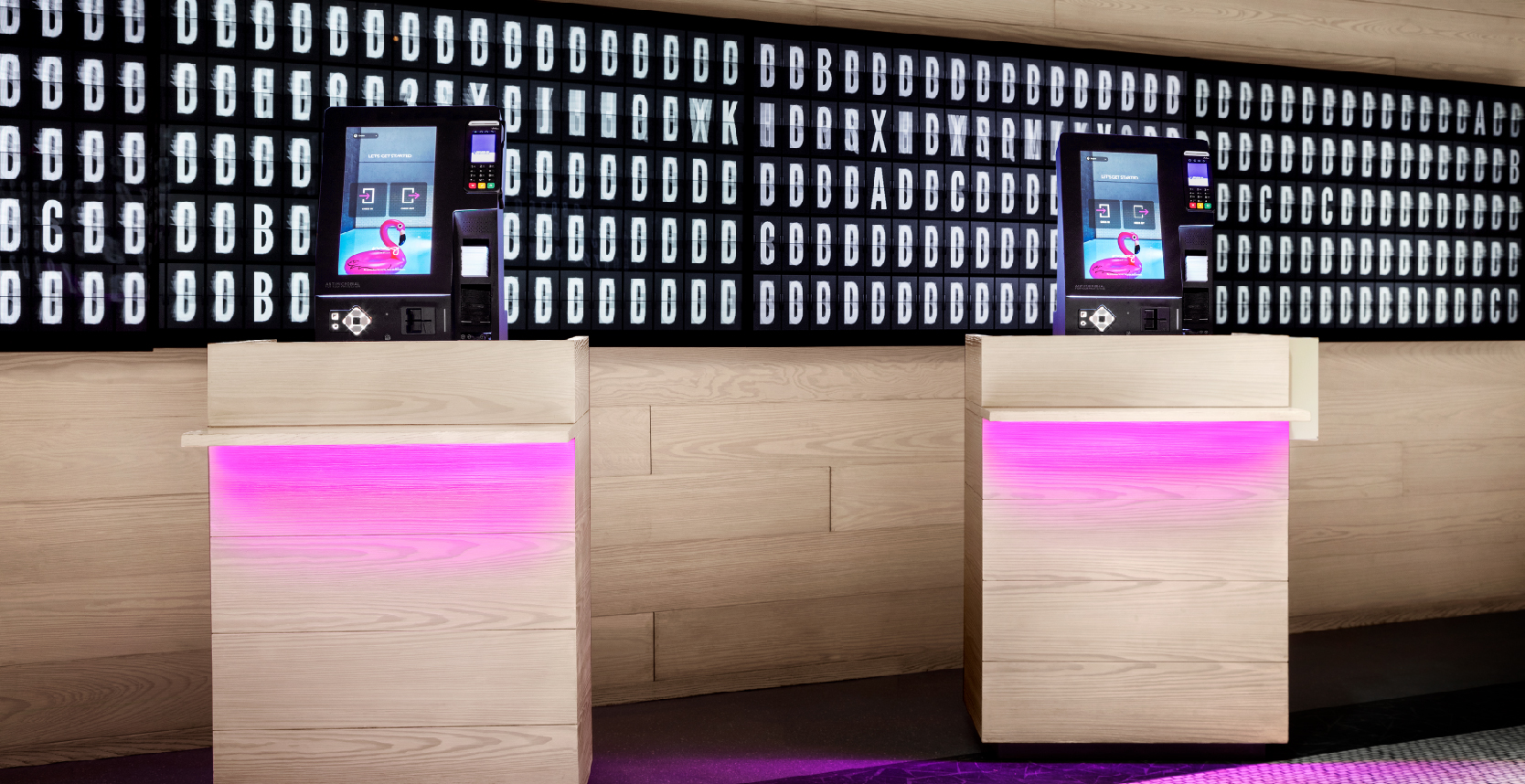 By leveraging self-service kiosks, Marriott hotels empower their guests with greater control over their check-in journey, exemplifying a commitment to modernity and efficiency.
With customers empowered to place orders independently, hotel teams gain newfound flexibility. Freed from order-taking responsibilities, they can focus on enhancing other facets of the guest journey, ensuring an even more remarkable stay.
Digital ordering systems in self-service kiosks empower hotel guests to request meals from any location within the establishment. For instance, a guest engrossed in a conference can effortlessly order a meal and have it sent to their room, awaiting their return. This eliminates waiting times and introduces an additional layer of convenience
Similarly, during check-in or room booking, guests can find that self-service kiosks offer prompts for additional amenities they can immediately include in their reservations. This personalized approach encourages independent selections, unlike face-to-face marketing.
Integration into existing systems ensures a tailored and streamlined guest experience. Self-ordering's universal appeal spans various demographics and age groups, presenting an opportune shift to enhance your service offering.
5. Room Control Apps: Customizing the Guest Experience
Personalization is at the core of today's guest experience, and hotels are leveraging room control apps to deliver tailored services. These sophisticated apps enable guests to control various aspects of their rooms, such as temperature, lighting, and entertainment, right from their smartphones or tablets.
By providing this level of room customization, hotels ensure that every guest can curate their ideal environment, fostering a sense of comfort and familiarity throughout their stay. After installing a chosen hotel guest app, guests can seamlessly initiate their room service orders by scanning the provided menu Quick Response (QR) code, initiating an efficient and hassle-free process. While this encapsulates the fundamental essence of the room service app, its capabilities can extend beyond this premise, varying depending on the chosen mobile solution.
For instance, the HotelFriend app was designed for the modern globetrotter, so travelers can effortlessly place orders, arrange pickups, and conveniently settle payments directly through their smartphones, whether planning in advance or during their stay. The app's user-friendly interface categorizes its services into sections like "food," "beverages," and "activities," enabling guests to add desired offerings to their virtual carts and specify preferred delivery times.
The app's innovative approach even suggests that hotels can enhance their revenue streams without requiring staff involvement. With just a few taps on their smartphones, guests can relish in-room dining experiences. What's more, the hotel concierge app introduces the flexibility to tailor pricing for loyal customers, underscoring its commitment to personalized service.
6. QR Code for Self-Service Like Check-Ins: Effortless Check-Ins with a Simple Scan
QR codes are becoming synonymous with seamless self-service experiences in the hospitality industry. By integrating QR codes into check-in processes, hotels enable guests to access essential information and complete check-ins with a quick scan from their mobile devices. This touchless method not only expedites the check-in process but also aligns with safety protocols in the current landscape. With QR code-powered self-service check-ins, hotels offer guests a modern, efficient, and contactless way to kickstart their stay.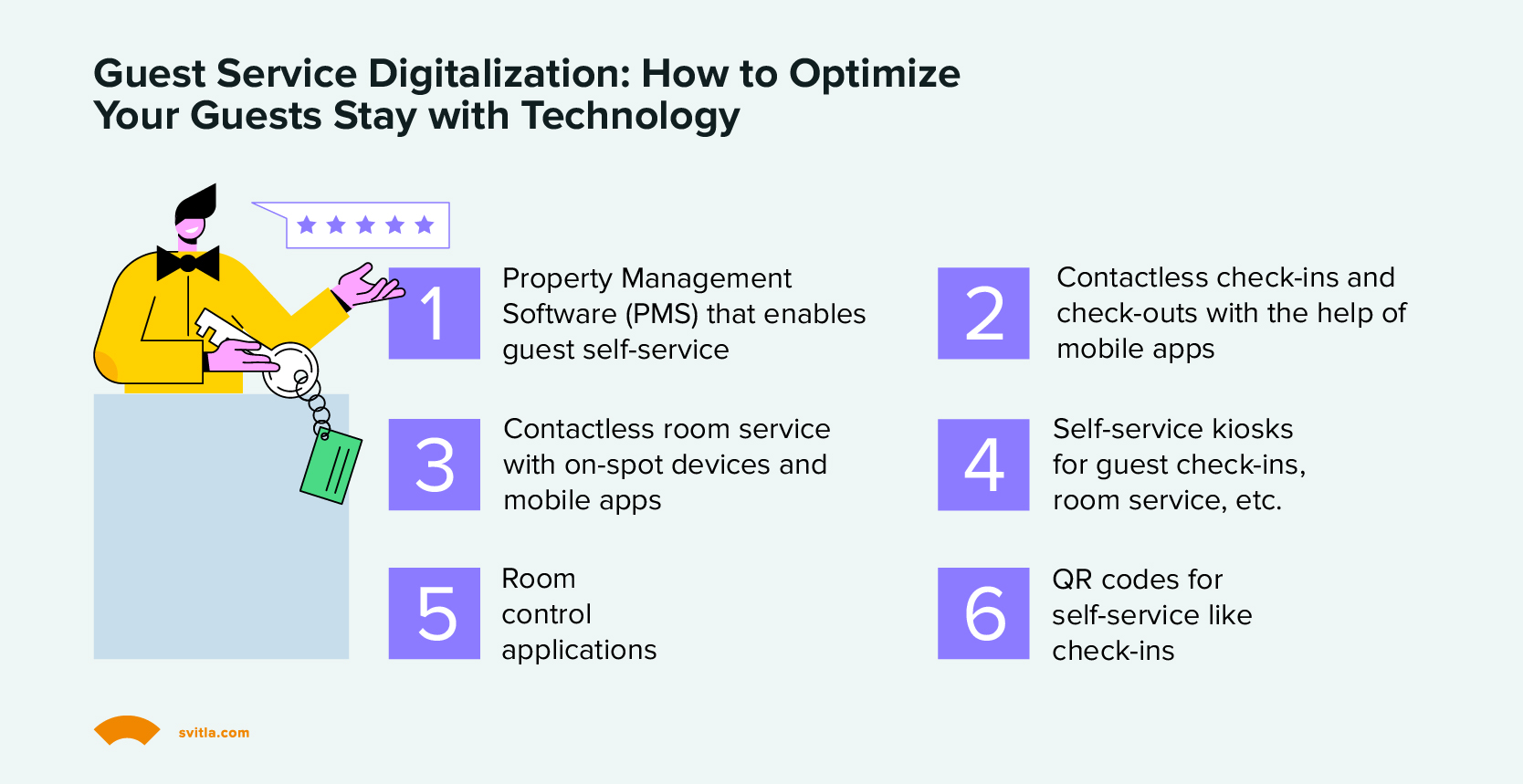 Real Life Case Studies
Rainmaker Group
Svitla Systems recently showcased its expertise once again through its collaboration with Rainmaker Group on a transformative hotel guest portal project. The project involved the upgrade of a guest portal, streamlining guest interactions and enhancing their overall experience.
Svitla focused on successfully establishing an efficient and reliable cloud-based deployment process for swift introduction of new features. Additionally, it ensured the consistent and dependable operation of the system, effectively supporting a substantial user base while significantly minimizing operational costs associated with the cloud-based system. The project achieved an impressive 90% test coverage, resulting in substantial cost reductions by preventing major live environment issues and potential downtime.
Additionally, Svitla Systems partnered with Rainmaker on the creation of an innovative eLoyalty platform for hotels. The collaboration resulted in the development of a sophisticated eLoyalty platform that enables hotels to establish stronger connections with their guests.
Svitla Systems successfully expedited the introduction of new functionalities, minimizing task repetition and ensuring a high-quality end product. The Svitla team delivered a seamless and swift frontend experience along with an intuitive user interface, contributing to end user satisfaction, improving software performance and significantly reducing instances of data errors.
Overall, the project resulted in an elevated platform quality, simultaneously alleviating the workload for the manual testing team.
World's Largest Traveling Platform
Svitla Systems partnered with one of the world's largest traveling platforms. The project involved the development of a comprehensive travel platform that offers seamless travel planning, booking, and management. Svitla team seamlessly integrated features like personalized itineraries and real-time updates. Additionally, we implemented:
A robust security approach across various information systems, encompassing employee laptops, cloud systems, applications, and flash drives.
Prevention of multiple data leaks arising from phishing emails and other potential vulnerabilities.
Hourly and daily monitoring for attacks and phishing attempts, effectively identifying and neutralizing potential threats.
Detection of anomalies within systems, including Microsoft Exchange servers, and swiftly implemented necessary updates to ensure system integrity.
Wrapping Up
In an era where convenience and safety have taken center stage, the digitalization of guest services has emerged as a pivotal solution for the hospitality industry. As we've explored the best practices for implementing contactless guest service and engagement, it's evident that providing a frictionless and personalized experience is no longer a luxury, but an expectation.
By leveraging the power of contactless technologies, hotels and resorts can transcend traditional service models, enhancing guest satisfaction while safeguarding their well-being. From touchless check-ins and mobile room keys to virtual concierge services, the hospitality landscape is rapidly evolving towards a new era of guest interaction.
Svitla Systems' expertise has empowered numerous clients to seamlessly integrate these practices into their operations. We understand that each property is unique, requiring tailored solutions that balance cutting-edge technology with the warmth of personalized service. Our commitment to excellence drives us to continuously refine and innovate, enabling our clients to not only meet but exceed guest expectations.
Discover how we can help you in your transformative journey towards digitalizing guest services and engagement.
Let's discuss your project
We look forward to learning more and consulting you about your product idea or helping you find the right solution for an existing project.
Thank you! We will contact very shortly.
Your message is received. Svitla's sales manager of your region will contact you to discuss how we could be helpful.