Published: October 05, 2023
Updated: October 30, 2023
10 min. read
Proven Tips and Tricks to Increasing Direct Hotel Bookings
Being a successful hotelier isn't easy. It's more than just creating a cool brand and ensuring your staff gives outstanding service that leaves a lasting impression on your guests. At the end of the day, it's about making money and maximizing profits, and a crucial part of that is getting more hotel direct bookings.
In this article, we'll explore why direct hotel bookings are important for both hotels and guests and most importantly, we'll share practical strategies to explain to you how to get more direct hotel bookings. From creating user-friendly websites to using urgency in your marketing, we've got you covered. Join us on the journey to hotel booking success!
Top Booking Channels
There's a lot of talk about hotel distribution. To get clarity, you've got to distinguish direct hotel bookings from OTA bookings. Let's start with the basics.
An OTA, or hotel booking site, serves as a marketplace, offering customers an array of choices for reservations. Some of the most well-known examples are Booking.com, Agoda, and Expedia. In turn, direct hotel bookings are nothing but guests who book rooms via a hotel's website, phone call, or email.
As Cloudbeds' report states, in 2019, 57% of bookings came from OTAs, whereas 43% were attributed to alternative channels such as websites, telephone inquiries, or emails. The pandemic outbreak precipitated a surge in direct reservations. However, by 2022, OTAs managed to regain a competitive advantage once more.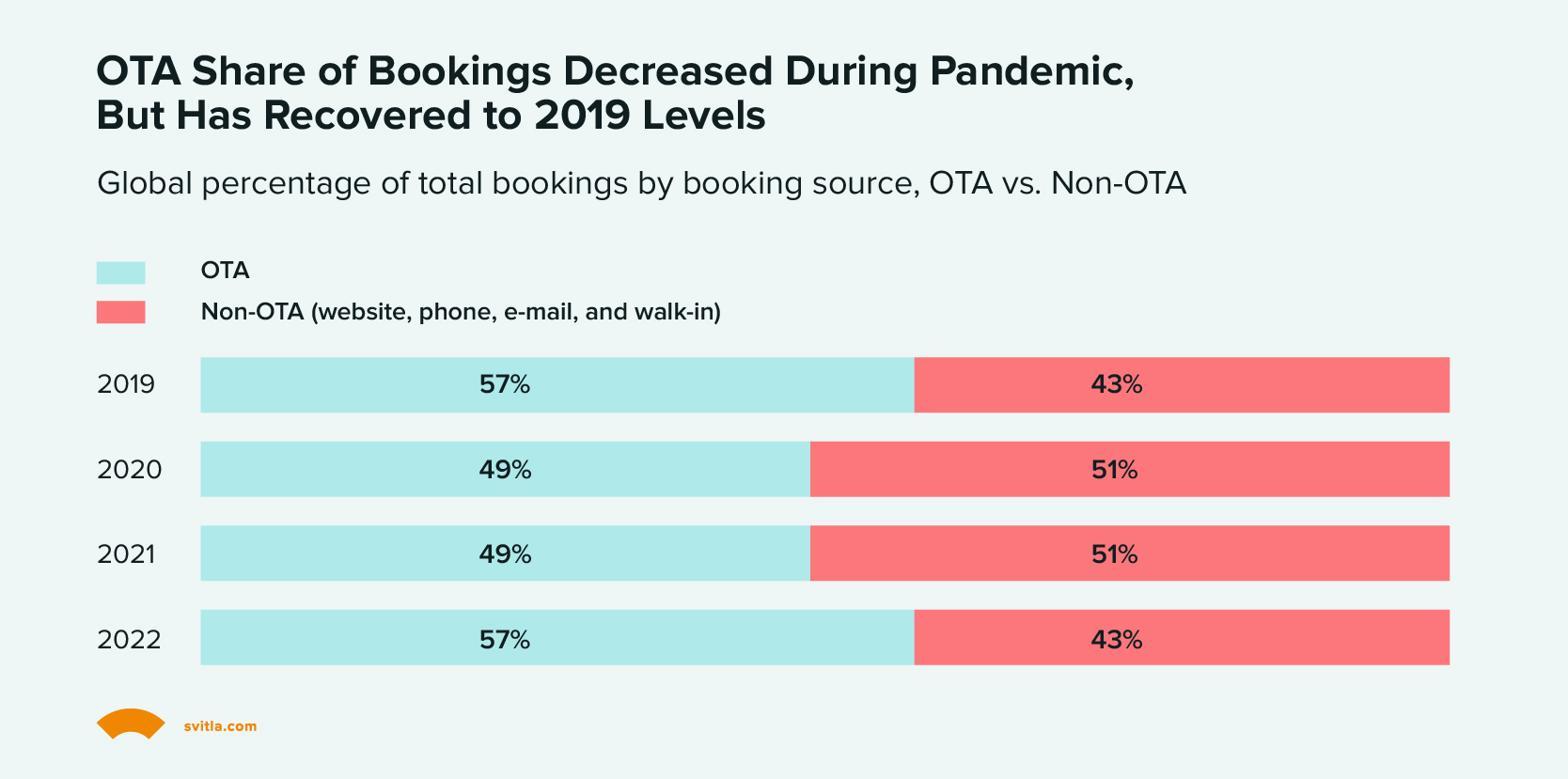 You may be wondering how OTAs have managed to capture such a significant share of travel demand and stand between travelers and suppliers. And why do they continue to dominate? There are several reasons for this:
Variety. Above all, guests want to have a comprehensive array of options available in one place.
Price. Secondly, customers desire to compare prices seamlessly. With all alternatives in one platform, it's easy to do. Hence, people don't have to open multiple tabs to check each hotel website separately.
Enhanced user interface. Last but not least, these alternatives and price comparisons are gathered in one user-friendly interface. Moreover, the user experience remains consistent across various devices.
However, despite all its benefits, hotels should not rely solely on OTAs. Here is why:
Overbookings and underbookings. Inventory management requires regular updates on each channel's dedicated extranet to prevent the complications of double bookings. The absence of a proficient channel manager amplifies the risk of overbookings. The intricacies of this process result in substantial administrative overhead. Moreover, the prevalence of lenient cancellation policies among OTAs exacerbates the issue, leading hotels to grapple with elevated cancellation rates that can adversely affect their revenue streams.
High commissions. A significant downside of collaborating with OTAs is their substantial commission charges. These fees, varying between 10% and 30% of the complete booking expense, can notably affect your profit margins.
Lack of brand control. Compliance with the distinct standards of each platform is mandatory, curbing creative control over their brand representation. The divergent policies across platforms often confound customers, with hotel staff often shouldering the burden of such uncertainties.
Intermediary. OTAs position themselves between the hotelier and the guest, masking email addresses and restricting data exchange. This obstructs hotels' efforts to establish enduring relationships with their guests. OTAs are vested in preserving this intermediary role to forestall losing customers to direct bookings, thereby safeguarding their interests.
Summing up, the OTA bookings have both pros and cons, but the key to your success is balance. Collaborating with OTAs need not be a double-edged sword. Leverage their influence to your advantage, while maintaining diverse revenue streams. Innovatively enhance your direct bookings through alternate channels. Collaborate with OTAs to amplify your hotel's visibility, yet prioritize guiding guests to book directly on your website for their future stays. In the next paragraph, we'll explain in more detail how to do it.
10 Ways to Increase Direct Bookings
Let's talk about some smart ways to get more guests to book directly with your hotel. Remember, even small improvements can add up over time, so don't lose heart if you don't see big changes right away.
Here are a few practical tips to boost direct bookings at your hotel:
1. Build a User-friendly Website
Ensure your hotel website is mobile-friendly and responsive across all devices, from laptops to tablets. Accessibility is key to capturing direct hotel bookings. Furthermore, make the most of your homepage — the first stop for visitors. Provide comprehensive details here for improved conversions. Emphasize standout services or scenic surroundings to entice visitors to choose your hotel for their booking.
Keep these key factors in mind when developing or updating your online platform:
Prioritize an attractive, user-friendly design
Offer a "virtual tour" feature. Hence, visitors can explore your property online
Optimize your site for search engines to boost rankings and draw more traffic
Cater to international clients with multi-language and currency transaction options
Lastly, ensure your website is mobile-responsive to accommodate the rising trend of phone-based bookings.
With all these essentials covered, you've already done an excellent job. For an extra dose of inspiration, you can check websites of famous hotels like Burj Al Arab, Kimpton, or Exclusive Collection.
2. Use a Commission-free Booking Engine
Seek out a booking engine devoid of commissions and tailored for mobile use. You should also streamline the booking to encompass just 2-3 steps and incorporate a rate checker to enable price comparisons from your site. By doing so, you prevent visitors from wandering to OTAs for rate comparisons and offer them a reason to book directly by showcasing your best rates.

Here are the essential features of an effective booking engine:
Swift loading. Rapid loading enhances the user experience, resulting in higher conversion rates and increased revenue.
Language and currency flexibility. Users need an opportunity to choose between multiple languages and currencies. It improves their experience.
Versatile payment methods. A variety of payment options like Apple Pay, Google Pay, Amazon Pay, Stripe, and PayPal make the booking process more convenient.
Integration with channel manager and PMS. Make sure that a booking engine can automatically update your room inventory across all of your online distribution channels.
Purchase triggers. Special offers, price comparisons, timer countdowns, social proof, and intent-triggered pop-ups boost conversion rates. Some widgets can even seamlessly integrate TripAdvisor reviews for added credibility.
Some of the most popular booking engines are SiteMinder, Profitroom, and SHR Group.
3. Implement Revenue Management Software (RMS)
An RMS is software that predicts customers' behavior to sell a product at the best price. This tool conducts real-time market analysis and demand assessment to determine optimal room rates, facilitating centralized decision-making. An RMS helps hotels delve into comprehensive data analytics, a capability that has upheld OTA dominance over time. Through effortless data analysis, hotels can plan revenue and distribution strategies.
Recently we collaborated on designing a custom solution for our client, a pioneer in cloud-based solutions for the global hospitality industry. Our developers and QA experts ensure prompt development and delivery of CRM features. We used Agile and added a reporting system powered by Stimulsoft Reports. This system lets users create all kinds of reports with essential metrics. We also made microservices like Rate Management, Reservation Management, and Configuration Management to improve everything. As a result, customer has got an improved software that allows them work more efficiently in the hospitality industry.
4. Grow Your Presence on Metasearch Engines
Users can compare options and pick the best one from ranking lists on metasearch engines. Metasearch has increased direct hotel revenue over the past decade, except in 2020. It recovered strongly the next year, though. However, it strongly recovered the next year. However, it bounced back the next year. Metasearch bookings increased on 20% from 2021 and 41% from 2019.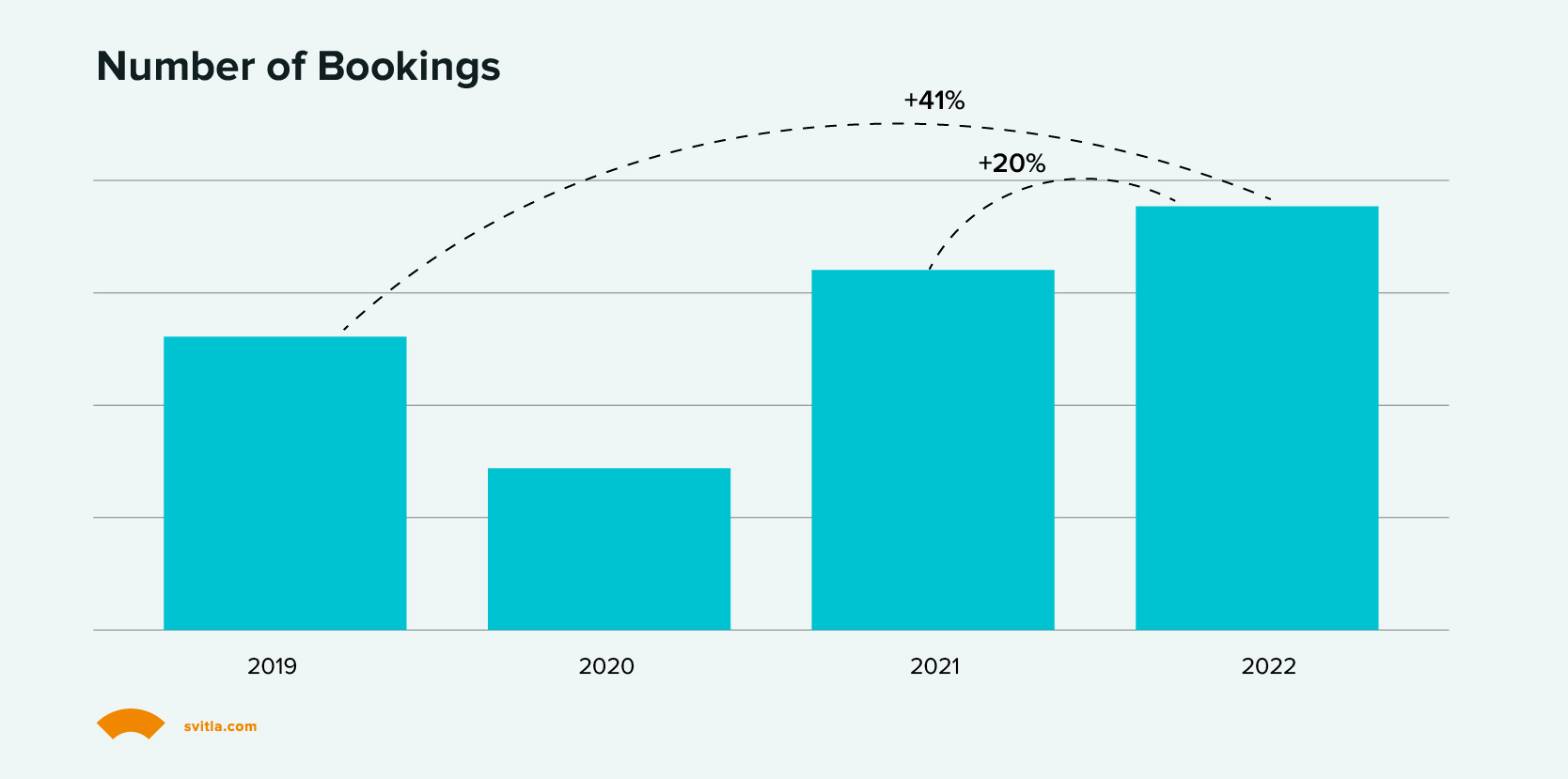 Expand your reach by connecting your hotel to metasearch engines like Google and Tripadvisor. By showing all your room rates, you can increase bookings and build trust with potential guests.
But here's the thing — each platform has its particularities. Google has high conversion rates, but it can be a bit pricey. On the other hand, Skyscanner is perfect for reaching millennials. So, prioritize the channels that align with your target audience and make sure to keep your rates consistent across all engines.
5. Lean Into Loyalty
Your previous visitors are a valuable resource for potential rebookings. Get in touch with them by sending emails with discounts and offers. And think about starting a loyalty program if you don't have one. Travelers like these programs, and you'll get to know more about the kind of guests you like to have.
A prominent example is Marriott. Its reward program is one of the most popular globally and here is why:
Marketing. The brand launch during the Oscars in 2019 gained massive attention, becoming a significant event in hospitality that year.
User experience. The Bonvoy app offers convenient booking, hotel chat, mobile keys, guest reviews, and multi-lingual support.
Personalized offers. In collaboration with IBM, Marriott uses AI and customer data to tailor experiences for leisure and business guests.
These efforts led to a 70% increase in direct sales via the Bonvoy app, while OTA bookings dropped by 100 basis points year over year as Marriott reduced reliance on OTAs.
Svitla Systems also has experience in loyalty platform development. Recently, we partnered with The Rainmaker Group to revamp their software product for optimizing pricing and revenue in the hospitality industry. We helped modernize their technology stack, enhancing flexibility and maintainability. The client received improved product quality, reduced manual support, and operational costs. Our team guided them in defining specifications, addressed migration challenges, replaced outdated technologies with modern ones like React, and utilized Amazon RDS to overcome limitations.
6. Get Active on Social Media
According to a recent Arrivia study, almost one-third of travelers look for vacation ideas on social media. Notably, a significant 60% of Gen Z and 40% of millennials use social media for travel planning. This emphasizes the importance of strategic social media marketing if you aim to draw more guests to your hotel.
A prominent example of competent use of social networks is the case of Four Seasons Hotels and Resorts. It excels in seamlessly integrating social media across its website and marketing efforts. With strong engagement on Facebook, X (formerly Twitter), Instagram, Pinterest, and TripAdvisor, the brand emphasizes guest interaction and feedback. They maintain not only corporate pages but also individual hotel, resort, and restaurant pages, coupled with interest-specific blogs linked to platforms like YouTube, Yelp, and OpenTable. Notably, their distinctive Pinterest presence showcases personality through creative boards.
7. Partner with Influencers
In hotel marketing, influencers are crucial. They turn followers into potential customers and help spread the brand's message to a broader audience with their authentic voice.
Hilton and Marriott actively use this approach. Hilton harnessed Instagram's renowned travel influencers to curate content for its "Seven Urban Wonders of the Urban World" campaign back in 2018. This initiative reached an audience exceeding 3 million collective followers, drawing close to 2,000 comments across different profiles.
In turn, Marriott strategically engaged with the mid and micro-influencer sectors to spotlight its budget-friendly Moxy hotels among younger travelers. Micro-influencers, known for their heightened engagement rates, swiftly ignite conversations within specific locales. Despite the pandemic, Moxy Hotels' global expansion persisted, amassing over 121,000 followers on their Instagram profile.
8. Personalize the Customer Experience
In your guest management system, you can keep detailed info like birthdays, anniversaries, and unique preferences. This helps with guest messaging to create better relationships and provide personalized services, discounts, and offers during their stay.
Let's imagine the guest visited your hotel and mentioned that they have a gluten allergy. In this case, you could text them about your new gluten-free menu and offer a discounted room for their next stay. Personalized service like this builds loyal customers who want to come back. This is where the hotel management system comes in handy.
A prominent personalization example is Library Hotels. It customizes guest experiences using a concise form. Once a booking is made, guests get a confirmation email containing a brief form inquiring about the purpose of their trip. Based on the response, the hotel offers relevant experience packages for purchase. Additionally, they provide complimentary champagne for guests celebrating an anniversary or honeymoon. This approach equips the team with the necessary details to craft unique guest experiences.
9. Create a Sense of Urgency
Creating a sense of urgency is a powerful tool to drive customer action. It taps into the tendency to procrastinate and the fear of missing out. Online travel agencies like Booking.com and Expedia have already harnessed this strategy, but hotels can also adopt it to boost direct bookings.
Some popular urgency tactics in the hospitality industry include highlighting your hotel's popularity by showing how many people are viewing or booking a room, using an availability countdown to emphasize scarcity, and incorporating timers for limited-time offers.
Booking.com is good at using urgency marketing to get people to book hotels on their website. They show you how many bookings a hotel has gotten in the past 12 or 24 hours, or how many rooms are left at a certain price.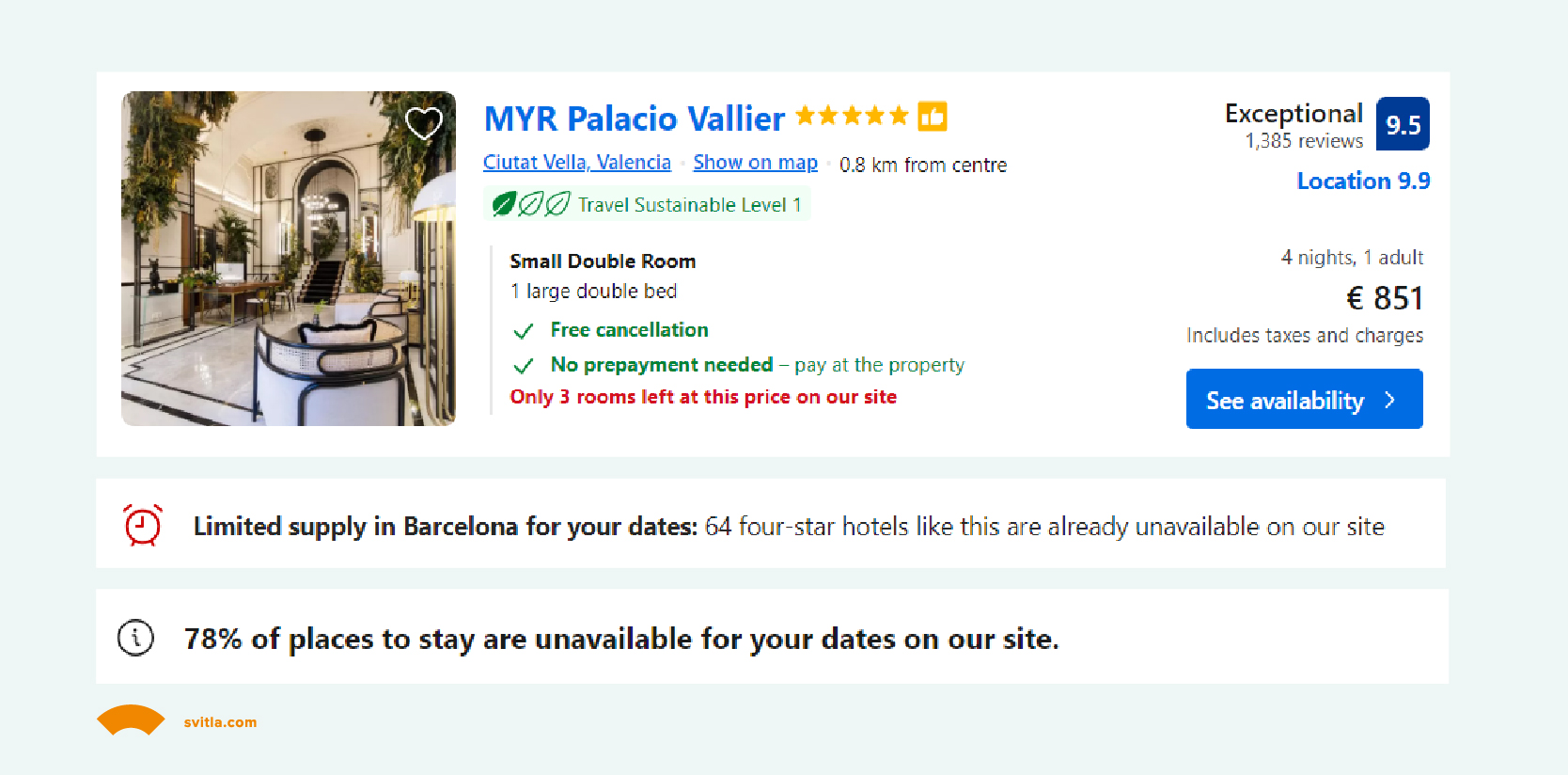 On top of that, Booking.com uses persuasive messages to make you feel like you need to book right away. They say things like "78% of places to stay are already taken for your dates" or "There's only a limited supply."
10. Implement a Reputation Management Process
Research states that 81% of people rely on online reviews when choosing a hotel to stay. To harness the power of these reviews, establish a systematic approach for collecting and managing them. After guests check in, send a brief message to verify if their expectations align with their experience and address any concerns promptly. Following their stay, utilize automated surveys to gather feedback, concluding the process with a link to your review platforms.
Also, keep an eye on your listings on OTAs and directories. Whenever possible, personally respond to reviews. Guests appreciate it when the owner or manager takes the time to engage with their feedback, and this can enhance your brand's reputation. Happy guests are more likely to visit your website and book directly.
Summary
OTAs have many benefits. Yet they also have drawbacks such as high commissions and less control over your brand. Hence, the key to your success is a balance between working with OTAs and driving guests to your website.
You can increase your direct bookings with a few tricks. User-friendly websites, commission-free booking engines, and revenue management software are the most important. Make sure you rank your hotel on metasearch engines, run loyalty programs, engage in social media, partner with influencers, personalize guest experiences, and create a sense of urgency. Building lasting guest relationships can help keep your hotel on top in a competitive market.
Ready to take your hotel's bookings to the next level? Contact us! Svitla Systems is here to help.
Let's discuss your project
We look forward to learning more and consulting you about your product idea or helping you find the right solution for an existing project.
Thank you! We will contact very shortly.
Your message is received. Svitla's sales manager of your region will contact you to discuss how we could be helpful.