Published: November 02, 2023
Updated: November 14, 2023
7 min. read
Top Cloud Migration Success Stories
Cloud migration is an intricate and often costly process. Therefore, organizations meticulously plan their approach to avoid potential problems. Even though there are innumerable articles highlighting potential pitfalls and preparing for cloud migrations, cloud migration success stories are rarely discussed.
This article presents five case studies of organizations that successfully migrated to the cloud business-critical systems. Besides inspiring a successful transition to the cloud, these narratives also impart valuable lessons on how to do it.
Why Do So Many Companies Decide on Cloud Migration?
Let's delve into our discussion's essence: why shift to the cloud? What advantages does cloud migration offer, presenting expansive opportunities for business growth? The benefits of migrating to the cloud are numerous and frequently lauded, as described below.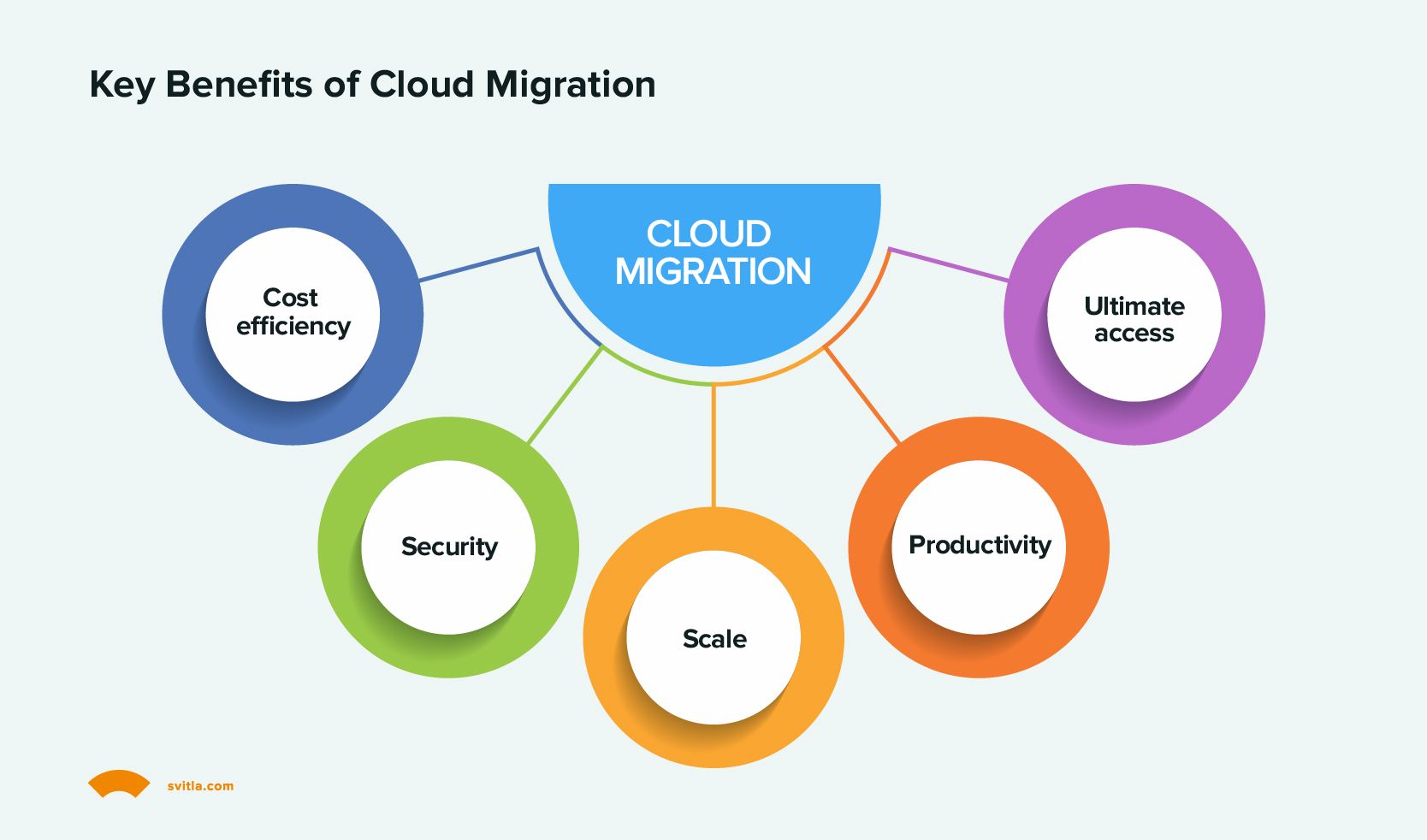 Cost Efficiency
Startups lacking the resources to invest in expensive hardware can use the cloud as an alternative. With cloud providers, you can choose from many payment options, including a pay-as-you-go model that allows you to save money by only being charged for the services you use. However, some experts argue that the redundancy of this setup is a common occurrence.
Furthermore, transitioning to the cloud not only ushers in newfound operational freedom but also liberates valuable time and resources by eliminating the cumbersome manual tasks inherently associated with on-premises systems. In the cloud environment, service providers offer elegantly streamlined systems resilient to the vexing data compatibility issues often encountered when orchestrating information flow in legacy systems.
The synergy and efficiency of cloud platforms invariably translate to accelerated development cycles. This, in turn, empowers companies to harness emerging industry trends and, with heightened agility, meet customer demands and expectations more effectively.
For Oracle Cloud customers, switching to the cloud saved them approximately 30% to 50%. According to a Microsoft Office 365 report, 82% of SMBs reported reduced costs after migrating to the cloud, and 70% invested their savings back into their business.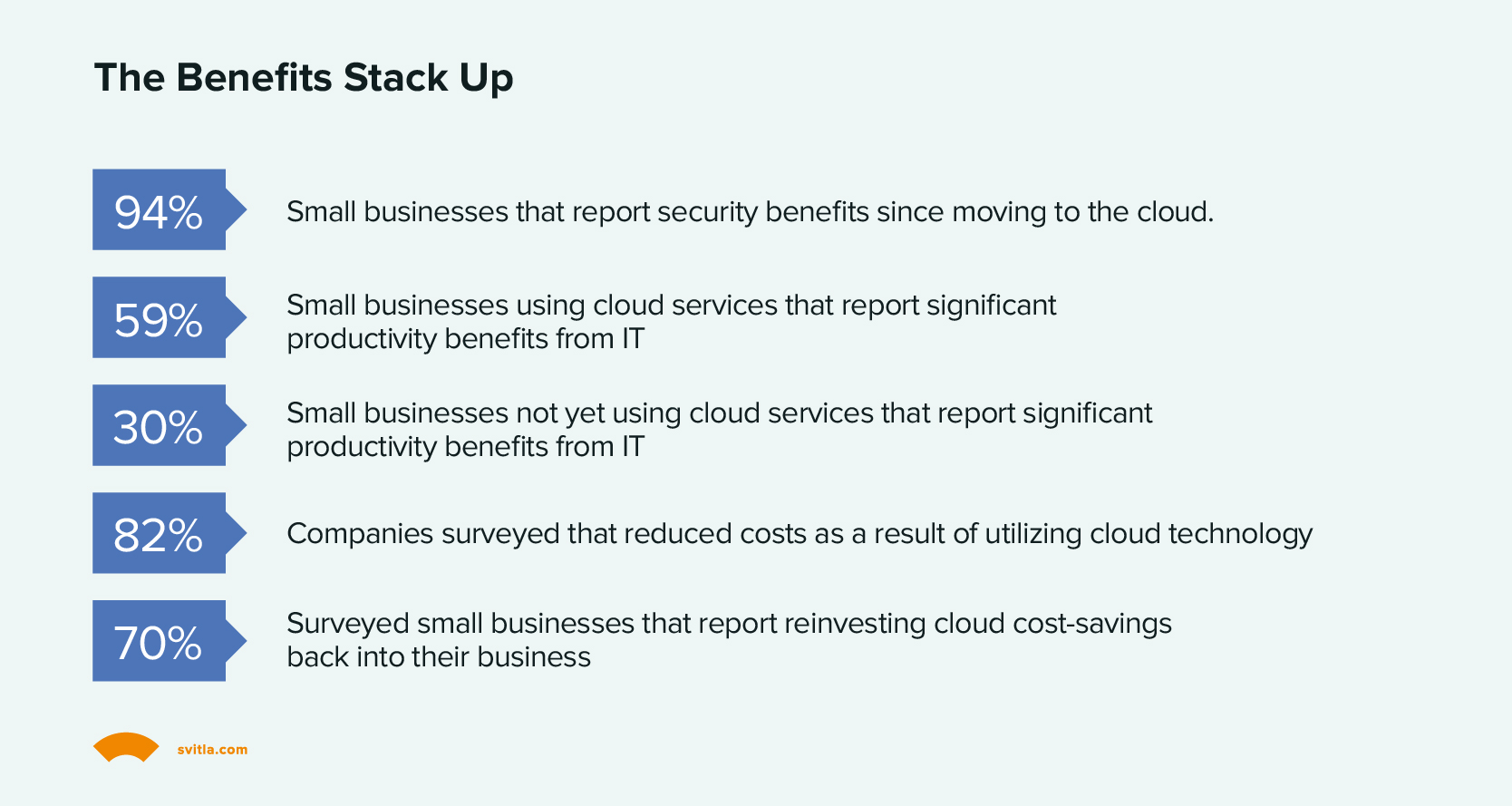 Svitla Systems showcased a significant achievement in cost-saving through an effective transition to cloud infrastructure. Rainmaker Group, a prominent hotel and apartment management software provider, recognized the necessity to streamline operations and develop an efficient cloud-based system. In a dedicated effort to enhance cost-effectiveness, they focused on implementing smooth deployment procedures, modernizing the user interface architecture, and fine-tuning the system.
A complete revamp of the UI architecture was undertaken, resulting in an impressive 90% test coverage for new subprojects and a noticeable reduction in major bugs within the live environment. Through meticulous improvements in the continuous integration and continuous deployment (CI/CD) process and optimizations in the cloud-based system, Rainmaker Group achieved a significant reduction in operational costs while elevating the overall user experience.
Security
Cloud security is a multifaceted concern that encompasses vulnerabilities, potential attacks, and both internal and external threats. The shared responsibility model is a fundamental concept in cloud security. It emphasizes that while cloud providers are responsible for the security of the cloud infrastructure, businesses are accountable for safeguarding their data in the cloud. Companies must carefully assess and implement security measures to protect their assets, applications, and sensitive information in the cloud.
A poignant example of a security breach is an incident with Pegasus Airlines. In March 2022, a Turkish low-cost airline exposed approximately 6.5 TB of sensitive data due to a misconfigured AWS S3 bucket. The exposed data included flight information, crew PII, flight charts, source code, and more. It took nearly a month for the company to rectify the issue.
Vulnerabilities and cyberattacks take different forms, from misconfigurations to DDoS attacks. With the right security practices in place, these risks can be mitigated. Cloud providers offer many tools and services, like identity and access management, encryption, and threat detection. This flexibility allows companies to optimize costs using only the security tools necessary for their specific requirements, reducing the risk of overinvestment or underprotection.
Our client, a leading global travel platform catering to over 500 million travelers monthly, sought to bolster their security measures for reliable and secure system performance. The objective was clear: assemble a proficient security team, develop a robust monitoring system, and implement best practices to fortify against external intrusions.
Svitla Systems overcame the challenge by leveraging an intensive technology stack for security monitoring in the cloud, company laptops, applications, and backends. Through strategic cloud migration, we ensured seamless security integration across all aspects of the client's information systems. Analyzing log files 24/7 became a cornerstone, providing detailed insights to identify and thwart potential malware attacks.
The result? A comprehensive security methodology encompassing all information systems, from employee laptops to cloud systems and applications. Our efforts significantly reduced data leaks linked to phishing emails and other vulnerabilities. We bolstered system reliability by proactively detecting and eliminating hourly/daily attacks and phishing attempts. We swiftly identified anomalies, such as those in the Microsoft Exchange server, and promptly implemented necessary updates to ensure highly reliable and secure system performance.
Ultimate Scale
Cloud solutions offer precise resource allocation, providing the exact amount of resources you require at any given moment. Whether you need to scale up app users from 20 to 2,000 within an hour, the system seamlessly adjusts, maintaining consistent performance by allocating additional computing power, storage, and bandwidth from the optimal geographic location.
In contrast, enhancing bandwidth for an on-premises system involves a significant undertaking — requiring infrastructure upgrades. This process resembles a full-fledged software development project, demanding time, workforce, and financial resources. According to a recent Center for Digital Government survey, 36% of surveyed businesses reported a more flexible and scalable computing power. For example, during a high-demand event like a Black Friday Sale, the public cloud allows you to effortlessly scale your server to meet the surge in customer demands. Lush found that using Google Cloud helped them handle more website visitors, store data effectively, and avoid downtimes. Plus, they saved 40% on hosting costs by making the switch.
Our client, a Silicon Valley-based pioneer in fleet management, uses technology to maximize profitability and driver safety. The company's patented Tracking Device collected vehicle data and information concerning packages, trailers, and more. To enhance operations, they required a more efficient backend, automated data handling, and real-time support for various devices and data formats.
To achieve an ultimate scale, Svitla leveraged cloud migration. We deployed a fast NoSQL system, a high-performance Java tech stack, and Lambda functions to process real-time data. Used AWS infrastructure was optimized for cost-efficiency and rapid scalability, while the backend was seamlessly integrated with IoT components.
What has the company got? Enhanced efficiency, reduced AWS costs, and the ability to seamlessly scale operations.
Productivity
Another challenge with on-premises hosting is the necessity for meticulous project management. This entails a substantial workload for IT teams, involving hardware setup and software patching. However, by utilizing cloud services, a significant portion of these labor-intensive tasks — often referred to as "racking and stacking" — can be delegated to the cloud provider. This liberates in-house IT teams to dedicate their time to more mission-critical responsibilities.
Almost 80% of IT professionals think moving to the cloud has made them more productive, according to Office 365's research. Also, a Stanford study says cloud apps and remote access make employees 13% more productive.
Another notable benefit is the positive impact on software productivity. With cloud infrastructure housing most applications, fewer resource-heavy programs consume your computer memory. This efficiency boost translates not only to accelerated performance for IT teams, but also to faster software operation.
Mueller Water Products, a pioneer in water optimization solutions, set out to elevate productivity through a strategic modernization effort for their monolithic application. Their objective was to migrate to cost-effective cloud storage solutions. Svitla swiftly organized a proficient full-stack team, orchestrating a seamless application migration to the AWS cloud. The team embraced a microservices architecture utilizing .NET Core and ASP.NET Core, resulting in a notable transformation.
As a result of this transition, productivity went up, support costs went down, and a flexible framework was set up, so we could quickly adapt to new industry demands. We needed a successful cloud migration to get these significant boosts in productivity and efficiency.
Ultimate Access
Storing all your data in the cloud ensures accessibility regardless of physical hardware status. Cloud migration facilitates universal access to essential data and business insights, empowering your organization's members to work from any location worldwide and on any device. This flexibility presents many growth opportunities while meeting operational requirements.
Your team operates free from location-bound constraints when deploying, updating, or resolving issues with diverse machines. This adaptability prevails over the hurdles of on-site configurations, making the provisioning and deployment process more efficient. The cloud's reliability fosters teamwork by guaranteeing harmony in everyone's procedures. In the present-day professional scenery, ease of access and flexibility take center stage, and the cloud emerges as the solution to cater to these requirements. Cloud providers propose many solutions to support global access: geographically distributed data centers, edge locations, specially designed solutions at customers' premises, and various ways to safely access customers' data, from VPN to devoted fiber links. It empowers businesses of varying scales to function seamlessly from any corner of the world, extending assistance to clients wherever they seek support.
Accenture United States is a leading professional services firm specializing in strategy, consulting, digital transformation, IT, and operations. They have successfully migrated 90% of their applications and servers to the cloud, utilizing platforms like Microsoft Azure and Microsoft 365. This strategic move has significantly enhanced employee productivity by granting seamless access to business data from any location.
Accenture implemented Microsoft Cloud App Security to boost security for cloud-based apps. With this solution, they get comprehensive identity and access management tools, efficient app and device management, and robust data protection and security.
Final Thoughts
Summing up, the successful cases of seamless cloud migration we presented shed light on what organizations must do to implement this transformation. In addition to being cost-effective, reliable, scalable across the globe, and improving productivity, cloud migration offers unparalleled accessibility. Businesses can now break free from the constraints of traditional setups, ushering in a new era of flexibility and robustness.
Through democratizing access to data, cloud computing redefines disaster recovery, productivity, and collaboration. The cloud is emerging as a cornerstone of today's dynamic work environment, breaking down geographical barriers and empowering businesses to operate without limitations. The journey to the cloud is a transformation; its potential is unknown.
Are you ready to start your cloud migration journey? Do contact Svitla Systems. Our team is here to help and guide you to the desired goals.
Let's discuss your project
We look forward to learning more and consulting you about your product idea or helping you find the right solution for an existing project.
Thank you! We will contact very shortly.
Your message is received. Svitla's sales manager of your region will contact you to discuss how we could be helpful.