How IT Outsourcing Services Speed Up Projects' Innovation Journey
Businesses today depend more and more on software to streamline operations, connect with clients, and spur growth. In-house software development, however, can be expensive, time-consuming, and resource-intensive. This is where IT outsourcing services come into play. Businesses may access cutting-edge technology, tap into a worldwide talent pool, and rapidly and effectively realize their ideas by collaborating with an experienced software development company.
While the benefits of IT outsourcing services have been covered time and again, in this article, we'll go one step further and talk about the innovative ways outsourcing software services can disrupt (in a great way!) the realization of value for businesses of all sizes, from startups to large enterprises. Buckle up and let's get moving!
How to Innovate Using an IT Outsourcing Company?
Outsourcing has emerged as a prevalent alternative for enterprises seeking to optimize their processes and reduce expenses. Nowadays, it's all about maintaining and gaining competitiveness in the digital era.
Through strategic collaboration with an outsourcing provider, companies can leverage a diverse spectrum of proficiency and resources, sans the obligation of recruiting and educating an internal workforce. This holds particularly true for web and mobile software development, where the need for adept developers is significant and the technological complexity is increasingly growing.
Innovation is a pivotal factor in the triumph of any organization, yet it's a daunting endeavor many face with constrained internal resources. Companies often outsource IT services to receive a broader range of talented resources and inventive concepts.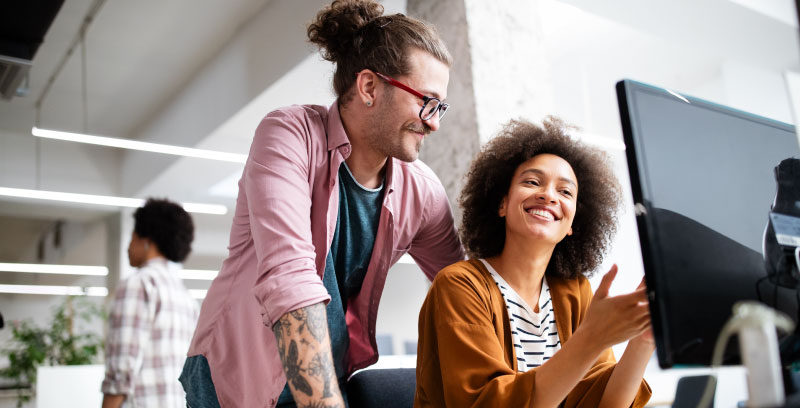 When outsourcing IT services for innovation, enterprises must first pinpoint the domains in which they seek to innovate. This is crucial and involves a comprehensive set of tasks, like enhancing the user experience of a mobile or web app or developing a novel product or service.
Once these domains are identified, companies can partner with an IT outsourcing provider that specializes in those areas. IT outsourcing services companies offer extensive expertise and experience in specific domains, with access to state-of-the-art technologies and tools. Why not use them to your advantage?
Innovating with a reliable tech partner means strong collaboration and communication to ensure ideas transform into solutions. Establishing a well-defined communication strategy between the business and the outsourced IT team is crucial. This encompasses periodic status meetings, project progress reports, and constructive review meetings to ensure alignment among all stakeholders.
It is imperative to keep an open mindset toward novel concepts and methodologies. Engaging with IT outsourcing providers can introduce new perspectives and inventive resolutions, and demonstrating openness to these concepts can result in stimulating and pioneering results.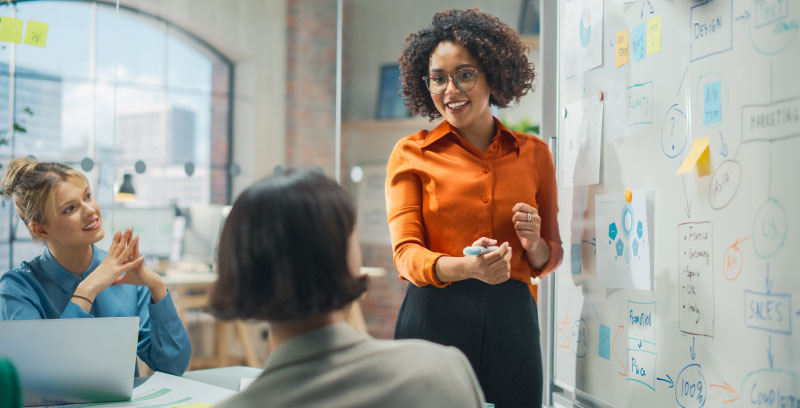 What Properties Should an IT Outsourcing Services Company Have for a Successful Innovative Project?
Outsourcing has emerged as a prevalent business model for companies looking to instill innovation and inventive initiatives while maintaining cost-effectiveness. However, there are varying degrees of quality among outsourcing firms. To guarantee the success of an innovative idea, you should aim to collaborate with an outsourcing vendor possessing the right attributes. When selecting an outsourcing company for an innovative project, it is essential to consider certain key properties, which we list next.
A Well-Defined SDLC Process
The implementation of a Software Development Life Cycle (SDLC) process is imperative to guarantee the efficient, timely, and budget-friendly execution of software development projects. A company that outsources its projects and has a well-established SDLC process in place can guarantee the delivery of high-quality and accurate results.
Experience in Launching Innovative Projects
Innovation needs distinct methodologies compared to conventional software engineering projects. An IT outsourcing firm must possess prior experience in handling innovative projects to proficiently mitigate the associated risks and uncertainties. Outsourcing companies with ample experience can offer valuable perspectives on innovative and emerging technologies and methodologies that can be implemented in your project, resulting in superior results.
Domain Area Expertise
The outsourcing company should have expertise in the industry domain your innovative project is based on. This knowledge can guarantee projects are developed to meet industry-specific requirements and can also offer valuable insights into the competitive environment with particular attention to adoption by end users and client leaders.
Intellectual Property Management
Intellectual property management is a critical aspect of outsourcing. It is essential to ensure that the outsourcing company has policies and procedures in place to protect your intellectual property. The outsourcing company should have clear contractual terms regarding the ownership of the intellectual property that is developed during the project.
Cost Efficiencies Combined with Resilience Strategies
Companies must consider a partner that can meet their current and future staff augmentation demands as well as how augmentation might help lower their overall personnel expenses. You must also look for a partner who can help you plan for unforeseen events like employee turnover or specialized talent that's hard to attain.
A trustworthy IT outsourcing company can assist a business in validating its supplemental staffing plan, finding the ideal harmony between affordability and anticipated results, as well as uncovering any potential hidden costs. This will enable the client to quickly increase or decrease supplemental staff as needed or on short notice without going over budget.
The Right Engagement Model
There are numerous outsourcing models available, including onsite, onshore, nearshore, and offshore engagement models, each with unique advantages and hazards. A SaaS company looking for an exceptionally rare programming skill would be interested in a different kind of outsourcing model than a company looking to offload non-critical technical operations, which would be different still from the model a gaming studio would choose to temporarily fill a few in-house skills gaps. Businesses can hire additional staff as quickly and effectively as possible without wasting time or resources or significantly reducing productivity by selecting the appropriate outsourcing engagement model up front, in consultation with an experienced technical staffing firm.
Effective Channels for Communication
Finding an IT outsourcing company that can fit with a client's style of doing business is one of the simplest and most evident steps to outsourcing success. An outsourced provider who invests the time to understand the internal business culture of a client and the management style of its engineering and creative teams will be laying the groundwork for a relationship that promotes open communication. In turn, this strong relationship enables IT outsourcing companies to offer the best company-specific staffing solutions they can, while also remaining adaptable enough to anticipate and address a company's future personnel needs. And note: a truly valuable outsourcing partner communicates for now but also for the future. An outsourcing partner with their clients' long-term interests in mind will commit to creating and updating meaningful deliverable artifacts that grow more valuable over time as they reduce client effort in the future.
Avoiding Mistakes When Outsourcing Innovative Projects
The act of outsourcing innovative projects can yield significant advantages, however, it is not without risks and obstacles. One of the main concerns relates to the potential of making errors that may result in project failure or consequential delays. Please find below a list of common pitfalls to steer clear of when delegating innovative projects to external parties.
Poorly defined scope, work plans, and tasks pose a significant risk in outsourcing innovative projects. Insufficient clarity regarding the objectives and specifications of the project may lead to misinterpretations, setbacks, and expensive errors.
Another common error is establishing unattainable objectives for the project. It is imperative to assess the capabilities of an outsourcing firm and ensure that their commitments align with actuality, despite their potential to offer swift and substantial outcomes to secure the contract.
Innovative projects need a significant level of adaptability, however, unforeseen changes during project execution can halt progress. Effective communication and established change management protocols can mitigate the effects of modifications.
Insufficient communication can be detrimental to the success of a project, particularly in the context of outsourcing. Frequent communication and timely status updates facilitate alignment and expedite issue resolution.
Adequate quality control measures with comprehensive documentation are imperative for an IT outsourcing company. It is recommended that the organization implements standard operating procedures to ensure adherence to quality standards and timely resolution of any arising issues.
A lack of cultural understanding can impact the results of a project. It may lead to misinterpretations, setbacks, and additional complications, so it's important to select a partner with expertise in collaborating with clients from diverse cultural backgrounds and distinct requirements.
Successful Cases of Implementing Innovative Projects with an IT Outsourcing Company
Now, let's review in-depth some of the innovative projects Svitla Systems has had the opportunity to contribute value.
Story #1

Let's start with Logitech. Logitech is a project with plenty of innovative components in relation to video processing algorithms for online conferences. Svitla Systems performed thorough research and development to successfully apply machine learning in computer vision systems. The project involved a unique combination of web conferencing hardware, like web cameras and new machine learning approaches to make the web conferencing app better for end users.
Svitla's computer vision algorithms became a core component and competitive advantage for Logitech's product line. The vendor-specific framework facilitated machine learning and neural network research, improving video quality, speaker positioning, tracking, and focusing on video conferencing. Logitech quickly integrated results into its product line, using portable software/firmware solutions to enhance product quality and use cutting-edge algorithms across devices.
Story #2

Next in line is the story of one of our biotechnological clients. This innovative project involved a Genomics Analysis app that enables multiplex and parallel analysis of biological systems at the cell, protein, and gene levels, facilitating the rapid translation of results into biology for a better world. Svitla Systems was in charge of adding a new set of features to the latest version of their software to visualize network interactions between long-coding and non-coding RNA and small-coding RNA (e.g., miRNA, snoRNA, and scaRNA). Svitla helped create a WPF component to display data in GenMAPP Pathway Markup Language format.
Story #3

Next up, we'd like to highlight the case of a fleet management tracking device project, which entailed an innovative IoT approach to collect data from tracking devices. The system converted and supported data from many different ODB formats, and simultaneously supported a large number of devices in real-time. Svitla's involvement helped strengthen the client's system by improving scalability and reducing infrastructure costs on AWS.
Story #4

Another cool real-life example is found in one of our neuroscience technology and software clients. This client created microscopes and software solutions that drive research to deepen the knowledge about brain and nervous system disorder treatments. Their microscope captures brain cell metrics and transfers high-definition images via a data acquisition device that is accessible remotely. Multi-platform app processes receive data and help researchers derive deeper insights.
Svitla took part in manual and automated testing for both web and desktop parts of the platform and built the Qt toolkit for creating graphical user interfaces on the desktop side of the system. Svitla's dedicated team also helped create a well-structured development plan for future application upgrades.
Story #5

Aiming to combat the US Opioid epidemic, Avalon launched a multitier data analytics platform, aiming to aid doctors and administrators in refining their approach to pain medications. The main objective was to develop an MVP for venture capital funding. Svitla Systems proposed a skilled team to manage the design, development, and implementation of a cloud-based infrastructure. Data science engineers were involved in analytics engine development and prescription categorization. A UiPath bot was used for data import into the analytics engine. In under 5 months, the MVP was launched, leading to increased funding and unveiling new applications for the analytics and machine learning tools developed.
Stay Ahead of The Curve
Outsourcing IT services has become an essential tool for companies seeking to innovate and stay ahead in today's competitive market. Outsourcing to a reliable and experienced partner like Svitla Systems can offer a range of benefits, including access to cutting-edge technologies, a team of highly skilled professionals, and cost-effective outsourcing IT solutions to meet your business needs.
With over 20 years of experience in software development outsourcing and more than 1,000 successful projects in our portfolio, Svitla Systems has the expertise and resources necessary to help businesses achieve their innovation goals. By partnering with Svitla Systems, businesses can streamline their operations, improve their product quality, and gain a competitive edge in their industry.
So, if you're looking to innovate and stay ahead of the curve, outsourcing your IT needs to Svitla Systems is the way to go. Contact us today for a free consultation.
by Svitla Team
July 17, 2023
Related articles
article
article
Let's discuss your project
We look forward to learning more and consulting you about your product idea or helping you find the right solution for an existing project.
Thank you! We will contact very shortly.
Your message is received. Svitla's sales manager of your region will contact you to discuss how we could be helpful.