Custom PMS vs Proprietary Solution: Which Option is Better For Hospitality Businesses?
The first hotel property management system (PMS) started to emerge in the late 1960s, with a big promise to improve guest check-in and property management experiences. Fast-forward to 2023, and many hotels still rely on decades-old software.
Legacy solutions lack connectivity with more modern applications, are prone to frequent failures, and require excessive maintenance. Likewise, most lack future-proof features and have limited scalability due to performance issues, unresolved tech debt, and non-existent interoperability.
If you're considering a new PMS, an inevitable question comes up: Should we invest in a custom property management solution or purchase an off-the-shelf option? This post weighs the pros and cons of each option.
What is a Property Management System (PMS)?
A property management system (PMS) is a software platform, offering a range of features to support front-end and back-end processes in the hospitality and real estate industries. The supported business processes include administrative, finance, marketing, payment, and maintenance flows, which help keep the business side of things on point.
Features of modern property management systems in hospitality include:
Central reservation system (CRS)
Customer relationship management (CRM)
Analytics and reporting
Online booking engine
Channel management
Revenue management
Point-of-sale (POS) integration
Dynamic rates management
Open API
Benefits of a Modern Property Management System
The first generation of property management software replaced scattered spreadsheets and endless email chains with a one-stop-shop interface for automatically managing your teams' daily tasks — guest check-ins, payment collection, inventory allocation, property maintenance, customer support, and more.
Cloud-based PMSs eliminate the need for on-site software installation, enabling rapid product adoption and vast operational improvements. According to an Oracle survey, hotels attribute the following benefits to their PMS:
Higher guest satisfaction and better guest experiences

Streamlined hotel operations and cost reduction

Increased occupancy rates, revenue, and profitability

Improved decision-making thanks to better analytics

Better control over inventory and cost management

Enhanced collaboration and communication among staff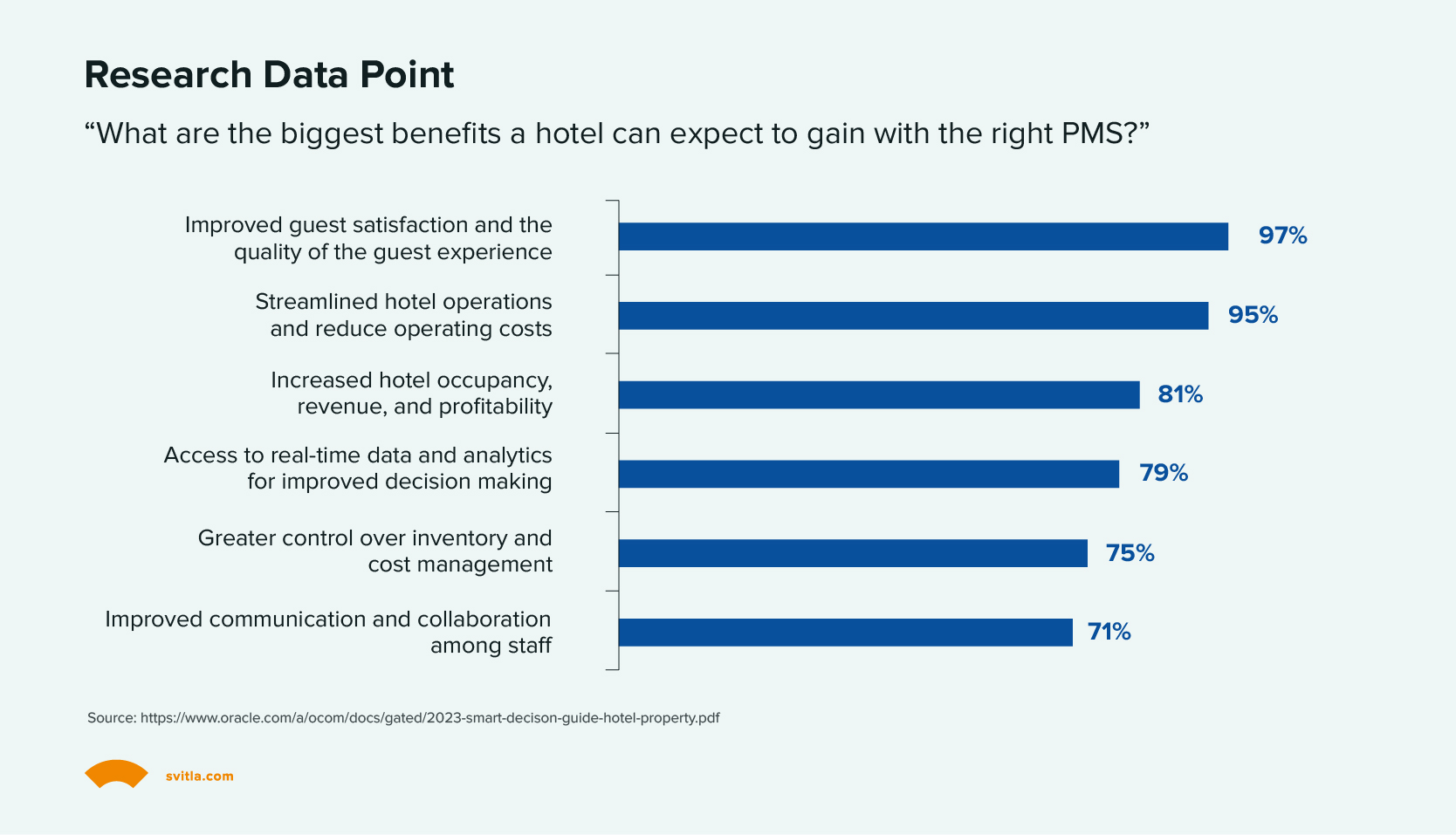 Pressed by rampant labor shortages and an increased influx of guests, the hospitality sector needs every ounce of extra efficiency. According to the American Hotel & Lodging Association survey, 79% of U.S. hotels are experiencing staffing shortages, but hiring staff back proves to be challenging.
The growing proliferation of online travel agencies and meta-search engines also erodes the operators' profit margins. In 2020, the profit margins in the US hotel industry dropped by 24 to 33 percentage points. Although the revenue per available room (RevPAR) numbers have been steadily climbing up to pre-pandemic levels, most hotels are still pressed to increase their profitability numbers.
Property management systems help hoteliers maximize their revenues with smarter marketing and leaner operations, plus identify underperforming areas to slash operating costs.
Types of Property Management Systems
Hotel property management software can be broadly categorized by two deployment and licesning scenario. Let's take a look at each option.
By Deployment Scenario: On-premises vs Cloud-based PMS
An on-premises PMS is hosted locally in your data center. This means your IT team is fully in charge of ensuring the system's high performance, availability, and security. The advantage of on-premises PMS is more opportunities for customization and performance fine-tuning. The downsides are higher maintenance costs.
Cloud property management software is hosted externally with a cloud services provider (CSP). You can opt for a public cloud service such as Amazon Web Services (AWS) or Microsoft Azure or set up a more secure private cloud, which assumes isolated control and exclusive usage of supplied computing resources.
Cloud-hosted PMS is more scalable and can be easily deployed across multiple properties. Moreover, cloud-native PMS are easier to integrate with other business systems e.g., point-of-sales, online payment processors, online travel agencies (OTAs,) and more, giving you extra operational flexibility.
By Licensing Type: Proprietary vs Custom PMS
A proprietary PMS (also known as off-the-shelf PMS) is commercial software developed, maintained, and licensed by a vendor (software developer). A license or subscription plan grants access to all the product's pre-made functionality. Commercial cloud-based POS systems also include application hosting and pre-made connectors to other business systems (e.g., payment processors or popular CRM tools).
The flip side of getting a ton of features out of the box is limited customization. You cannot access its source code to add custom features or modifications or distribute any extra software copies beyond the number authorized by your license.
A custom property management system is designed and developed for a particular organization. It's a bespoke product, made to match your company's needs and your workforce requirements. You retain full ownership of the intellectual property and can decide on further product development — add extra features as your business grows, sell some modules to other companies, or embed extra offers from partners to delight your guests with extra upsells.
Proprietary Property Management System: Pros and Cons
The global property management software market is already worth $3 billion.
Much of this growth is generated by software-as-a-service (SaaS) vendors, offering subscription-based access to a suite of property management tools. That said, some traditional players with on-premises products still maintain a fair market share.
In other words: You have a lot of good options to grab off the virtual shelf, but most of these come with inherent contains.
Pros
Managed deployment. If you opt for a cloud PMS, hosting, security, maintenance, and updates are all on the vendor size. Likewise, there are no software installations involved, your team gets instant access to all features via web or mobile apps.
Extensive support. Most vendors provide step-by-step onboarding, user training, ongoing tech troubleshooting, and round-the-clock customer support. If there's a product issue, you'll get quick assistance, backed by SLAs.
In-built data protection. The best property management systems maintain full compliance with global privacy regulations and provide comprehensive security controls for data collection, payment processing, and data storage.
Access to innovation. All the latest features and product updates are instantly available with a cloud PMS. However, you can't control the vendor's product development roadmap, hence not all product updates may be useful for your business.
Fair price point. Most cloud PMS are competitively priced and accessible to hospitality businesses of every size. You can always start with the cheapest plan and basic feature selection and upgrade later on.
Cons
Limited scalability. With SaaS software, you're paying either per user (seat) or per revenue processed. So the total cost of ownership (TCO) can increase dramatically as your business evolves, while the obtained value of the product stays the same.
Vendor-lock in. Fully relying on an external vendor increases the risks of losing competitiveness over time if the vendor's product development stalls or even the entire software if the company goes bust.
Integration issues. Over 90% of hoteliers rank the ability to "integrate with different technologies to create a "command and control center" as an important feature of their PMS. Yet, new PMS vendors often have limited native integrations, while legacy PMS can't be well integrated with more modern software.
Limited customization. Since vendors restrict access to source code, you can't adapt the products' interfaces or add extra features your teams need to do their best work.
Because of the above disadvantages a growing number of hospitality businesses invest in building a custom property management system.
Custom Property Management System: Pros and Cons
A 2023 Lodging Technology Study by Hospitality Technology found that 69% of hoteliers plan to add, upgrade, or switch suppliers of their property management systems sometime this year. The reasons are ample: ballooning maintenance costs, limited flexibility, and missing capabilities among other factors.
Marriott International, for example, plans to increase its tech budget by $150 million this year to re-platform its major systems and invest in new technology infrastructure. With new technology investments, the team expects to improve employee and customer experiences and boost revenue.
Choosing to go with a custom PMS has a number of advantages and a couple of possible downsides to keep in mind.
Pros
Extensibility. It's no secret that accessing PMS data is challenging because the core hotel systems lack well-defined application programming interfaces (APIs) and interoperability standards. As a result, the hospitality tech market is full of fundamentally incompatible systems and the need for any customized integrations, which proprietary vendors don't support. A custom PMS, in turn, can be architected to support different data exchange standards and have secure, native integrations with other business systems. For example, Svitla recently helped a PMS vendor add a number of new integrations with end-user CRMs, reservation, and billing systems.
Scalability. A custom PMS comes with no caps on the maximum number of supported users, properties, or distribution channels. With a scalable, microservices-based architecture you can easily add extra functionality without hindering the performance of other business modules to accommodate new guest management features, distribute partner-supplied offers, or seamlessly enter new markets with localized campaigns.
Full software ownership. Shape your product development roadmap based on first-hand feedback from business users and guests. Move faster than your competition by deploying new competitive features for guest self-check-in, integrated travel experiences booking, or on-demand room personalization.
New revenue channels. Tap into new pockets of growth through digital-led partnerships with other brands. Sell access to available hotel amenities to day guests via OTAs or upsell new travel experiences to your guests through local travel vendors or partnerships with event management companies. For example, we helped our client develop a custom PMS, which now incorporates over 70 different subsidiaries and brands
Cons
High initial investment. Custom PMS development requires an ample initial budget. However, owned software generates proven ROI in the form of higher operational efficiencies, cost optimization, and revenue enablement. Furthermore, it increases the intrinsic value of your company from the perspective of investors.
Ongoing maintenance. You'll need an in-house or an external team to handle IT infrastructure, as well as ongoing product development. The advantage, however, is that with the optimal platform design and effective cloud cost controls, you can maintain a lean TCO even as your user base grows.
Conclusions
The hospitality industry has already created new playbooks for the post-pandemic world. And while many good changes came with this shake-up — self-checking, on-demand housekeeping, contactless payment adoption, the proliferation of add-on hotel services — the industry is still slowed down by aging technology.
Remember: All the elements of your tech infrastructure are tightly connected and dependent on each other. A low-performing PMS hinders your ability to deploy new features and seamlessly add new properties or distribution channels to your portfolio.
A modern property management system helps hotel operators scale their presence across channels while ensuring consistency in rates, offers, and guest experiences. At the same time, cloud-based systems enable easier integration with other market players — be it wellness services providers, rental companies, or new travel startups, promising to drive higher occupancy rates.
Svitla Systems is a tech partner to global businesses, seeking to place technology at the core of their operations. Contact us to get a personalized consultation on PMS development.
by Svitla Team
September 12, 2023
Let's discuss your project
We look forward to learning more and consulting you about your product idea or helping you find the right solution for an existing project.
Thank you! We will contact very shortly.
Your message is received. Svitla's sales manager of your region will contact you to discuss how we could be helpful.